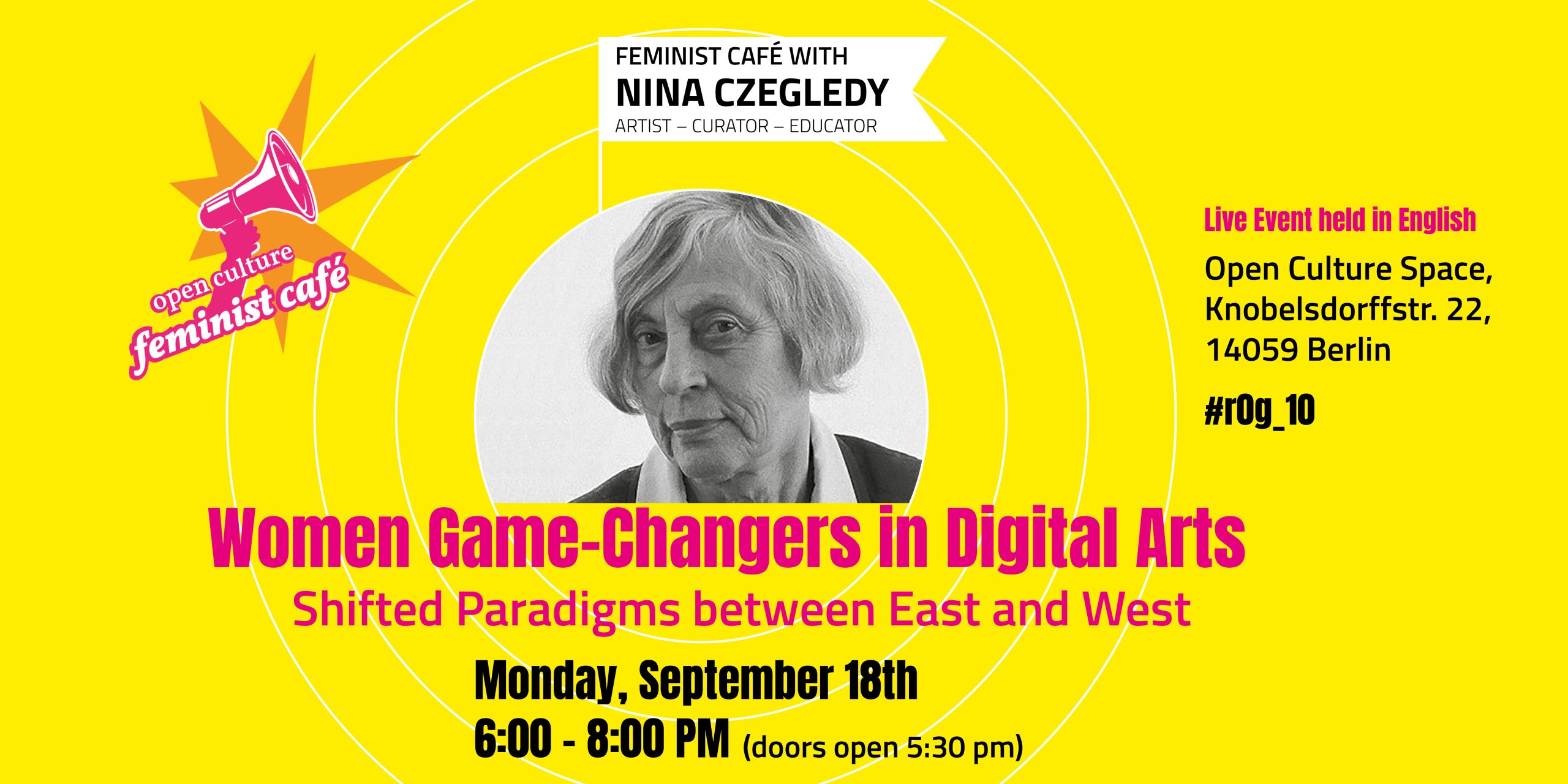 As part of our r0g_10 year anniversary celebration, the r0g_agency will be hosting the next open culture feminist café (#OCFC) on Monday, September 18th at 6pm at the r0g_agency open space in Berlin Charlottenburg.
For this upcoming #OCFC we are very happy to have Nina Czegledy be our speaker.
Nina is an artist, curator, and educator based in Toronto, Canada. She was born in Budapest, Hungary and is a long time friend, colleague, and collaborator, with collaborations dating back to the 1990s.
Her curatorial work is based on non-hierarchical collaborative art, science, and technology projects. The paradigm shifts in the arts in a cross-cultural context, interdisciplinary education, women's work, and intergenerational involvements inform her work.
She will be talking about women in the digital arts and about her experience with film and media-based art throughout the decades, from her time growing up behind the iron curtain to the years immediately following the opening up of borders in eastern Europe to the present time.
Come join us for an evening of discussion about the role of women in art, Shifted Paradigms between East and West and the role media art plays in subverting structures.
https://www.facebook.com/feministcafe
Date: Monday, September 18, 2023
Time: 5:30 PM - 8:00 PM
Location: Open Culture Space, Knobelsdorffstr. 22, 14059 Berlin
Curated and moderated by: Susanne Bellinghausen
Hosted by: r0g_agency for open culture and critical transformation gGmbH
Free admission, but registration is required due to limited space.
This event will be held in English
Czegledy has curated numerous thematic exhibitions:
Sensoria

,

The Art and Science of our Senses
Splice: at the Intersection of Art and Medicine
Beyond Borders
Aura/Aurora explored the Aurora Borealis form the perspectives of art, science and technology,
In Sight: Media Art From the Middle of Europe at YYZ gallery, Toronto,
Czegledy's writing, art and curating explores the connection between art, science and the body.
5:30 pm - doors open
6:30 pm - Intro by Susanne Bellinghausen, co-founder of r0g_agency.

6:35 pm - 7:30 pm -  Presentation by Nina Czegledy on Women Game-Changers in Digital Arts Shifted Paradigms between East and West

Moderated by Susanne Bellinghausen.
7:30 pm - 8:00 pm  - Open discussion with the participants
8:00 pm - Closing words + time to network.