Victoria Wenzelmann on #ASKotec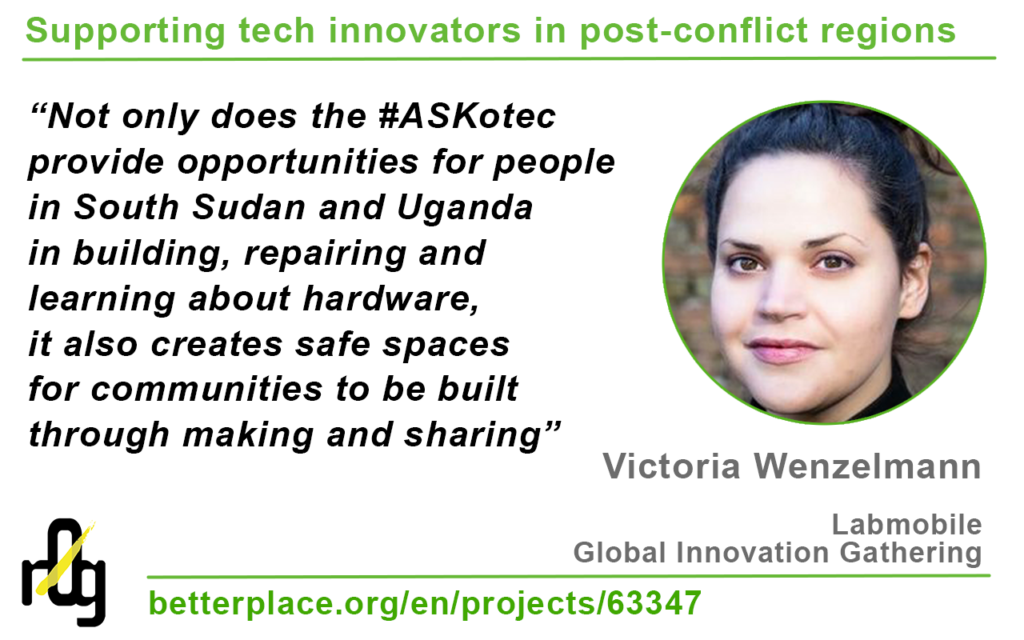 Victoria Wenzelmann is one of the Co-founders and Directors of GIG, the Global Innovation Gathering, and founder of the big blue Labmobile. In 2013, she co-organized AfricaHackTrip, a journey of nine European web developers and designers to East Africa to connect local tech ecosystems. She holds M.A. degrees in Cultural Anthropology and African Studies and pursues her Doctoral degree in Information Systems at the University of Siegen with a focus on ecosystems for social and technological innovation, (mobile) labs and learning rooms, and participatory design.
"The opposite of war isn't peace, it's creation – exactly what this mobile lab is all about! Not only does the #ASKotec provide opportunities for people in South Sudan and Uganda in building, repairing and learning about hardware, it also creates safe spaces for communities to be built through making and sharing. This is one of the most impressive projects I've ever seen. So don't ask me, #ASKotec – and donate!"
Vicy Wenzelmann, Global Innovation Gathering & Labmobile
View and follow our crowdfunding campaign at betterplace.org/en/projects/63347.