The Art of Cultural Resistance OFF-Biennale Budapest @ the r0g_agency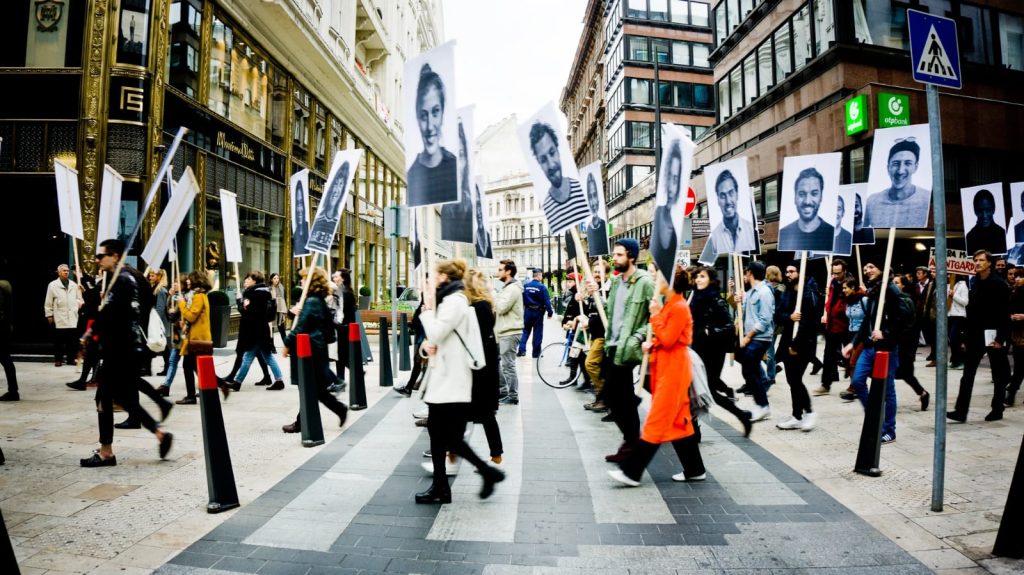 IMAGE: A re-staging of Endre Tót's Gladness Demonstrations of the 1970s, October 8, 2017, OFF-Biennale Budapest. Photo by Zsolt Balázs.
What? An evening discussing art, curation, and politics with OFF-Biennale Budapest.
When? Tuesday, September 6, 2022, 6pm – 9pm
Where? The r0g_agency office
Knobelsdorffstr. 22
14059 Berlin
OFF-Biennale Budapest is the largest contemporary art event in Hungary. It started in 2014 as a grassroots initiative, a "garage" biennale, set up by a small group of artists to create a platform for exchange between artists and other members of society as a means to testify to the independence, resilience, and capability of the local art scene in Hungary.
Since then, OFF has become an internationally acclaimed event, with three successful runs under its belt. OFF's mission is to strengthen the local independent art scene and to initiate public discourse about urgent yet neglected social, political, and environmental issues.
The r0g_agency has supported OFF-Biennale since 2017 and is excited to host them in Berlin for an evening event during which curators Hajnalka Somogyi and Eszter Szakács will talk about their organization, their work and the biennale, the role of curators, and how art can address the current cultural politics in Hungary.
The event is free and open to everyone.
A bit of background: this year, OFF was invited to join thirteen other organizations that together form the lumbung interlokal team for the 2022 edition of documenta (documenta fifteen), an exhibition of contemporary art that takes place every five years in Kassel, Germany.
At the documenta, OFF presented two exhibition projects and a publication. One of them, a long-term collaborative project with the European Roma Institute for Arts and Culture (ERIAC) showcases works of art in relation to the idea, question, and (im)possibilities of a "RomaMoMA" (Roma Museum of Modern and Contemporary Art). OFF's second contribution plays out in close proximity to the Fulda River as a space that oscillates between the concepts of playground, junkyard, and construction site—places of creativity, transgression, refuse, and regeneration. OFF's projects are accompanied by a publication, On the Same Page, that examines the many aspects of the notion of independence as well as the power of collectivity.
For more information about OFF-Biennale, go to offbiennale.hu and their current show at documenta https://documenta-fifteen.de/en/lumbung-members-artists/off-biennale-budapest/
Speakers: Eszter Szakács and Hajnalka Somogyi
Hajnalka Somogyi is a curator based in Budapest. Since 2014 she has worked as leader and co-curator of OFF-Biennale Budapest, which she helped create. She is also currently a professor in the Art Theory department of the Metropolitan University, Budapest.
From 2001-2006 she was curator at the Trafo House of Contemporary Arts, Budapest and from 2009-2012 at the Ludwig Museum of Contemporary Art, Budapest. She was editor of
artmagazin.hu in 2013-2014. She has also co-founded the independent art initiatives Dinamo and Impex, both in Budapest.
Eszter Szakács is a curator, researcher, and Ph.D. candidate at the Amsterdam School for Cultural Analysis (ASCA) at the University of Amsterdam, where she is taking part in a project IMAGINART—Imagining Institutions Otherwise: Art, Politics, and State Transformation. Eszter is on the curatorial team of the grassroots art initiative OFF-Biennale Budapest, which is currently a lumbung member at the documenta fifteen. She was a team member of the East Europe Biennial Alliance—co-funded by OFF-Biennale Budapest—that collectively curated the Kyiv Biennial in 2021. Along with Naeem Mohaiemen, Eszter co-edited the forthcoming anthology Solidarity Must Be Defended (tranzit.hu, Van Abbemuseum, SALT, Tricontinental, and Asia Culture Center, 2022). Eszter worked as curator and editor at tranzit.hu in Budapest between 2011 and 2020.