Peacebuilding through social media literacy in South Sudan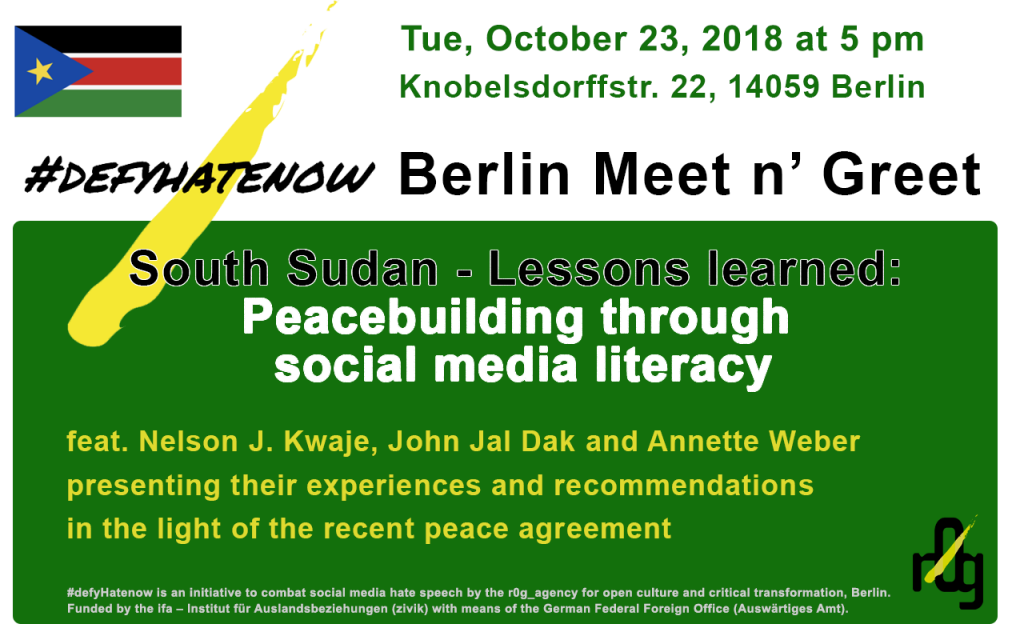 How can social media literacy accelerate peacebuilding efforts in post-conflict regions like South Sudan?
Discuss with us on Tuesday, Oct 23, 2018 from 5pm. Presentations start at 6pm.
Two of our colleagues from the #defyhatenow project, nominated as Peace Ambassadors to attend the One Young World Summit in The Hague will be joining us in Berlin.
We're happy to welcome John Jal Dak and Nelson Kwaje for a special r0g_agency Meet 'n Greet at our Open Culture office!
In light of the peace agreement signed recently in Khartoum bringing all sides in South Sudan's conflict together our guests, moderated by Annette Weber, will present their work and discuss:
Tuesday, Oct 23, 2018 from 5pm. Discussion and presentations begin at 6pm.
Venue: Open Culture office: Knobelsdorffstr. 22, 14059 Berlin
Speakers: Nelson J. Kwaje (Web4All, Nairobi, Kenya), John Jal Dak (YSAT, Rhino Camp, Uganda)
Moderation by Annette Weber (SWP, Berlin, Germany)
Culinary delights & drinks from the neighbourhood will be provided.
Since 2015, #defyhatenow is an initiative to combat social media hate speech by the r0g_agency for open culture and critical transformation, Berlin, funded by the ifa – Institut für Auslandsbeziehungen (zivik) with means of the German Federal Foreign Office (Auswärtiges Amt).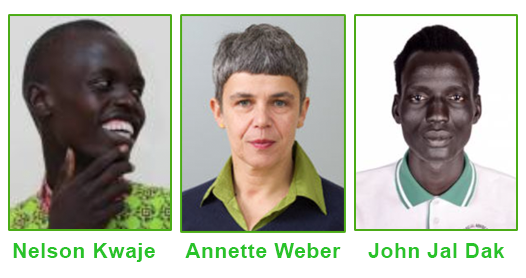 Annette Weber (SWP)
A Senior Fellow in the Middle East and Africa Research Division of the Stiftung Wissenschaft und Politik (the German Institute for International and Security Affairs, SWP) Annette Weber's expertise lies in regional and intrastate conflicts in the Horn of Africa. She deals with questions of political order, social change, and statebuilding in fragile states, and has been deeply involved in South Sudan's transition towards and through its independence in 2011.
Nelson J. Kwaje
Nelson J. Kwaje is the founder of WEB 4 ALL Ltd; an ICT company that provides innovative ICT solution with the aim of bridging the literacy gap in Africa and building sustainable ICT4D (ICT for development) solutions.
He is passionate about youth and transformation. His principles could easily fit into three words: People, Technology and Transformation.
John Jal Dak
John Jal Dak is a youth & peace activist passionate to engage, inspire and mobilize South Sudanese Refugee Youth to participate in peace building initiatives, meaningfully engaged in income generating activities and skillfully empowered to be Peace Ambassadors, successful entrepreneurs and useful Global Citizens. he is the head at Youth Social Advocacy Team (YSAT) – a Refugee Youth led Community Based Non-profit Organisation formed in June 2015 in Arua district, at the outskirt of WestNile.