Reclaiming Self-Expression – African Feminism in Digital Spaces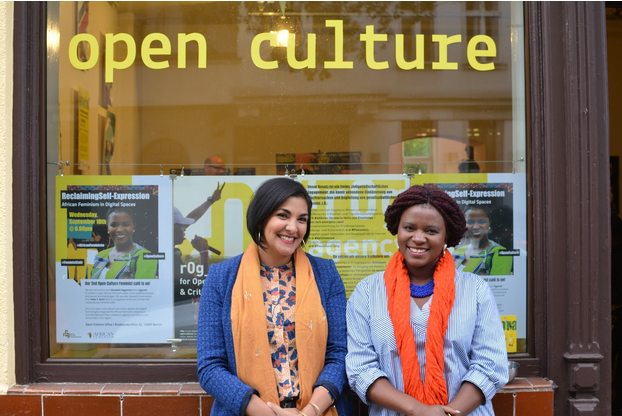 Reported by Blen Desta

Once again our Open Culture Feminist Café featured the feminist movement in Africa last September, this time in a conversation with Rosebell Kagumire, a pan-African feminist journalist and socio-political analyst, on the theme of ''Reclaiming Self-Expression – African Feminism in Digital Spaces.'' Furthermore adding quality to this edition of the feminist café was its moderation by exceptional Egyptian artist and scholar Heba Y. Amin, who is also a longtime supporter of r0g_agency.
The discussion started with Rosebell highlighting the importance of giving space to the voices and stories of African women. Because: "Often when you hear a story about African women, it is a story of victimhood, the image both global media projected and also in terms of colonial histories, the story in terms of our very colonial states we live in and the story of even state-building is very powerful, so our challenge is: How do we actually do justice both to the past and also in shaping our present and the future?"
One of the main topics discussed in the feminist café was the African Feminism (AF) online platform, which Rosebell is currently curating and editing. At present, the platform features and acknowledges the narratives of African women through documenting their struggles, achievements and everyday lived experiences on diverse topics filled with unerring honesty and lively wit in a continuous deep reflection about the society they live in and their experiences outside of the continent.
The AF platform speaks largely to young African feminists. Rosebell explained: "For us, it is about leading and amplifying conversations that women are having. This is more about amplifying and identifying what the South African women are dealing with, what Nigerian Women are dealing with, how do we then bring the story out so that other women on the continent can understand and see themselves in that struggle and also understand how to support it."
Rosebell discussed Pan-Africanism and what being a Pan-African feminist entails, looking at African history-writing where African feminists have been overlooked by the patriarchal system when in reality they were at the forefront of the anti-colonial movement and nation-building. Some of these women who were the face of the revolution and who delivered the nation were Bibi Titi Mohammed, Nawal El Saadawi, Mabel Dove, Wambui Waiyaki, Syotune wa Kathuka, Margaret Ekpo, Charlotte Maxeke, and Huda Shaarawi, amongst others. At present, we are also witnessing the Sudanese women leading their revolution despite the dangers of speaking out. 

Rosebell further explained: ''This year I was at the African Union for 'Africa Day' and I looked around; we call them founding fathers but somehow there were no founding mothers. So we are here to say that women were fighting for our liberation to free ourselves from colonial oppression and somehow that story is not there. When I say Pan-African, it cuts across the African story, across the continent. Some threads tie us together because of history – It was not just the history of colonialism but even the history of struggle. Who gets to be seen as the victor is a very important story."
Feminists across Africa host a variety of alternative media platforms and the Internet has provided ample opportunities to create greater visibility and solidarity among feminists on the continent and globally. Efforts of activism and collective organizing have been visible through occasions like the 'Women's March Uganda' of 2018. Rosebell recalls how many of the women who went to the march knew each other only on online platforms but had never before met in person.

The digital world is also one of the tools that have been very difficult to regulate when it comes to online human rights violations especially where women and feminists are attacked and intimidated through various forms. In reality, the justice system in several African countries is not very well implemented to provide justice to women who face everyday gender-based violence. The digital world adds another layer where the justice system falls behind in understanding the magnitude of online violence. This new dimension creates further backlash against the gains that have been made in women's rights in previous decades.
Hence, one of the questions raised by Heba concerned the dangers of the online world, particularly for women. According to Rosebell, "the mobilization is also for the protection against these forces online. We have seen what happens if a feminist is attacked in South Africa, we will get to know about it and there will be an equal force of women who come to defend you or people who believe in the rights of women, who are available to say 'No!'. So mobilization and protection are equally happening in those spaces. But of course, there is a need for investments in actual protection, for access to justice and women understanding their rights both in the digital world and offline and linking those together." Hence, access to the Internet has connected young African women in new ways, enabling them to build further on previous resistance work of many African women to dismantle patriarchy and organise pushback, whether it concerns local political authorities, religious beliefs or foreign narratives.
In a final note: we are very thankful to learn from the tremendous insight shared through the refreshingly candid discussion between Rosebell Kagumire and Heba Y. Amin, rendered with meticulous attention to a diverse set of topics from beginning to end. The conversation continued to further develop by engaging several members of the audience who without hesitation shared their own personal stories. Experiencing such moments where people can gather to talk, listen, and share their stories, even when others might not agree or share the same perspectives highlights the value of creating a space for others' stories and others' voices.
A short video excerpt from the feminist café discussion, a conversation with Rosebell Kagumire and Heba Y. Amin. https://www.youtube.com/watch?v=KUi2cCcNVw0&feature=emb_logo