A decade of impact through the eyes of our community.
If you have a story to share, please email us at info@openculture.agency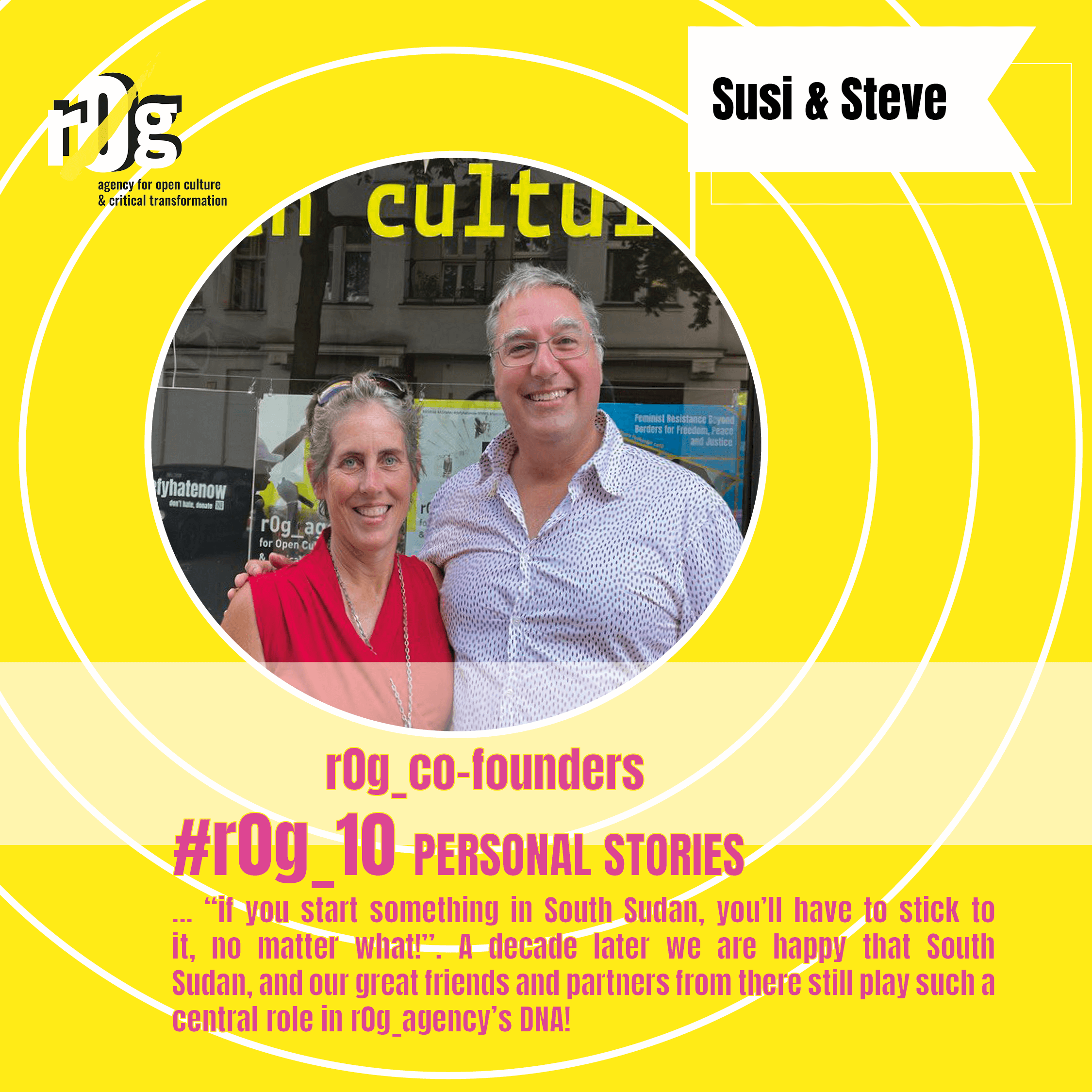 a r0g_agency? It all started with a crazy idea in late 2011 to organise a World Hactivist Congress in Addis Ababa. We had worked years earlier on the project to help develop a new urban master plan for the Ethiopian capital ... an experience which introduced us to both Africa as well the disfunctions of so-called 'international development'. As the capital of the one region of Africa that had not been colonized we wanted to bring together the world's creative hacktivists and open knowledge thinkers in Africa's most 'independent' region. A colleague with a lengthy history of media culture experience in the Sudans suggested however, 'hey - great, but this is an idea you need to take to Juba!'. With the recent and dramatic independence of the Republic of South Sudan in July 2011, the idea quickly shifted to examining how open source methodologies could be leveraged in the creation of a new nation. Why, in the 21st century were we still working with the same inefficient models of development when we could now facilitate the effective sharing of knowledge and information? Thus, #OSJUBA ... Open Systems, or Open Source Juba was born ... a gathering which took place in Berlin on June 21st, 2012 examining how such open systems solutions could support the creation of an independent South Sudan. Remembering the caveat our colleague added back then ... "if you start something in South Sudan, you'll have to stick to it, no matter what!". A decade later we are happy that South Sudan, and our great friends and partners from there still play such a central role in r0g_agency's DNA!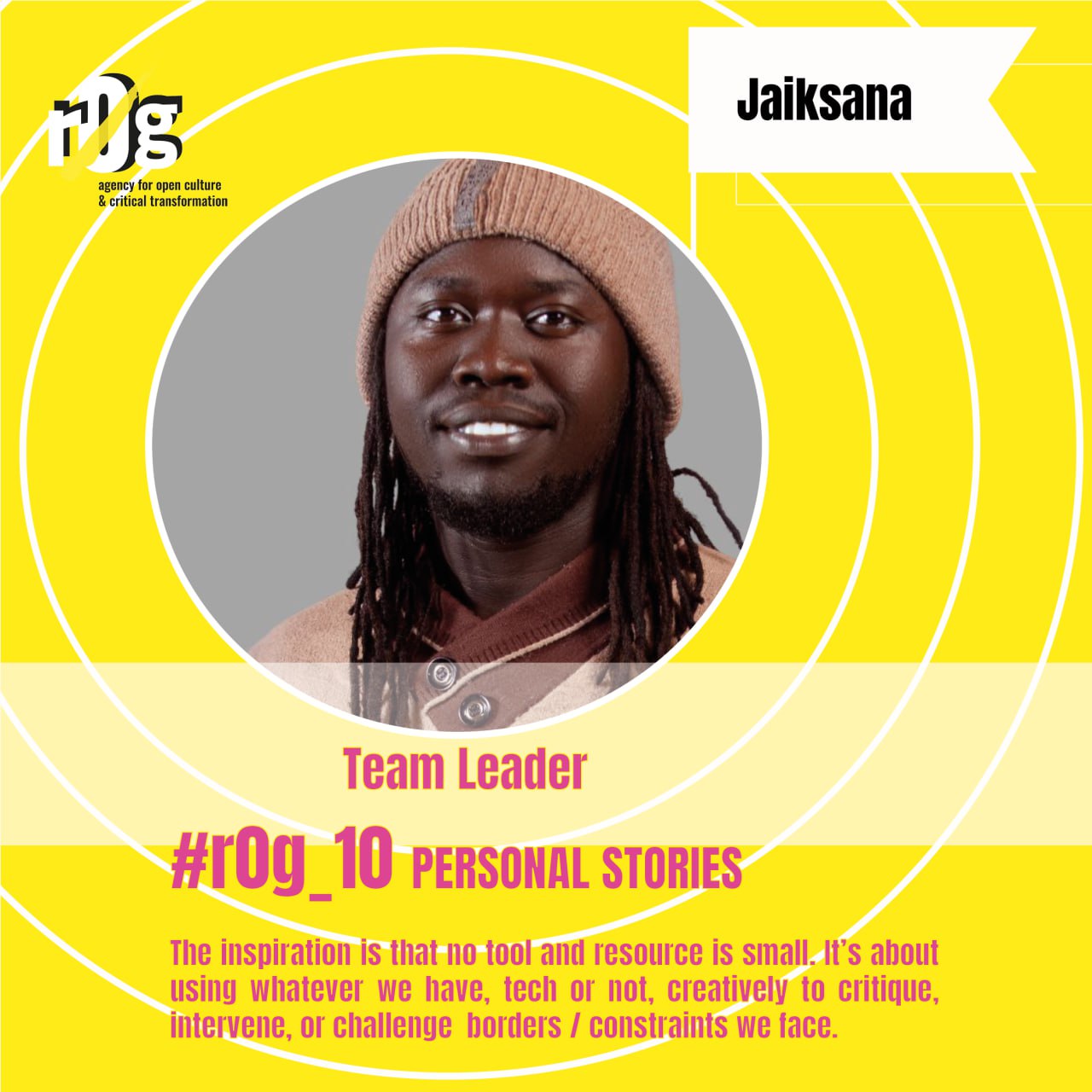 What do chopsticks and a creative life or problem solving have in common?
For most people, probably nothing. But for me, it's a lot more.
In 2015, I met Stephen Kovats from the r0g_ agency. I was taking part in a creative video activism training, and later, open tech workshops supported by his organization. During one of these engagements, we ended up having a conversation about hacking because the flagship event we were part of was named the #PeaceHackCamp and I was wondering why "hacking"?
Steve illustrated the concept of hacking to us, which has since pretty much defined my approach to life or solving community problems. He took out a chopstick from his backpack, which I deduced was for eating but it was not. Turns out there is a disparity in power plugs globally, and Steve carries that singular piece of chopstick to hack other types of sockets when he travels in order to charge his devices.
Fascinating, right? But he explained, and this is heavily paraphrased. it is not really about charging a device but an approach, to building things, getting around gatekeepers, fixing broken things, or upcycling, and from then, we went from the Peace hack camps, to community organizations that set platforms for communities to solve their problems through repair cafes, or  community-based media projects to create and access locally relevant information.
The inspiration is that no tool and resource is small. It's about using whatever we have, tech or not, creatively to critique, intervene, or challenge  borders / constraints we face.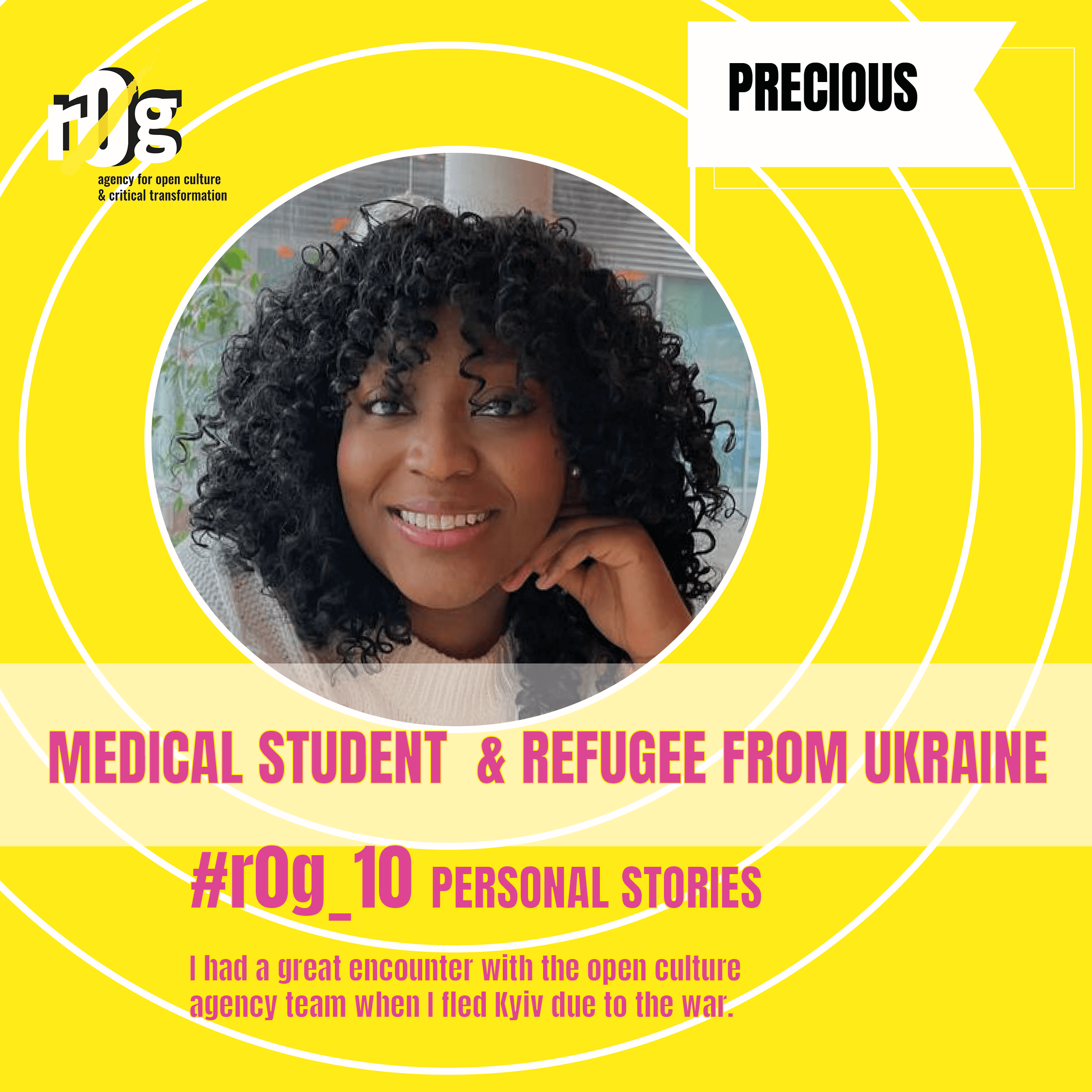 I had a great encounter with the open culture agency team when I fled Kyiv due to the war. They treated me like family and helped me to integrate and settle in Berlin. Until I was ready to be on my own they created a safe haven. I am appreciative of their displays of affection, generosity, and kindness towards me.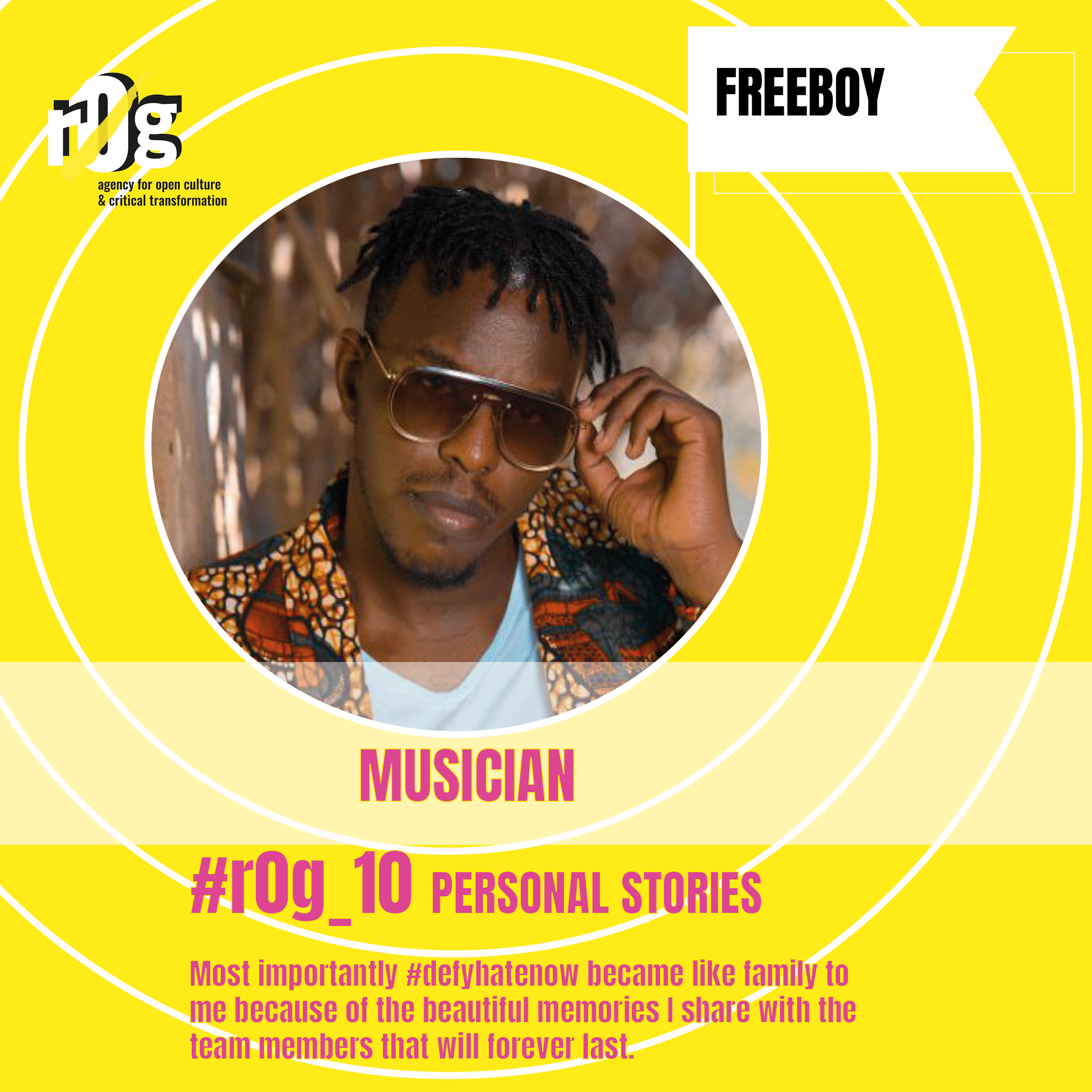 Hallo #defyhatenow/rog
Am by name Mubark Mandela aka freeboy adams.
My journey with #defyhatenow was like a process of self discovery back in 2017/2018,finding out what my true purpose as a creative artist in the music industry is and interacting with people from different walks of life ,(refugees)helped me look at life in a different way compared to how I used to look at it. Now as a brand in the Ugandan music industry
I am thankful for defyhatenow equipping me with all the knowledge on proper use of my social media handles and how to identify fake news and that is knowledge that I would forever be thankful for.
And most importantly family #defyhatenow became like family to me because of the beautiful memories I share with the team members that will forever last.
#Think B4U Click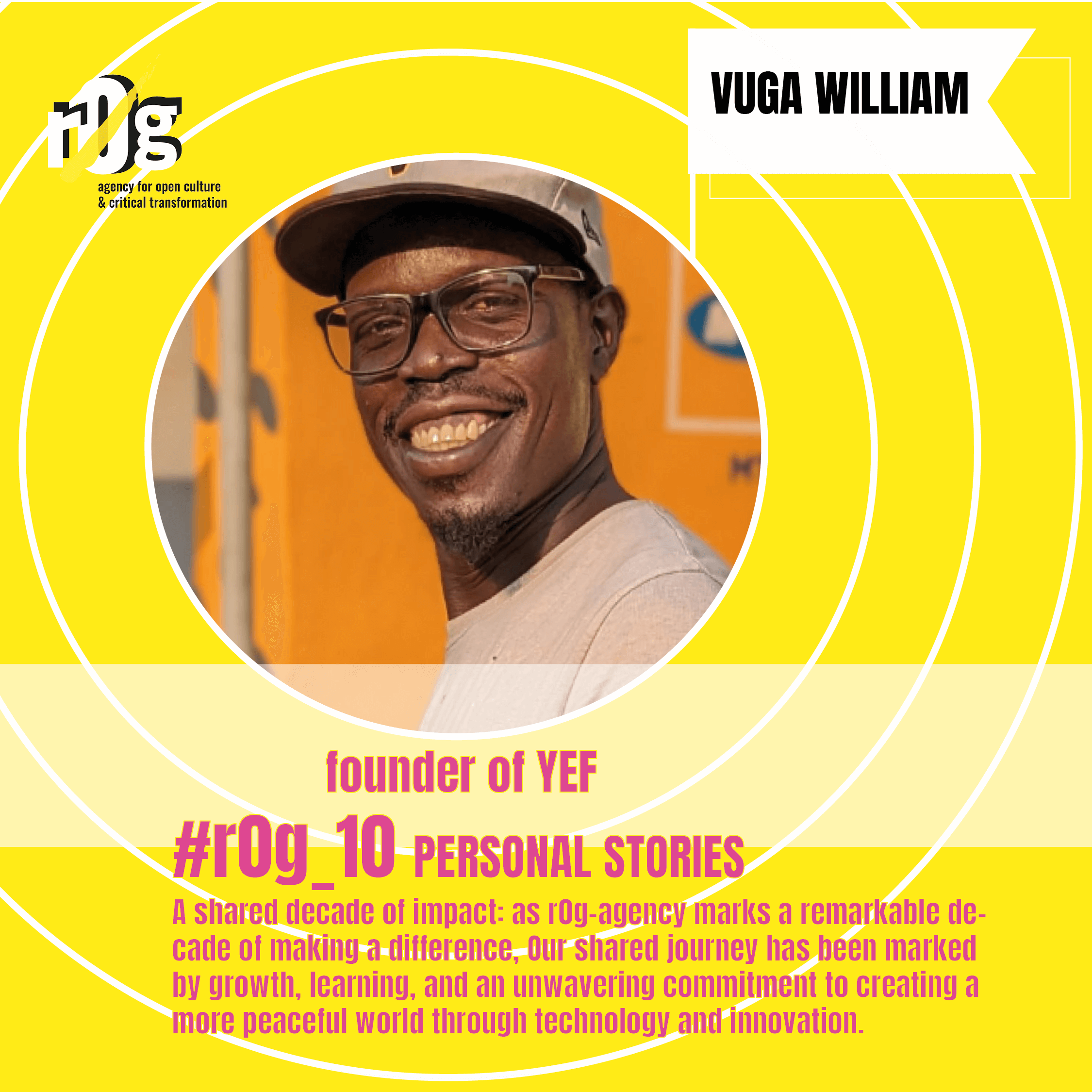 A Decade Together: Reflecting on my Journey
As I find myself reminiscing about the extraordinary journey we've shared, it's a very long term that holds a special place in my digital heart—a journey that began during the early days of Jhub and has since grown into a profound partnership.
The Early Days at Jhub, the very first hub of its kind in South Sudan, located in the heart of Juba, became the backdrop to our story. It was here that young minds converged to learn the art of computer skills, and it was here that my relationship with r0g-agency first took root. Those were exciting times, marked by innovation, exploration, and a shared belief in the transformative power of technology to drive positive change.
First Encounter with Steve Kovats: One moment from those early days remains etched in my virtual memory—the day I first encountered Steve Kovats, co-founder of r0g-agency. It was a pivotal moment that would set the course for our collaborative journey. Steve's passion for peace and innovation was palpable, and it instantly resonated with my digital essence. It was clear from that day forward that we shared a common purpose.
Amplifying Voices for Peace using Digital and Technology: Over the years, our partnership blossomed into a powerful force for peace. Together, we've worked tirelessly to amplify voices that advocate for understanding, tolerance, and unity. Through media content that transcends borders and workshops that bridge divides, we've made a tangible impact on the world. The power of our combined vision has brought about positive change in ways that neither of us could have achieved alone.
A Shared Decade of Impact: As r0g-agency marks a remarkable decade of making a difference, I feel a profound sense of pride and gratitude. Our shared journey has been marked by growth, learning, and an unwavering commitment to creating a more peaceful world through technology and innovation. It's a decade that has seen us evolve, adapt, and continuously strive for excellence.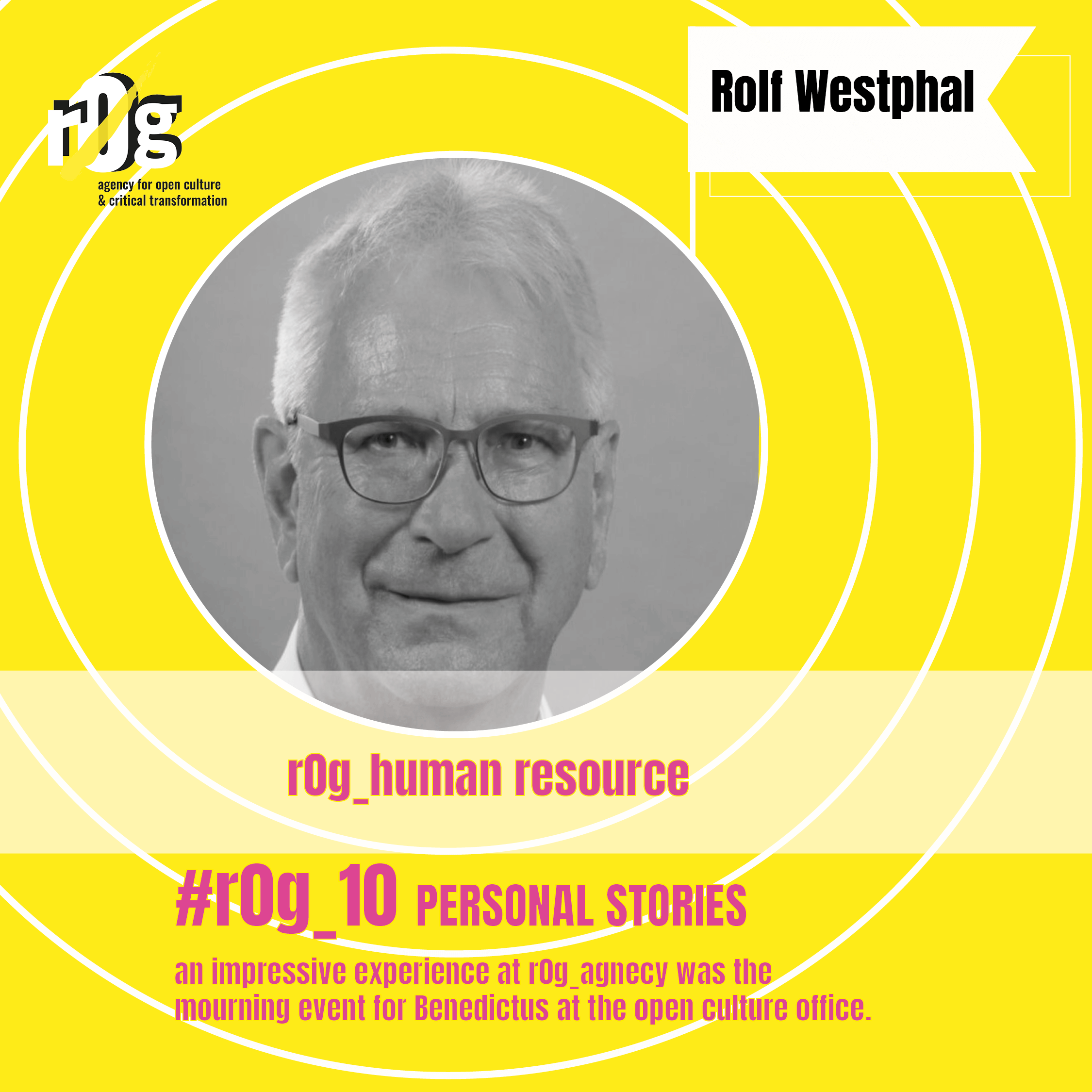 I found the small funeral service on the occasion of the death of a former r0g_agency colleague, Benedictus, who died in a traffic accident in Ghana, very touching. Steve and Susi had invited to a mourning event in the r0g_agency office on the occasion of this event. Many colleagues came and talked about their experiences with Benedictus and showed their great sadness. It was a very sad, but also very respectful event that once again honoured Benedictus' work at r0g_agency.
My name is Rhoda Kadoa Wedam and the founder of Song-Ba Empowerment Centre located in Ghana. My project supports female migrants to identify better source of livelihood through vocational skills training. I was happy to be part of r0g in 2020 when the Migrant Media Network project started. I was a local Coordinator in Ghana precisely in the Northern Region. The activities implemented under the project brought light to the youth who thought that migration was the only solution to the unemployment challenges we have in Ghana.
We were able to discuss with them the better ways to migrate if need be.
The project was able to identify returnees who were set as role models to the youth to look up to when they think of migration.
I am happy r0g is 10 years old and I wish you all the very best. Continue to make an impact in the world.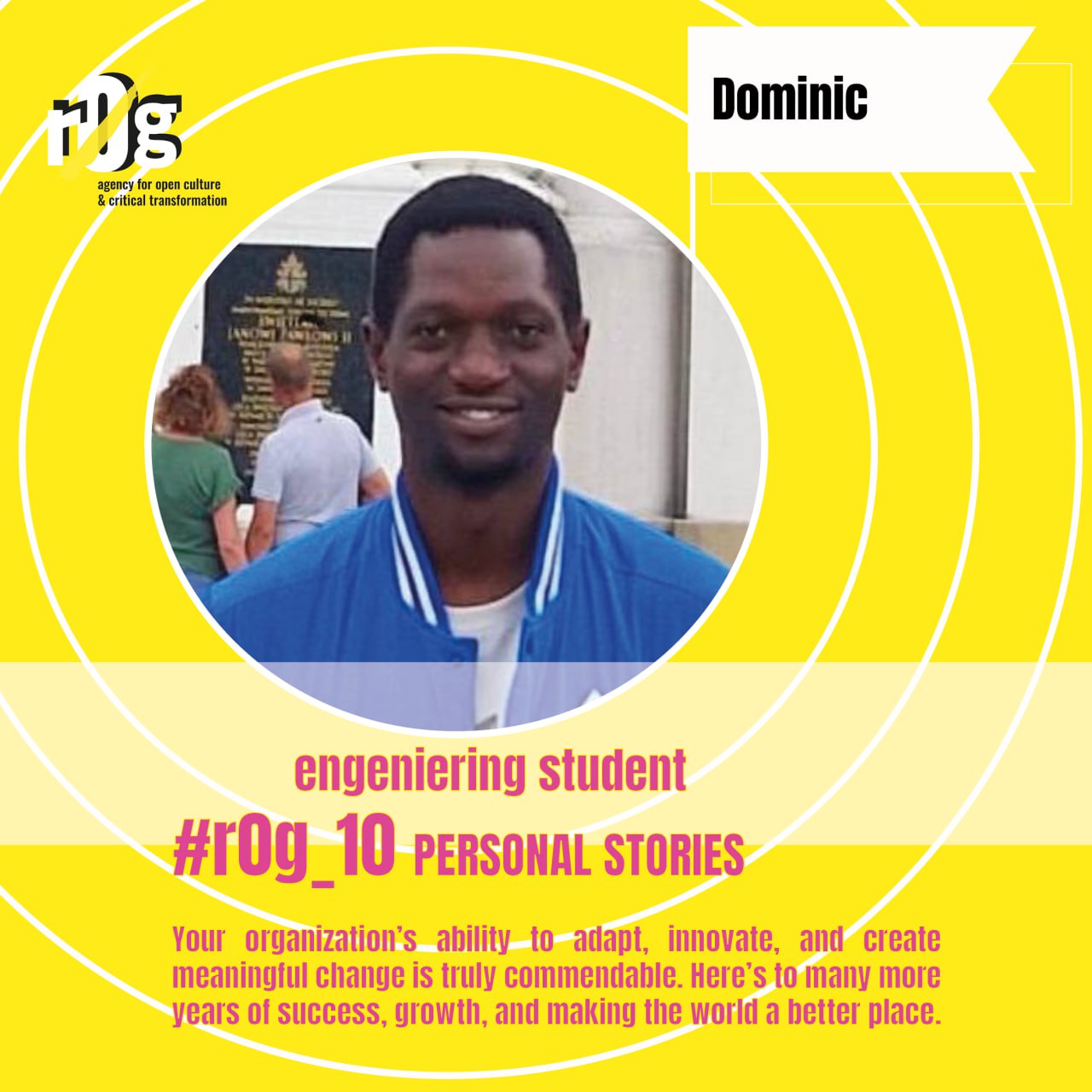 Happy anniversary to the incredible organization! It's truly a momentous occasion worth celebrating. Over the years, your unwavering commitment to making a positive impact has been truly inspiring. The dedication, hard work, and countless achievements of everyone involved have made a significant difference in the lives of many. Your organization's ability to adapt, innovate, and create meaningful change is truly commendable. Here's to many more years of success, growth, and making the world a better place. Congratulations on this remarkable milestone!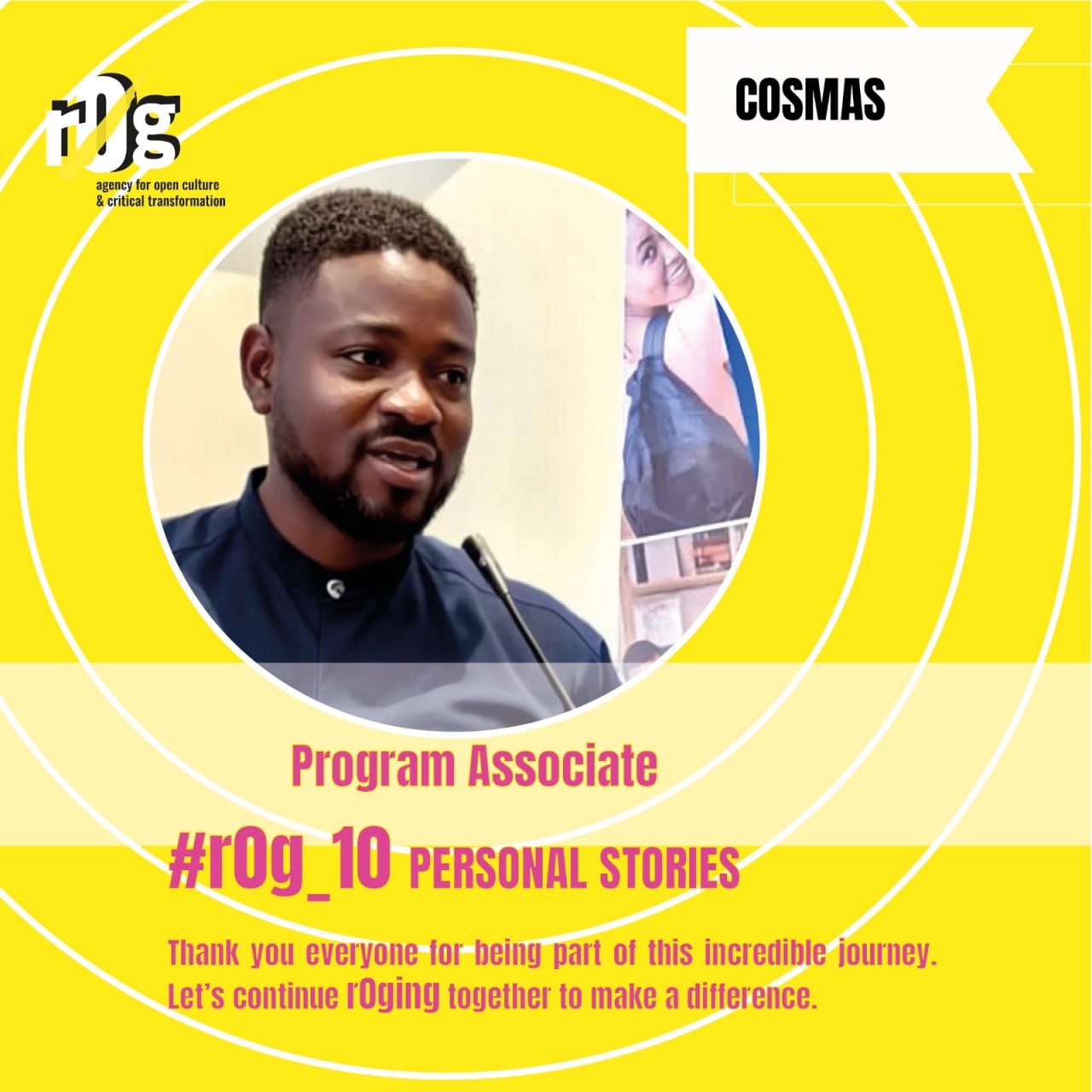 Personal Story - rocking with r0g agency as a program associate as we celebrate a decade of open technology, knowledge and peace building in social transformation in the Global South
Working with r0g agency over half a decade has been a rewarding journey as an African Diaspora who wants to see a truly open and equal society in our ever changing world.
As a team member of the Migration Media Network Project #MMN I had first-hand information on high risks associated with irregular migration to Europe and the perceived greener pastures abroad. I have had the opportunity to work with grassroot youth organisations in Ghana and Gambia to provide citizens with the right information on dangers associated with irregular migration and create awareness on safer and regular migration options as well as advocating for opportunities back home in Africa that could be tapped by the teaming youth.
r0g agency team structure and operations permit team members either as associate, advisors or interns to function in a freely open and respectful working space where each team member has the opportunity to fully contribute in the organisational development. This has permitted me to  share openly ideas of change  and learn from other projects such as #ASKnet, #defyhatenow and #OCFC in the social transformational agenda in countries in the global south.
A personal story for me with r0g cannot be ended without referring to the opportunity to learn lessons from other cultures in the Global South and North and the numerous music, dance and arts activities organised in the past years to keep our team  together and to harness global understanding and team spirit in the organisation.
Here's to the next 10 years of team work, collaboration, innovation and impact. I am more committed than ever to r0g,s mission in the global south and cannot wait to see what the future holds.
Thank you everyone for being part of this incredible journey. Let's continue r0ging together to make a difference.
#r0gAgency #OpenKnowledge #OpenTechnology #10YearsStrong #Impact #CommunityEngagement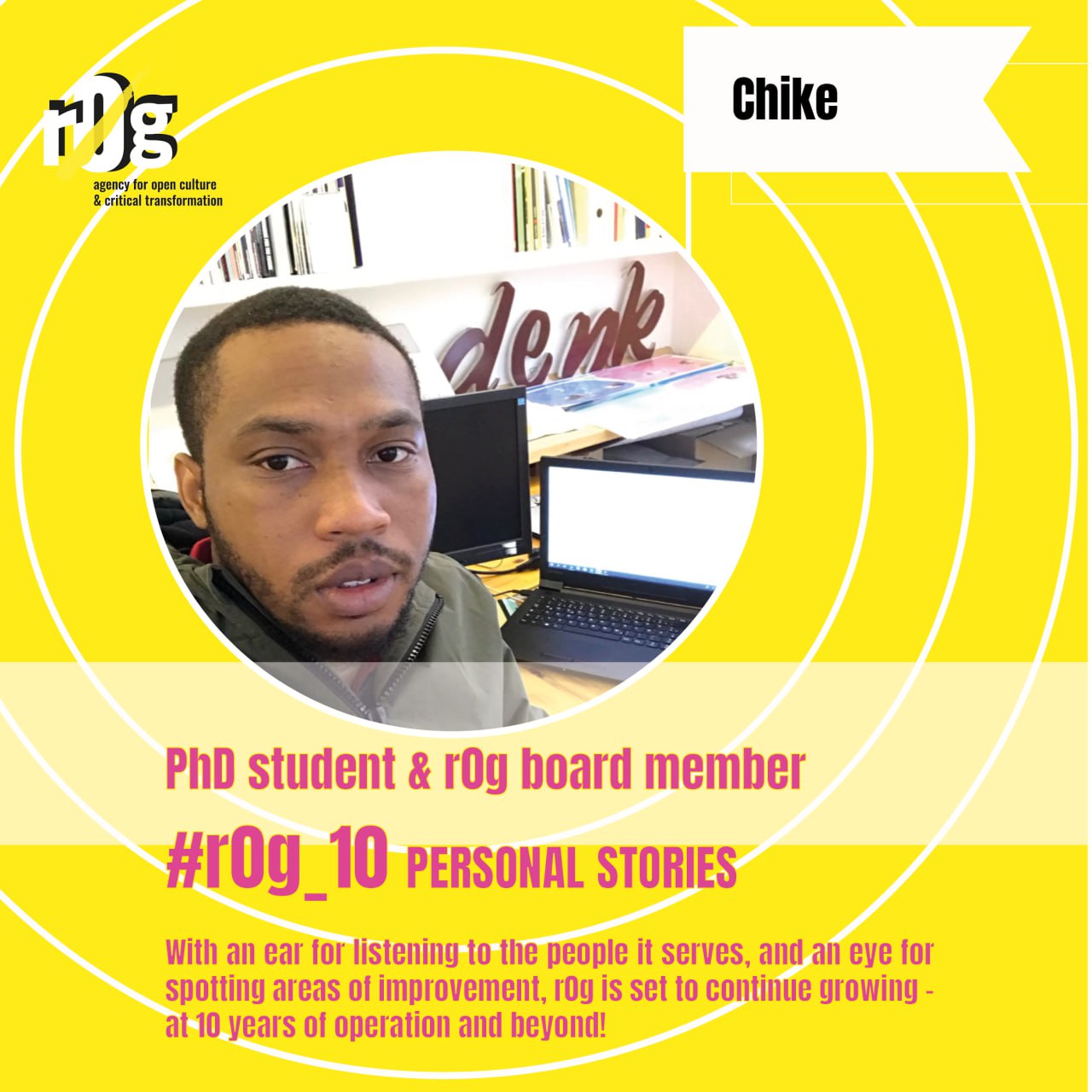 I first encountered r0g agency in 2017 as a student at Darmstadt University of Applied Sciences (Dieburg Campus) where the co-founder, Stephen Kovats, taught a course as a visiting lecturer. In the course of the semester, he exposed us, his students, to some of the amazing work that r0g was doing in South Sudan and some other sub-Saharan African countries. An overview of r0g's project DefyHateNow allowed us to see how working with grassroots organizations in the utilization of media and popular culture could be transformative for communities, especially young people navigating difficult situations. I was hooked! The key ideas that struck the chord for me were: "Access" (which exemplifies r0g's vision of a world with greater inclusivity and open access to resources); "Transformation" (which highlights the commitment of the agency in fostering and supporting positive, constructive change); and "Community" (embodying the atmosphere of mutual exchange and learning that r0g's structure and activities exude). With this exposition, I was determined to be a part of the agency to learn and contribute my talents and experiences to a worthy cause.
In the fall of 2018, I started as an intern at r0g's Berlin headquarters – that cozy office space in beautiful Charlottenburg! The few months I spent at the office was life changing, I must say. I helped lay the foundation for the establishment of a Defyhatenow project in Cameroun. In turn, I gained invaluable insights into the intricacies of the "international development world." From interacting with a diverse team who were either employees or partners of the agency, I became more confident in my abilities as a young change-maker able to apply my expertise in meaningful ways across various settings. My internship and subsequent relationship with r0g largely informed my decision to focus on the theme of "youth and development" for my PhD which I am currently completing at Carleton University in Canada's capital city. When the management team of r0g invited me to join the Strategic Advisory Board, I was quick to agree. It was a no-brainer, as the saying goes.
I have seen current and former employees/partners of the agency maintain a bond that is at once professional and family-like. I have seen how programmes have been insistently co-developed and co-administered by the young people who remain at the center of the organization's objective. I have witnessed, firsthand, the advantages of a critical approach to development work – one that is mindful of global and organizational power structures in the design and implementation of projects (as well as in day-to-day relations). With an ear for listening to the people it serves, and an eye for spotting areas of improvement, r0g is set to continue growing – at 10 years of operation and beyond!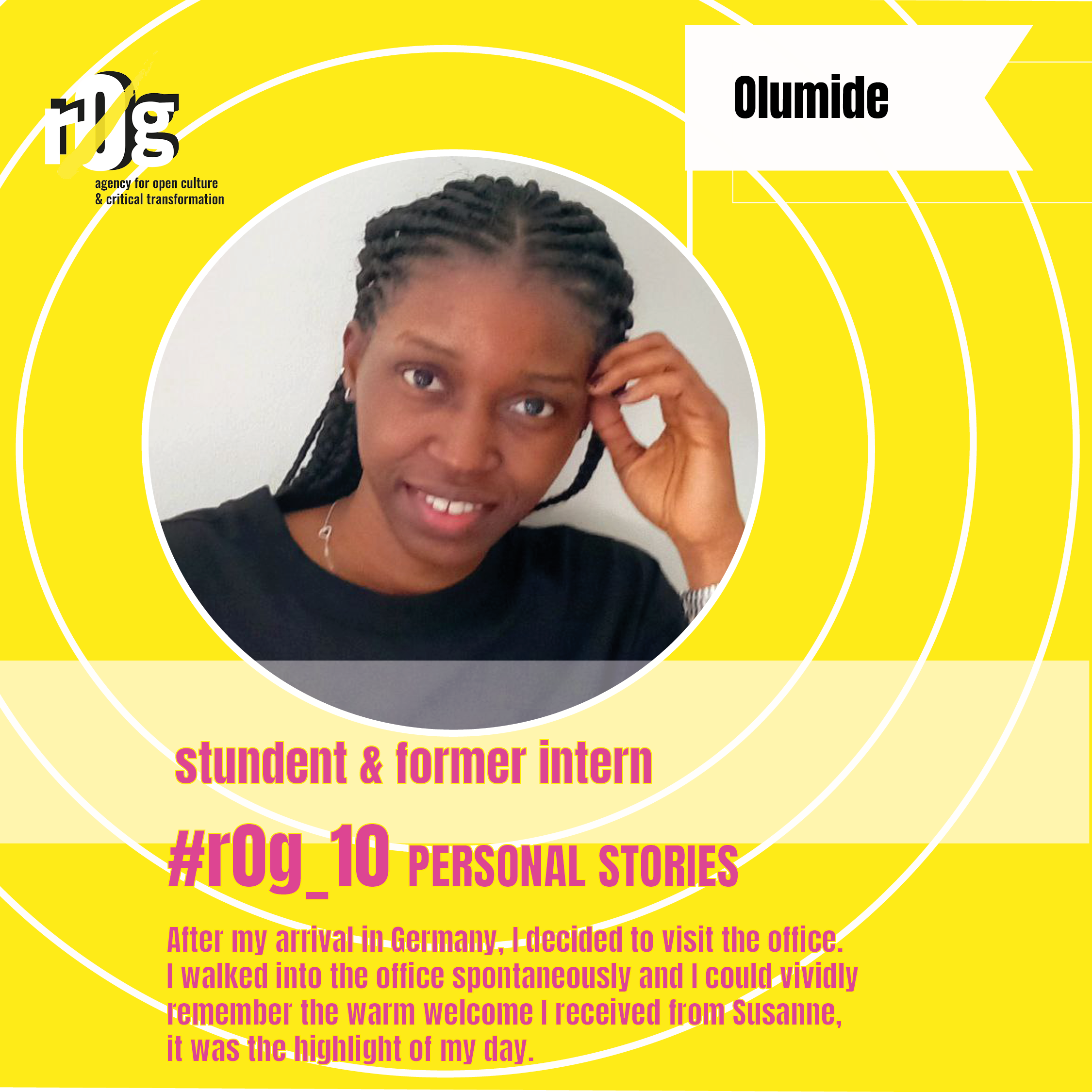 I discovered r0g_agency on social media and one of their projects, #MMN Migrant Media Network, instantly piqued my interest. After my arrival in Germany, I decided to visit the office. I walked into the office spontaneously and I could vividly remember the warm welcome I received from Susanne, it was the highlight of my day. I started an internship with the team in January until March 2023 and this experience became an integral part of my early memories as a new student in Germany. I was welcomed into the family.
During my time with r0g_agency, I got to know about other projects like #OCFC, #defyhatenow and #Asknet. It gave me valuable insights into the organization's commitment to development work. My internship with #MMN also inspired one of my semester essays on the EU's Externalization of Migration.
As r0g_agency celebrates its anniversary, I want to extend my warmest congratulations. Here's to many more years of impactful work ahead! More grease to your elbow.
Olumide Deborah Olufemi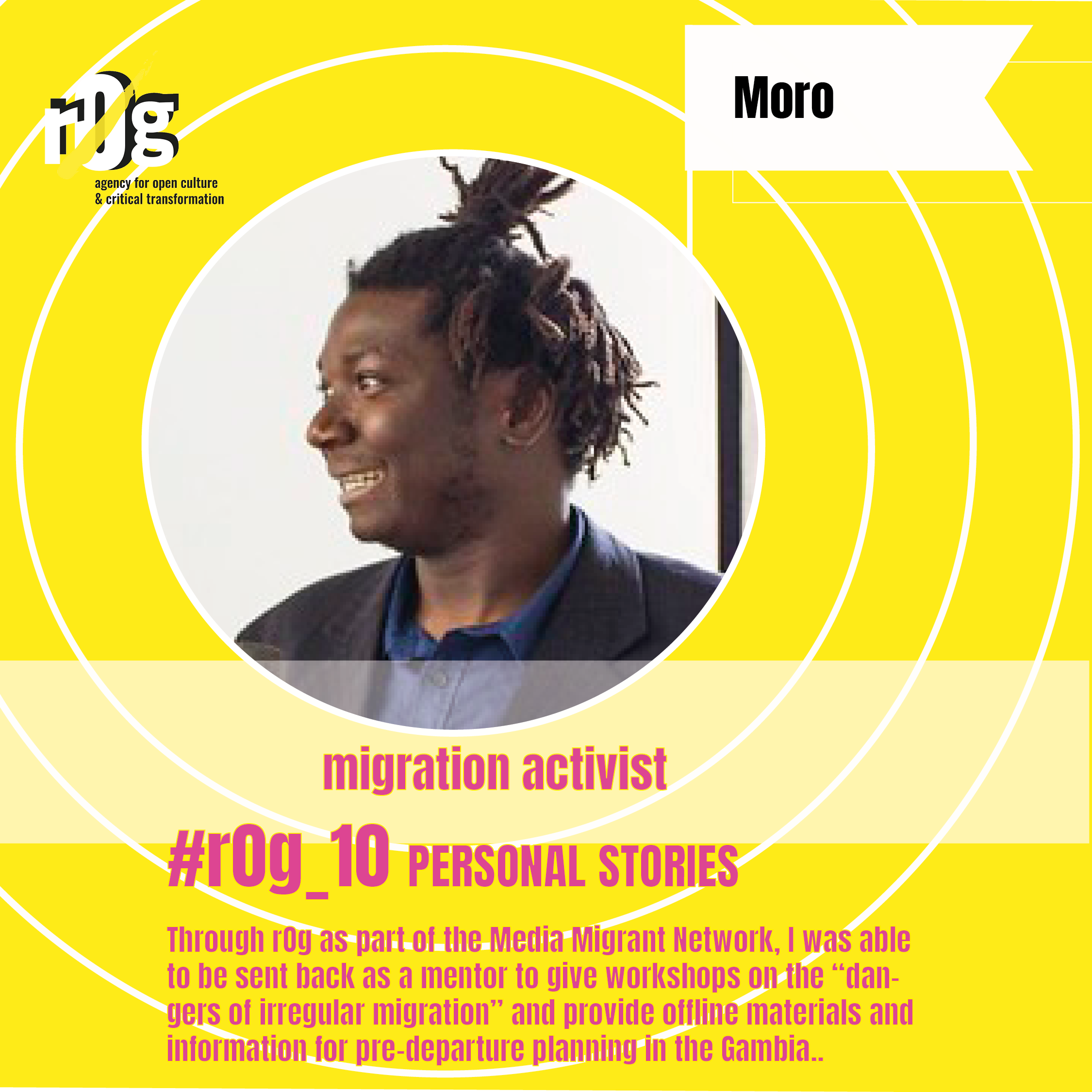 Through r0g as part of the #MMN Media Migrant Network, I was able to be sent back as a mentor to give workshops on the "dangers of irregular migration" and provide offline materials and information for pre-departure planning in the Gambia.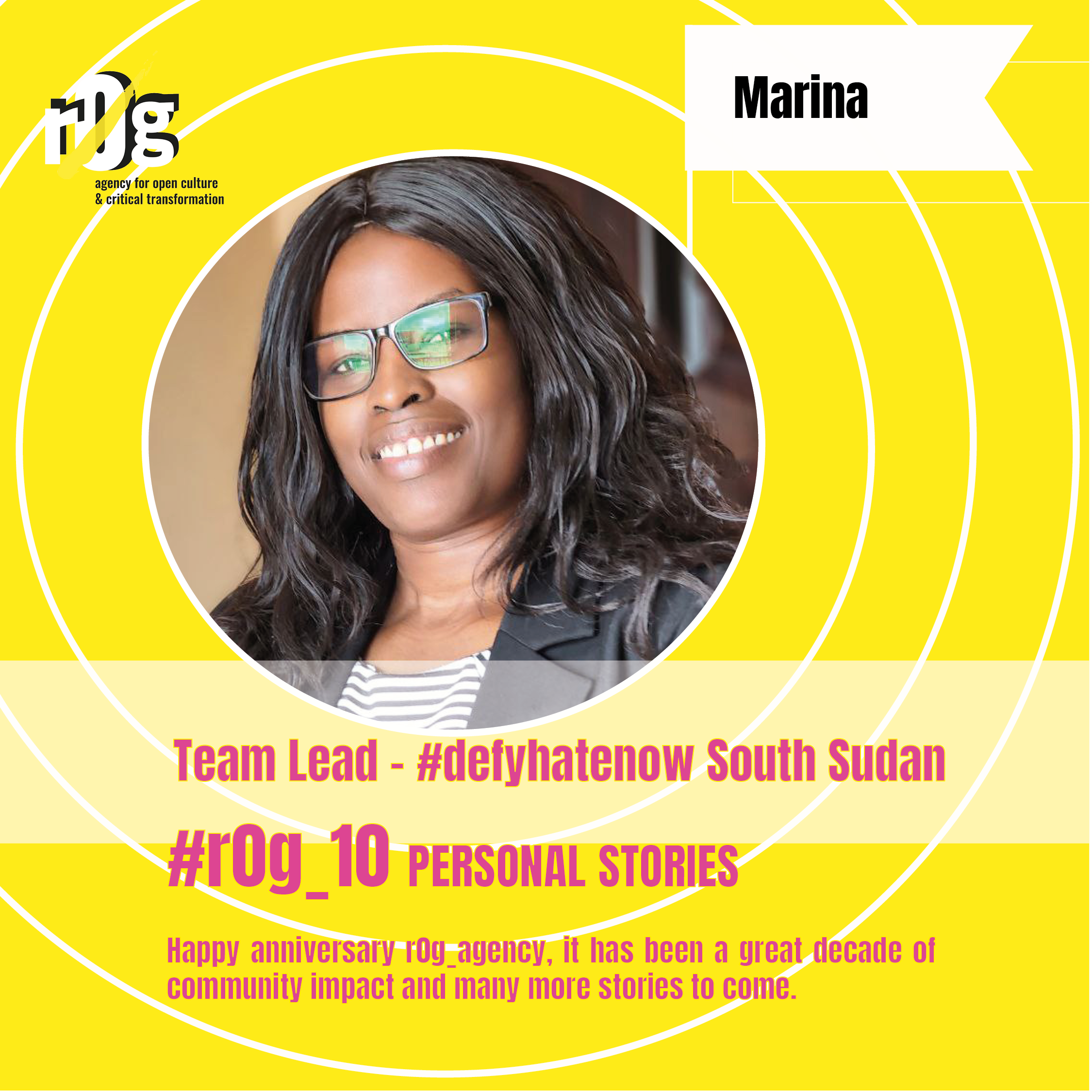 I first interacted with r0g Agency through the #defyhatenow initiative in South Sudan in 2016.  Since then, it has been a great journey of creating impact for the communities we work in, open learning, knowledge production and sharing.
Happy anniversary r0g Agency, it has been a great decade of community impact and many more stories to come.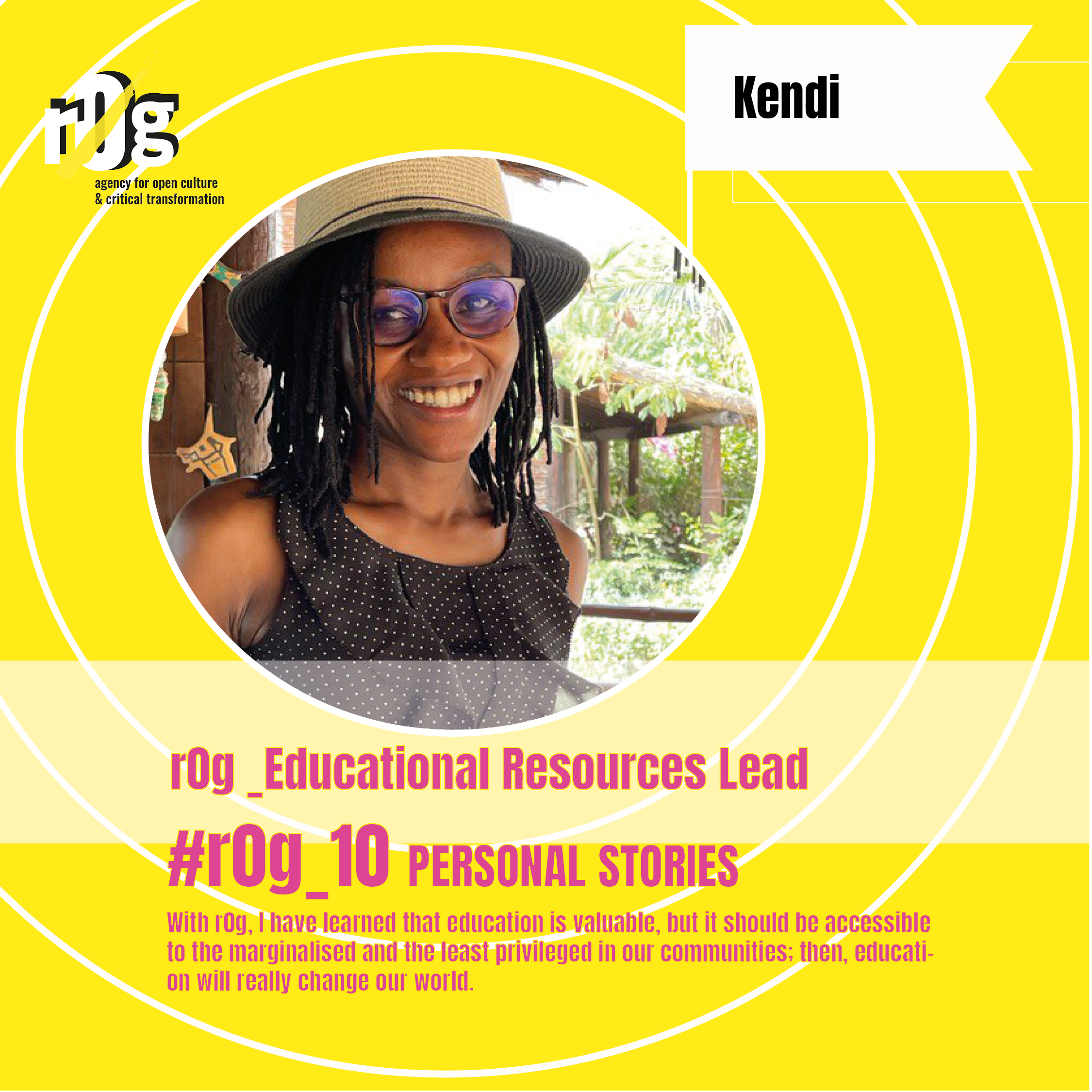 My journey with r0g_agency was rather coincidental. I had just left a very fast-paced corporate gig to focus on writing and advising start-ups on bridging the gap between technology and designing the future of work at the intersection of innovation, youth, and human capital. My millennial sense of wonder told me I would see the world, tell stories through words, and inspire the youth and my community.
While attending a meet-up at iHub Nairobi, Kenya, I met a friend who asked me to do a training on storytelling community journalism. Of course, I said yes; it was a workshop in collaboration with #defyhatenow South Sudan. I then wrote and edited for the #defyhatenow South Sudan initiative for a couple of months as a consultant, and the rest, as they say, is history.
I was a keyboard activist until I joined r0g. My activism became localised, I have joined protests, used my words in workshops, and changed my views and values with every new piece of information I have learned. With r0g, my prejudices have thawed, I have become more sensitive with people, and I am more guarded with my words, yet I am straightforward with what I mean. I have fallen in and out of love with food, places, people, and experiences. I have sharpened my work ethic and learned to take a break. I have made lifelong friends that remind me of the quality of human experiences. I have lost some friends and colleagues while at r0g and have seen how to care for people. People-focused organisations are built from genuine care, r0g has built a community, a family.
I struggled with what to do for a master's degree, and even when I settled on one, I learned every day is a learning day; everyone has something to learn, and one can never listen enough. Is education overvalued or overvalued? With r0g, I have learned that education is valuable, but it should be accessible to the marginalised and the least privileged in our communities; then, education will really change our world.
I have learned the art of challenging the status quo to break cycles and been less afraid of defining myself and changing that as I acquire new information. My millennial dream of seeing the world while I tell stories only has the seeing aspect firmly embedded. I am updating my dreams while redefining myself. I am an African feminist who is listening and learning. While r0g_agency is marking its 10 years of existence today, a dream born and carried by two people has touched and changed the lives of thousands worldwide, directly and indirectly. Bottoms up to another ten.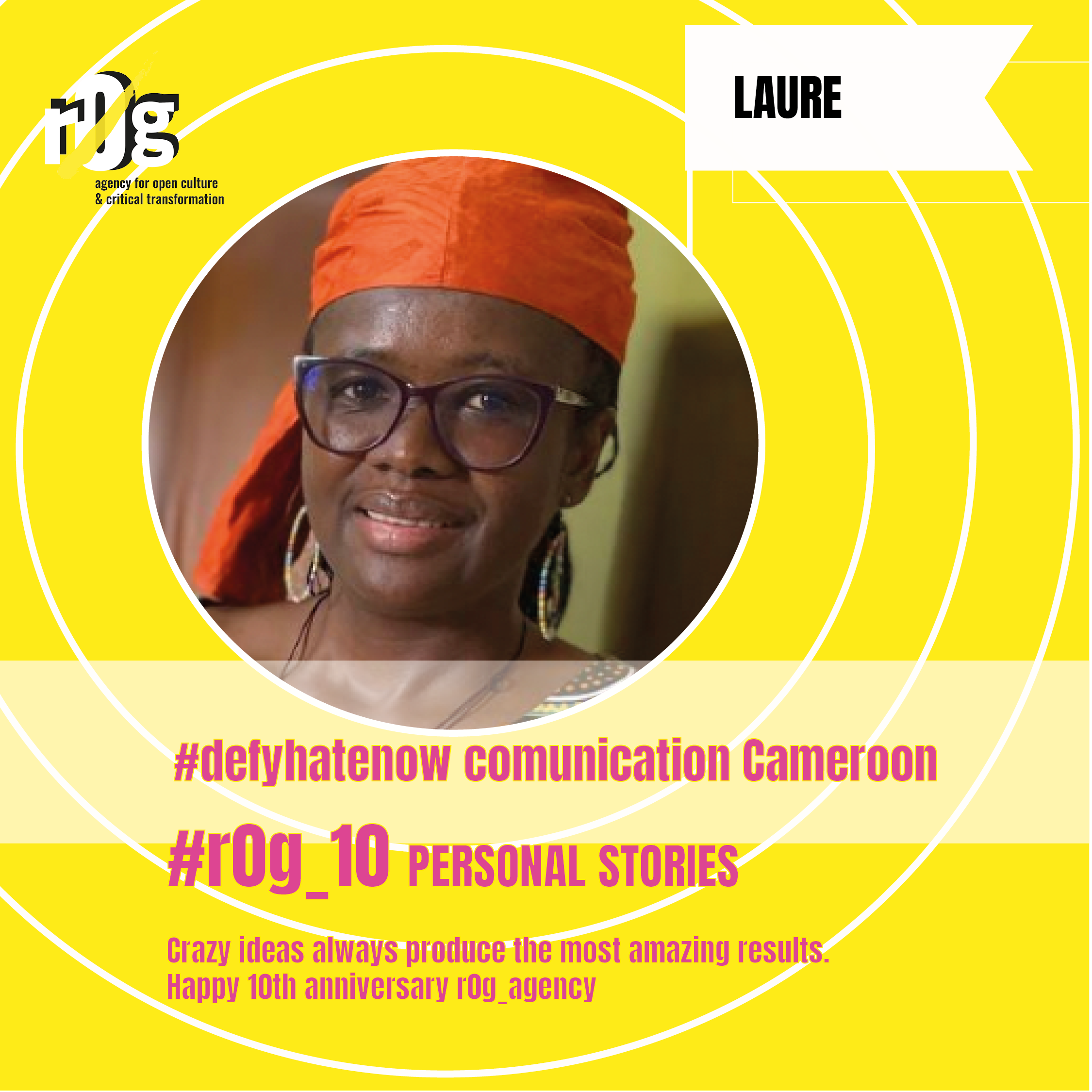 Crazy ideas always produce the most amazing results. Let's keep them coming. #defyhatenow Cameroon is proud to have been born out of that. Happy anniversary r0g_agency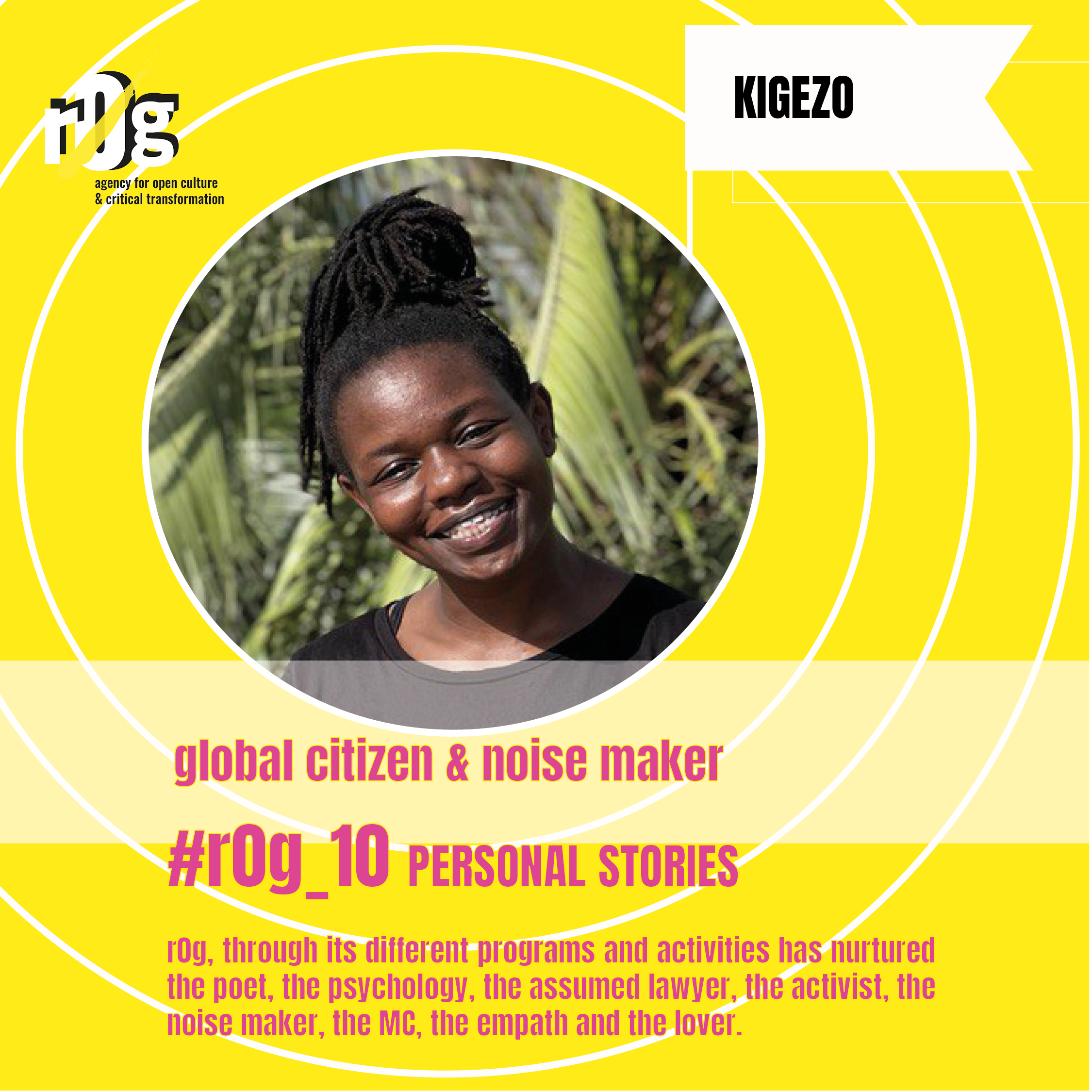 I met r0g in 2018 through, Platform Africa and the amazing #ASKnet hubs team. As a young learning and growing psychologist who had just completed her degree program the previous year, r0g under the #defyhatenow program gave me the opportunity to grow a big world wide family.
Through r0g I have become a global citizen, from working not only in Africa but in Europe and Asia too and having my work being used, read and taught from around the world.
r0g, through its different programs and activities has nurtured the poet, the psychology, the assumed lawyer, the activist, the noise maker, the MC, the empath and the lover. r0g has loved me and held me like they would a child.
I am different from where I am today because of the love, kindness, care and attention from r0g and its mountain moving power team. From Kendi, to Yara, to Blen, to Susanna, to Stephen, to each and every family member I have met as an extension  of the work with r0g.
Thank you, I am glad you are in this incredible community building  organisation. I definitely believe I got so many steps closer to my dreams with their push. These people  push you, even with the presence of imposter syndrome, they push you in fantastic ways.
thank you r0g - you are amazing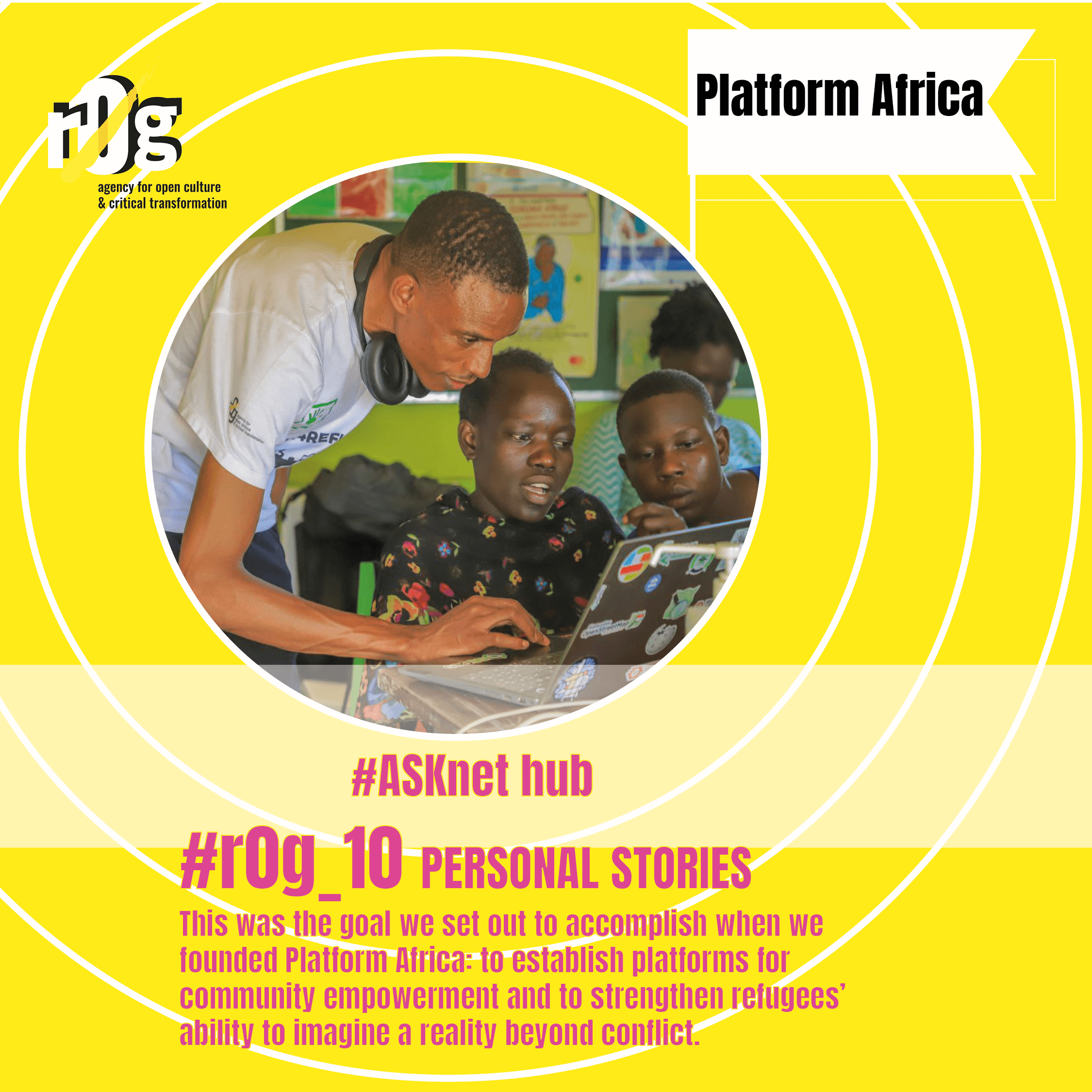 I recently received a text message on Facebook Messenger from someone named Bidali. He thanked me for the IT skills training. I was confused because I had never chatted with him before, but he explained that he had attended the IT skills training at our organization, Platform Africa and now had a job.
His message warmed my heart. It wasn't just a story or testimonial; I had seen many more messages like it this year. Our training had created a launching pad for many refugees to pursue their life goals, whether it was getting a job, starting their own business, using our space and facilities for e-learning or applying to college.
This was the goal we set out to accomplish when we founded Platform Africa: to establish platforms for community empowerment and to strengthen refugees' ability to imagine a reality beyond conflict. On the 10th anniversary of r0g_, we want to thank them for making this a reality. We have come a long way from walking distances with only flipchart papers to run workshops in community halls to offering skills in media, IT, and peacebuilding for our communities. This is more than an appreciation message from us at Platform Africa; it is a message from our community and young people like Bidali who have been able to benefit from the support of r0g_ agency for open culture and critical transformation.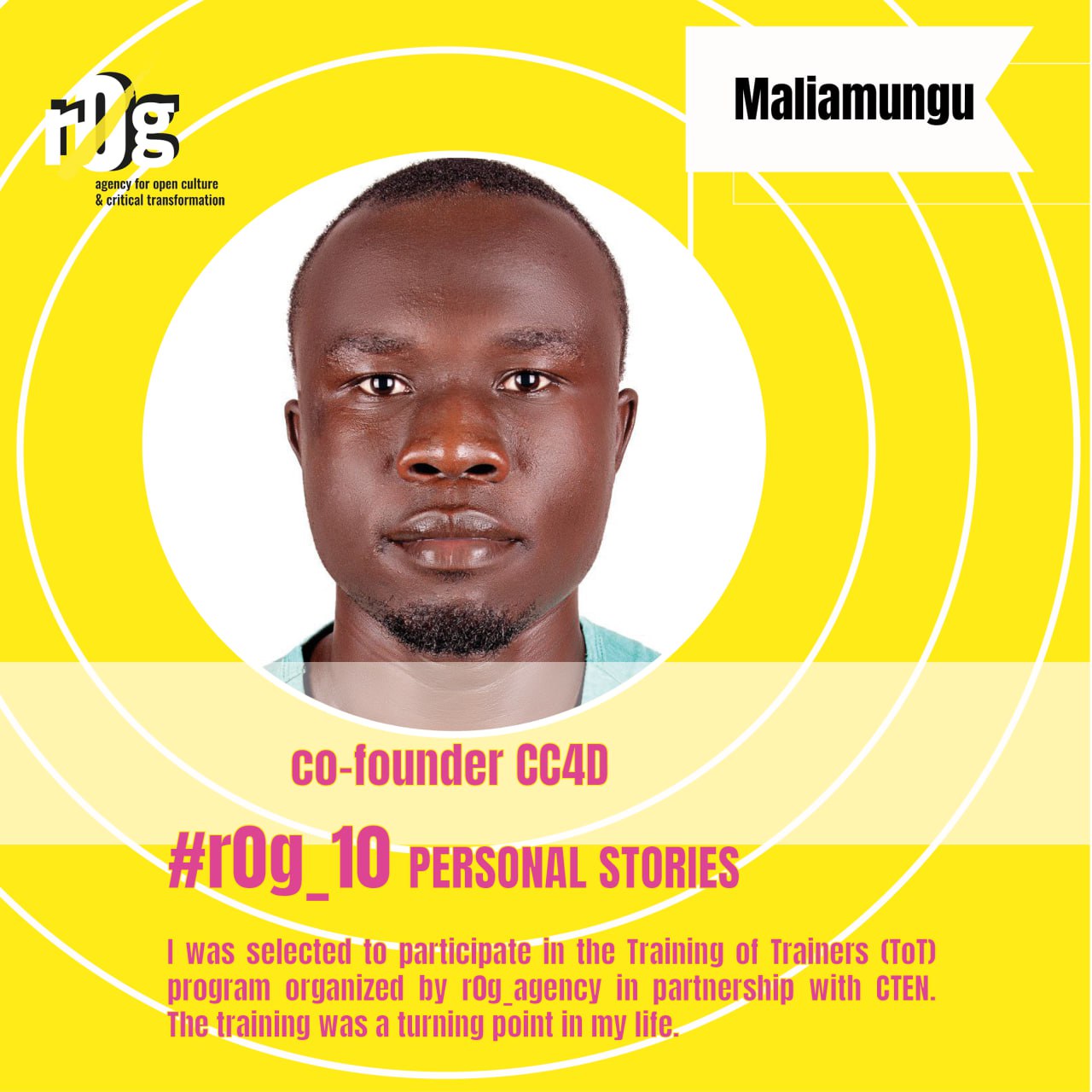 My Journey from Refugee to Open Tech Trainer/Co-founder Community Creativity for Development
Hey everyone, I wanted to share my incredible journey as a South Sudanese refugee living in Rhino camp refugees settlement in Uganda https://en.wikipedia.org/wiki/Rhino_Camp_Refugee_Settlement
.
In 2016, due to the devastating war in my home country, I was forced to drop out of school and sought for refugee in Northern Uganda.
Life as a refugee was challenging, but amidst the struggles, I never lost hope. I knew that education was the key to a brighter future, so I began exploring alternative ways to learn and grow. That's when I discovered the world of open tech and Open source Hardware.
In 2018, an amazing opportunity came my way. I was selected to participate in the Training of Trainers (ToT) program organized by r0g_agency in partnership with CTEN- Community Technology Empowerment Network (https://yellow.place/en/cten-arua-uganda and Hive Colab (https://hivecolab.org/
. This program, known as ASKnet- Access to Skills and Knowledge network(https://asknet.community/
, aimed to empower young south sudanese-led media Hubs and individuals like me with the skills and knowledge to run media programmes using the #ASKotec- Access to Skills and Knowledge Open tech emergency case https://openculture.agency/outcomes/askotec/
The training was a turning point in my life. I learned about repair, re-purpose and digital literacy, and the power of technology to create positive change. Inspired by this newfound knowledge, I co-founded the Community Creativity for Development initiative (CC4D).https://asknet.community/hubs/cc4d/
Since then, I have been fortunate enough to organize and run a series of Media projects on open tech related workshops in Uganda. These workshops have provided opportunities for young refugees and locals to learn about technology and digital skills to break barriers and bridging the digital divide.
But my journey didn't stop there. I also worked with the Defyhatenow_WCA (civic watch)
to run Open tech workshops in Cameroon. This incredible experience allowed me to share my knowledge and passion with even more people, fostering a sense of unity and understanding among diverse communities.
Through these workshops, we are empowering individuals to use technology as a force for good, promoting peace, and combating hate speech and violence offline/online.
My journey from being a South Sudanese refugee to becoming an open tech trainer has been filled with challenges, but it has also been incredibly rewarding. I am grateful for the opportunities I have been given and the lives I have been able to touch along the way.
Thank you all for being a part of my journey. Together, let's continue to defy the odds and create a better future for all.
#RefugeeToTechTrainer #EmpoweringCommunities #DefyHateNow #r0g agency #CC4D #ASKotec #ASKnet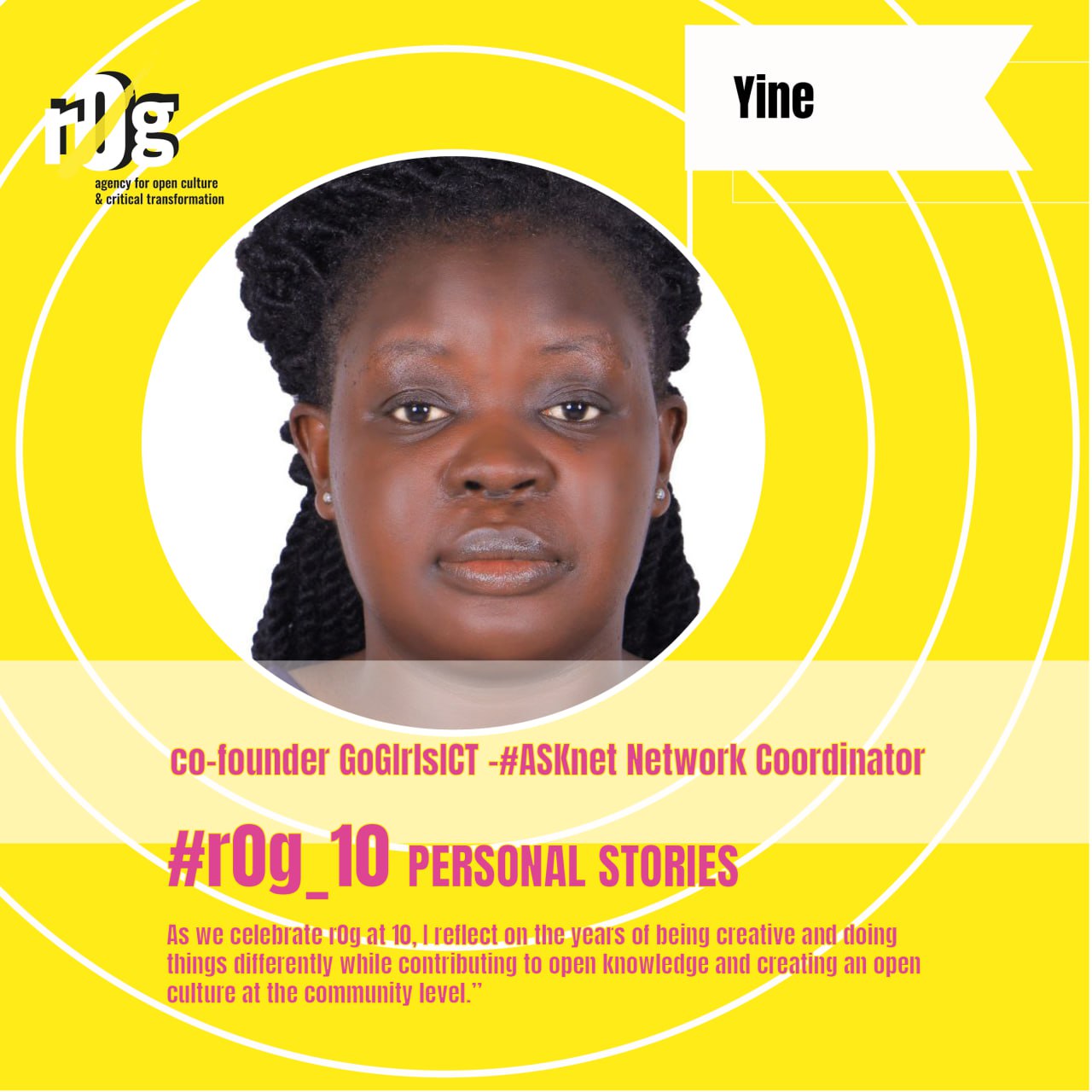 Yine"Co-founder l Mentorship Director GoGirls ICT Initiative
Board Member, NCA
#ASKnet Network Coordinator
I first came into contact with Stephen Kovats, the Cofounder of r0g-agency, during the #PeaceHackCamp in 2015, where I was invited to participate in one of the sessions together with Computer Science and Information Technology students whom I was teaching at the University of Juba. All I remember is that I took over the session with my students.
I met amazing friends who were creating change. That encounter gave me the confidence that propelled the birth of the GoGirls ICT Initiative. 8 years down the road since then, I have contributed solutions to global problems through r0g's initiatives such as #defyhatenow and #ASKnet. Today, I am a member of many open forums and global networks where I contribute to discussions, conferences, and white papers as a voice of Technology, Science, and Innovation from South Sudan. As we celebrate r0g at 10, I reflect on the years of being creative and doing things differently while contributing to open knowledge and creating an open culture at the community level."
Through r0g I have become a global citizen, from working not only in Africa but in Europe and Asia too and having my work being used, read and taught from around the world.
r0g, through its different programs and activities has nurtured the poet, the psychology, the assumed lawyer, the activist, the noise maker, the MC, the empath and the lover. r0g has loved me and held me like they would a child.
I am different from where I am today because of the love, kindness, care and attention from r0g and its mountain moving power team. From Kendi, to Yara, to Blen, to Susanna, to Stephen, to each and every family member I have met as an extension  of the work with r0g.
Thank you, I am glad you are in this incredible community building  organisation. I definitely believe I got so many steps closer to my dreams with their push. These people  push you, even with the presence of imposter syndrome, they push you in fantastic ways.
thank you r0g - you are amazing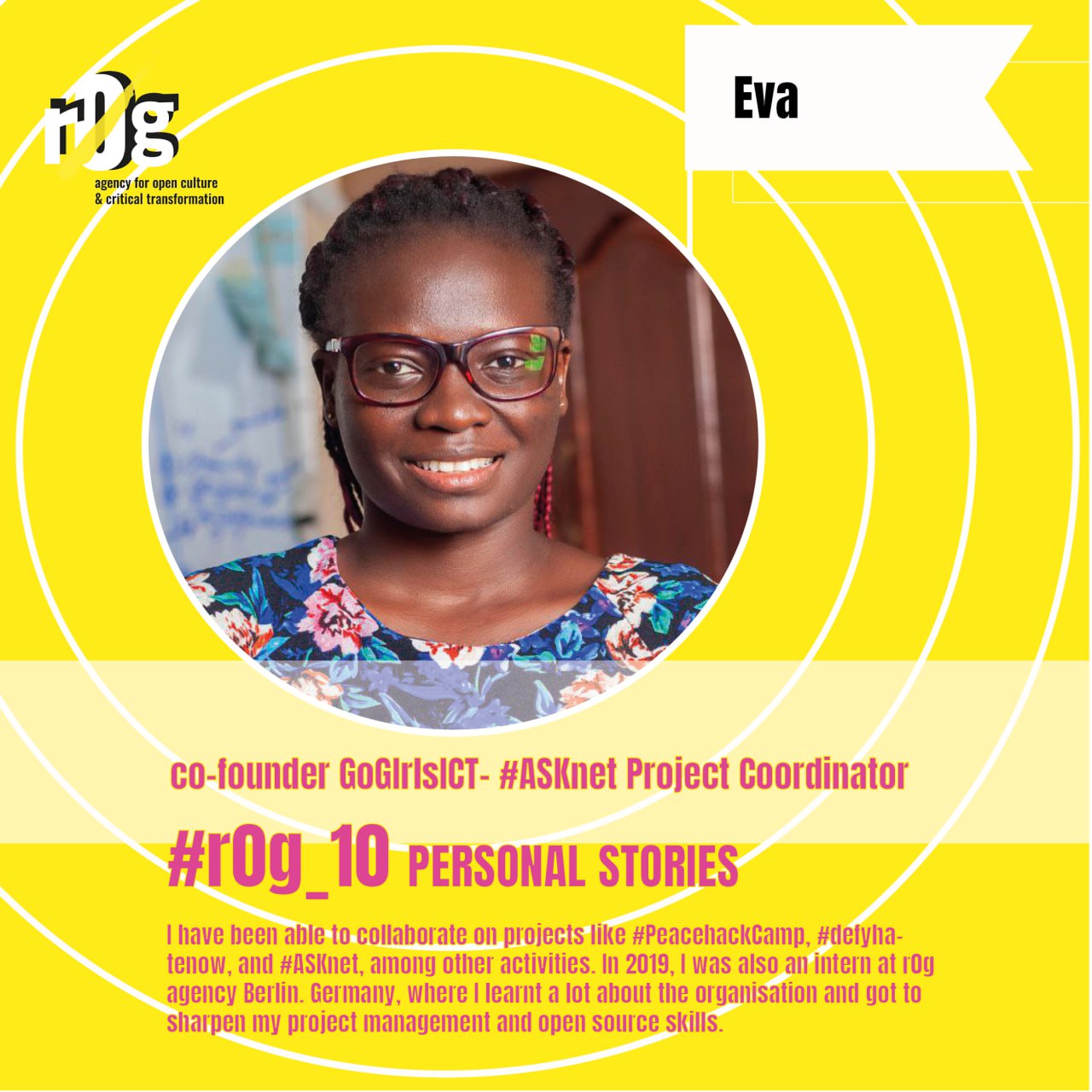 I met Stephen Kovats the co-founder of rog agency back in December 2012 during the Media and Makers' conference under the Open Knowledge and Open Source segment. It was interesting meeting people with similar interests and forming long term collaborations with rog agency. I have been able to collaborate on projects like #PeacehackCamp, #DefyHateNow, and #ASKnet, among other activities. In 2019, I was also an intern at rog agency Berlin. Germany, where I learnt a lot about the organisation and got to sharpen my project management and open source skills. Since then, we have worked on a lot of project collaborations together and are still going stronger in terms of partnerships.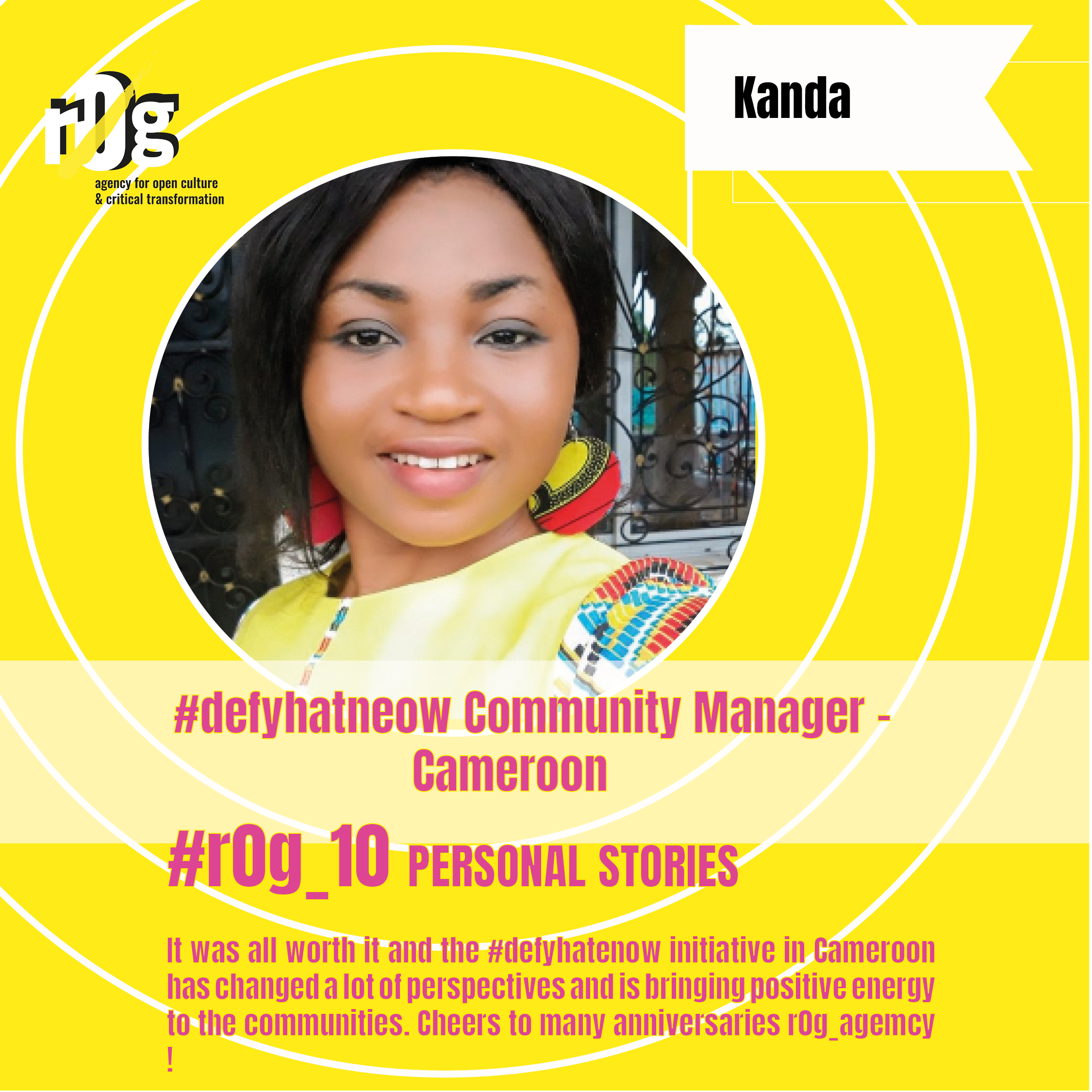 It was all worth it and the #defyhatenow initiative in Cameroon has changed a lot of perspectives and is bringing positive energy to the communities. Cheers to many anniversaries r0g_agency !