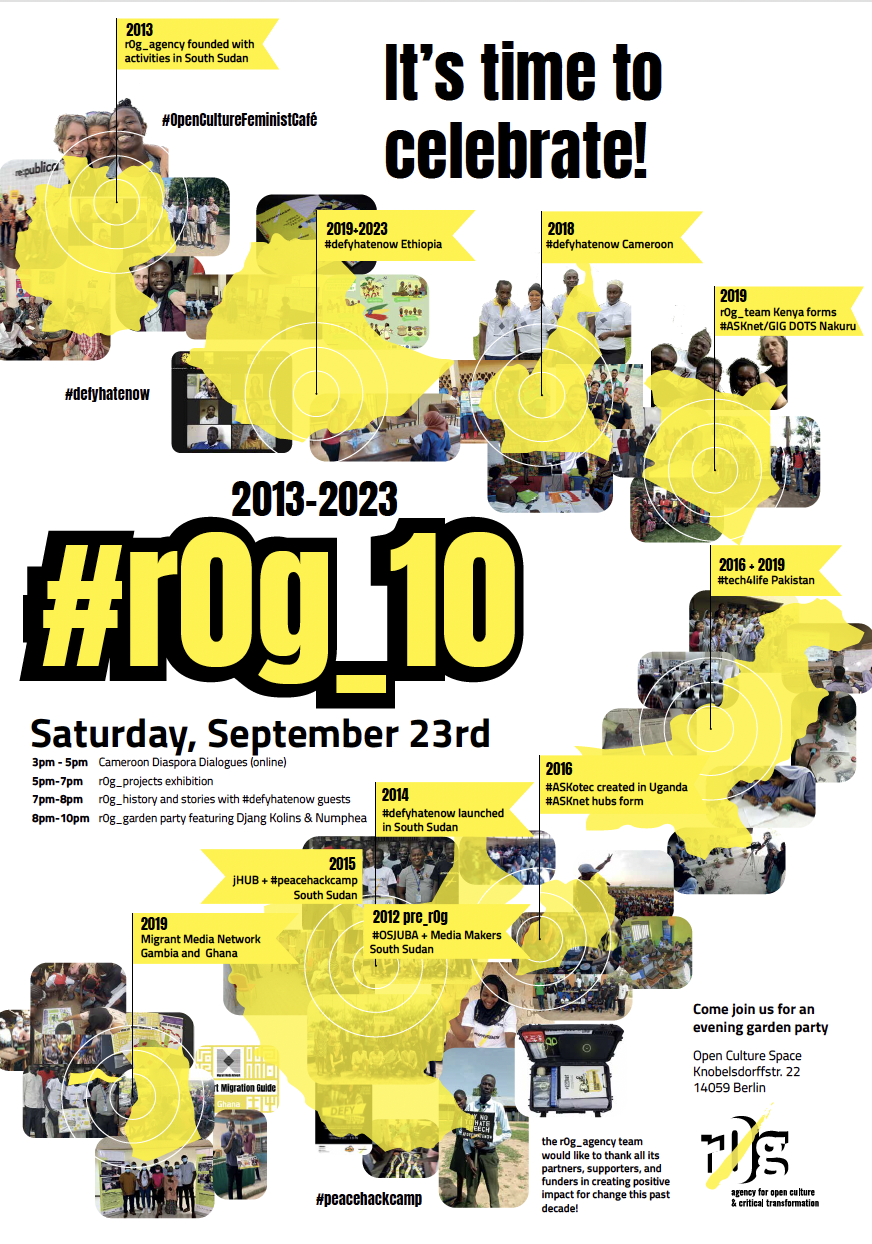 It's time to celebrate!
r0g_agency is turning 10 years old!
So come out and join us in celebrating a decade of collaboration with local organizations, achieving incredible milestones, and fostering positive change in communities around the globe. With the support of our partners, we have worked to mitigate hate speech, empower people with knowledge and tech expertise, and worked to keep people safer and more informed about migration options.
Whether you have been supporting us for a long time or are new here and want to get to know more about what we do, come join us on Saturday, September 23rd for an evening garden party at our r0g_agency Open Culture Space in Berlin-Charlottenburg.
We will also be hosting other events that week.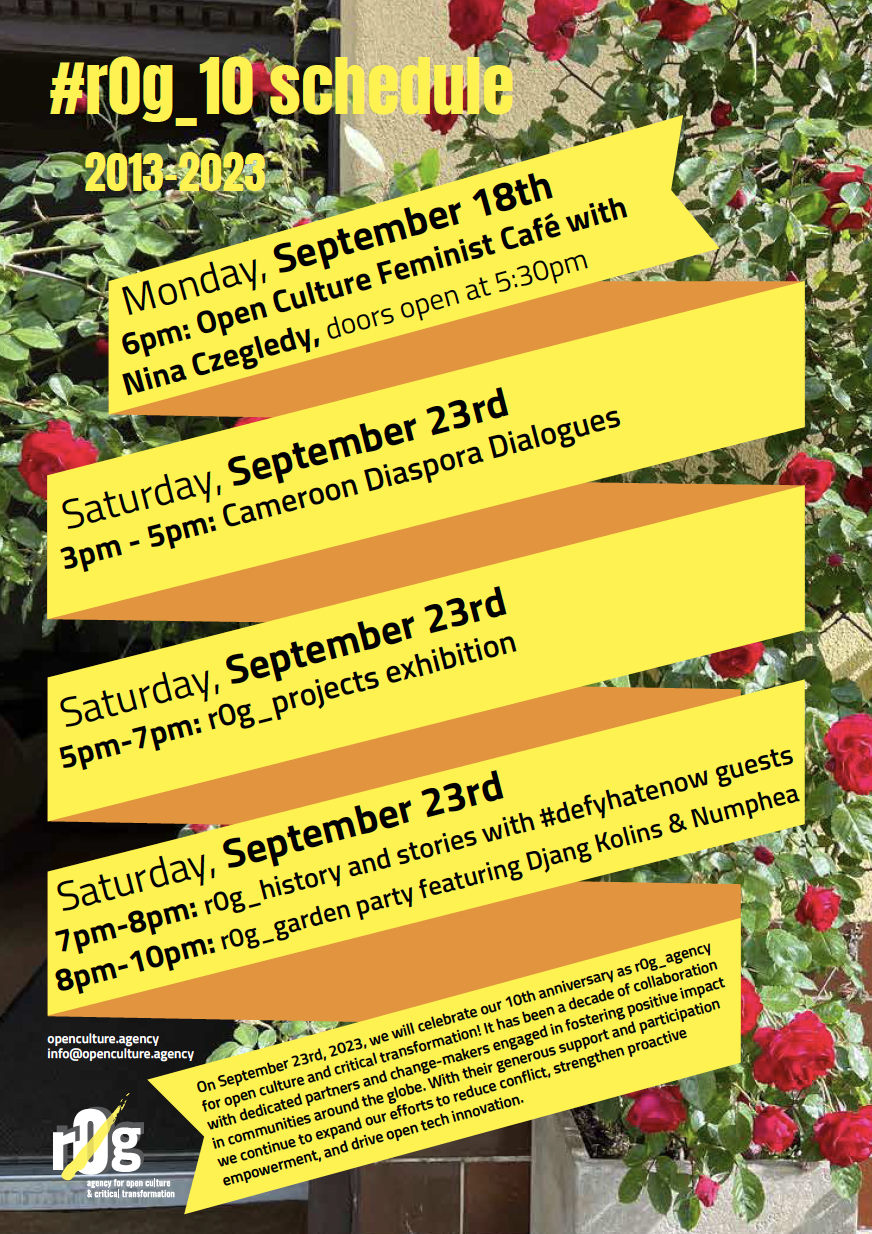 5pm-7pm,
We will open our doors at 5pm on Saturday. Our office will be set up as a small exposition, where we will display information about the work we do and have colleagues there to answer any questions you might have. So come take a look and get to know more about the r0g_agency and mingle in the office or garden space. We are excited about seeing familiar faces and getting to know new people. Drinks and snacks will be provided.
r0g_history & stories with #defyhatenow guests
7pm-8pm,
We will begin  the evening events with a short presentation about some of the milestones the r0g_agency has achieved over the past years. And we will hear about the successes and challenges on the ground from some of our visiting colleagues: Ngala Desmond and Kinang Derick Fai from #defyhatenow Cameroon and Kendi Gikunda and Dan King'ori from our Kenya-based #defyhatenow team.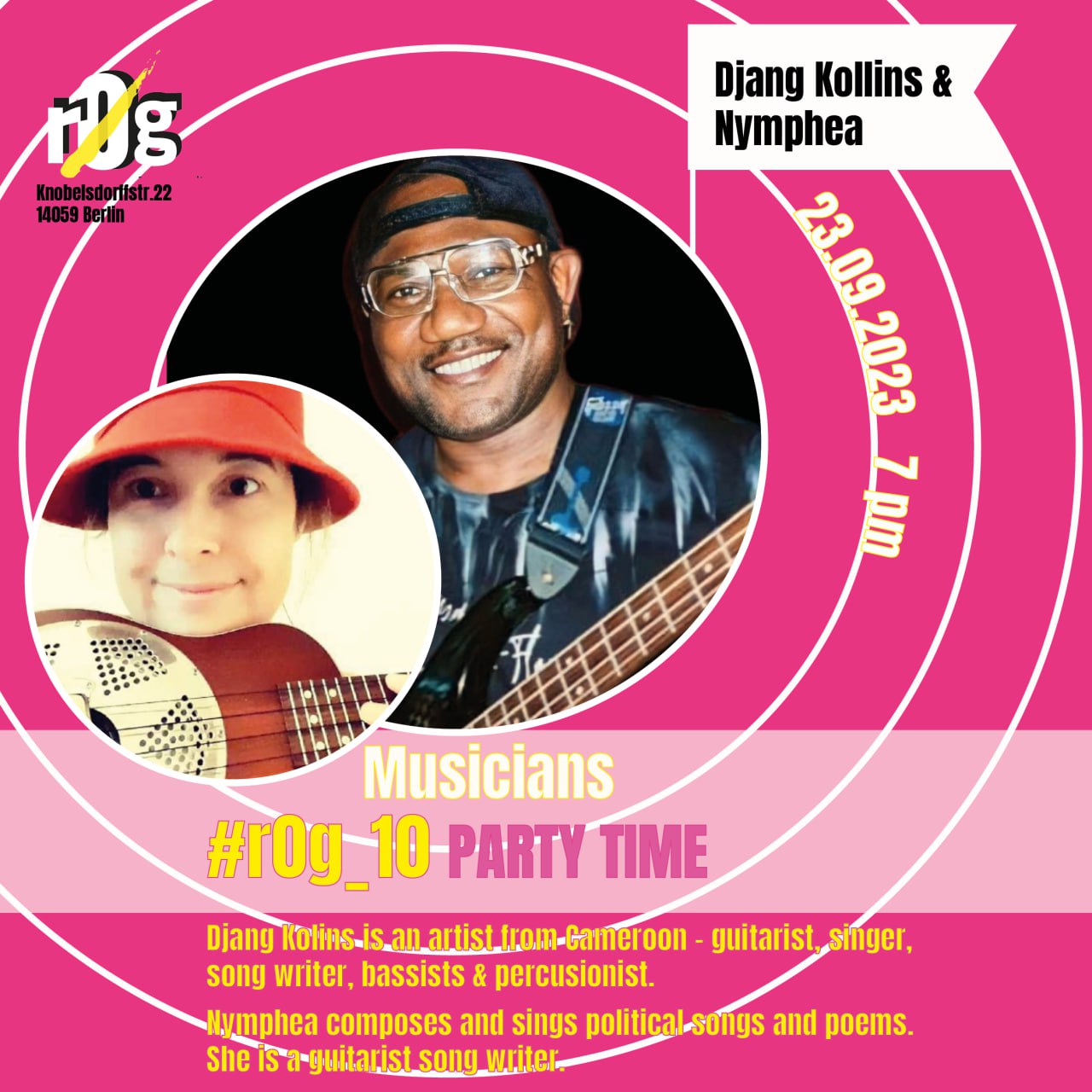 r0g_garden party featuring
Djang Kollins & Nymphea
8pm-10pm,
Join us in the garden for a drink, food, and to listen to the live music. Everyone is welcome to join.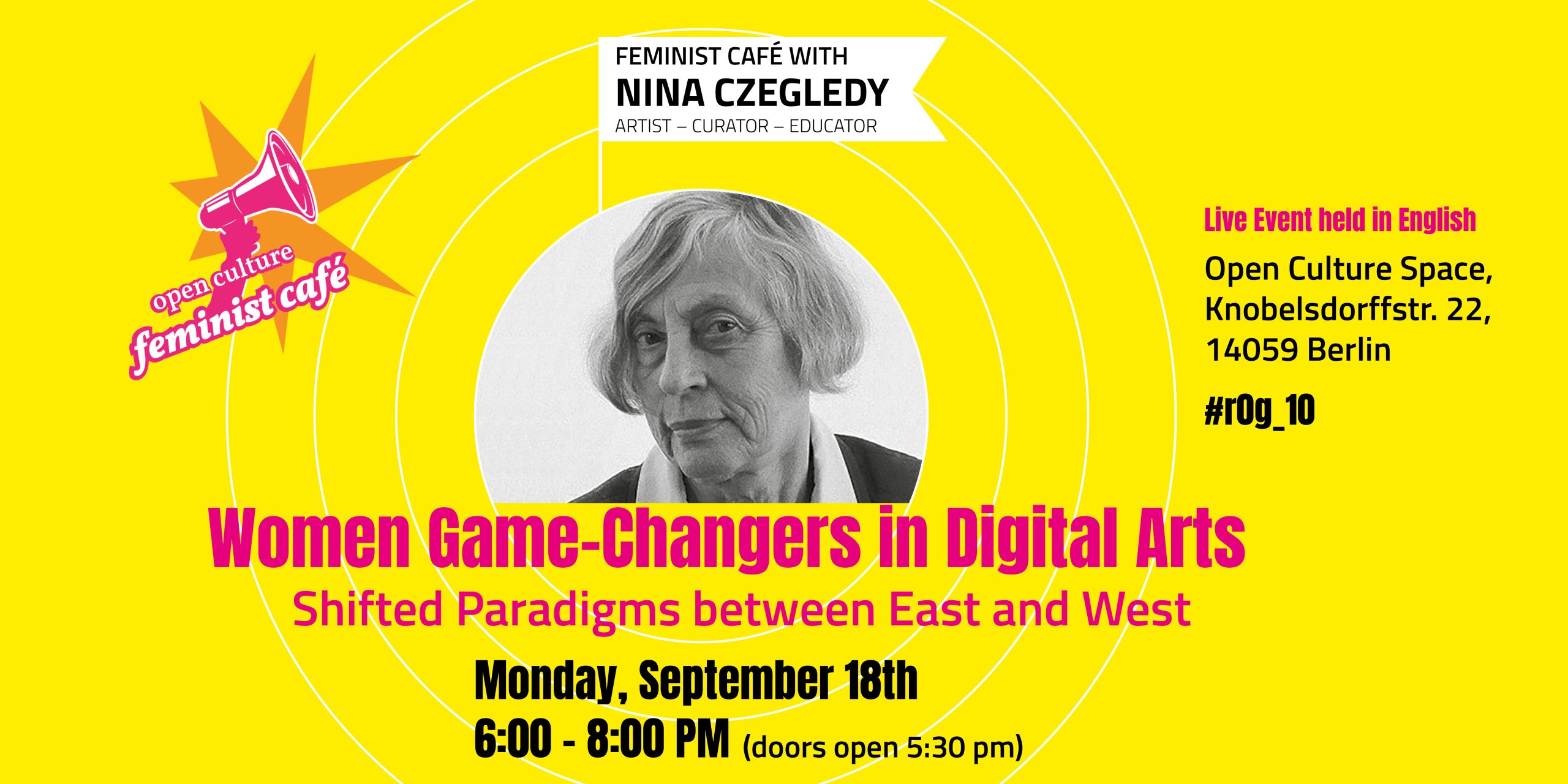 Open Culture Feminist Café
6pm, doors open at 5:30pm
We will be hosting a feminist café at our r0g_agency Open Culture Space in Berlin. Our guest speaker will be Nina Czegledy, an artist, curator, and educator based in Canada.
She will discuss women in the digital arts in the context of Canada, Eastern- and Central Europe.
She will share her experience with film and media-based art throughout the decades, from her upbringing behind the iron curtain to the years following the opening of borders in eastern Europe, up to her present collaborations. The event will be free and open to everyone.
Cameroon Diaspora Dialogues
3pm-5pm, online
On September 23rd, in order to celebrate International Day of Peace, we will be hosting a #defyhatenow Diaspora Dialogues panel discussion. This event will be online only. The aim is to engage with the Cameroonian diaspora, shed light on the diverse perspectives within the community, and explore ways they can contribute to transforming and resolving conflicts.
This dialogue will be the first of a series of Cameroon Diaspora Dialogues, which we plan to organize on a quarterly basis. During these dialogues, we'll invite members of the global Cameroonian community to share insights from various corners of the world.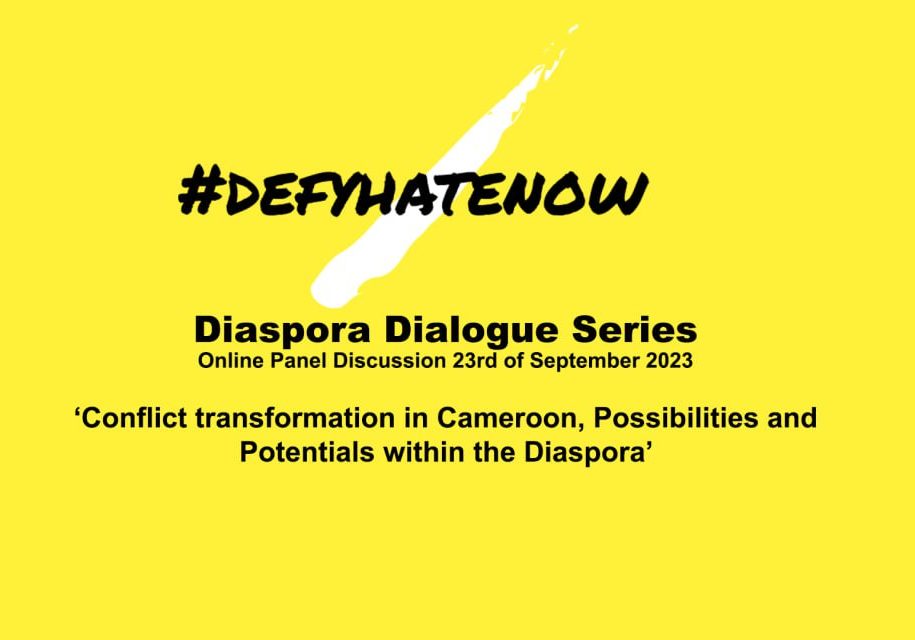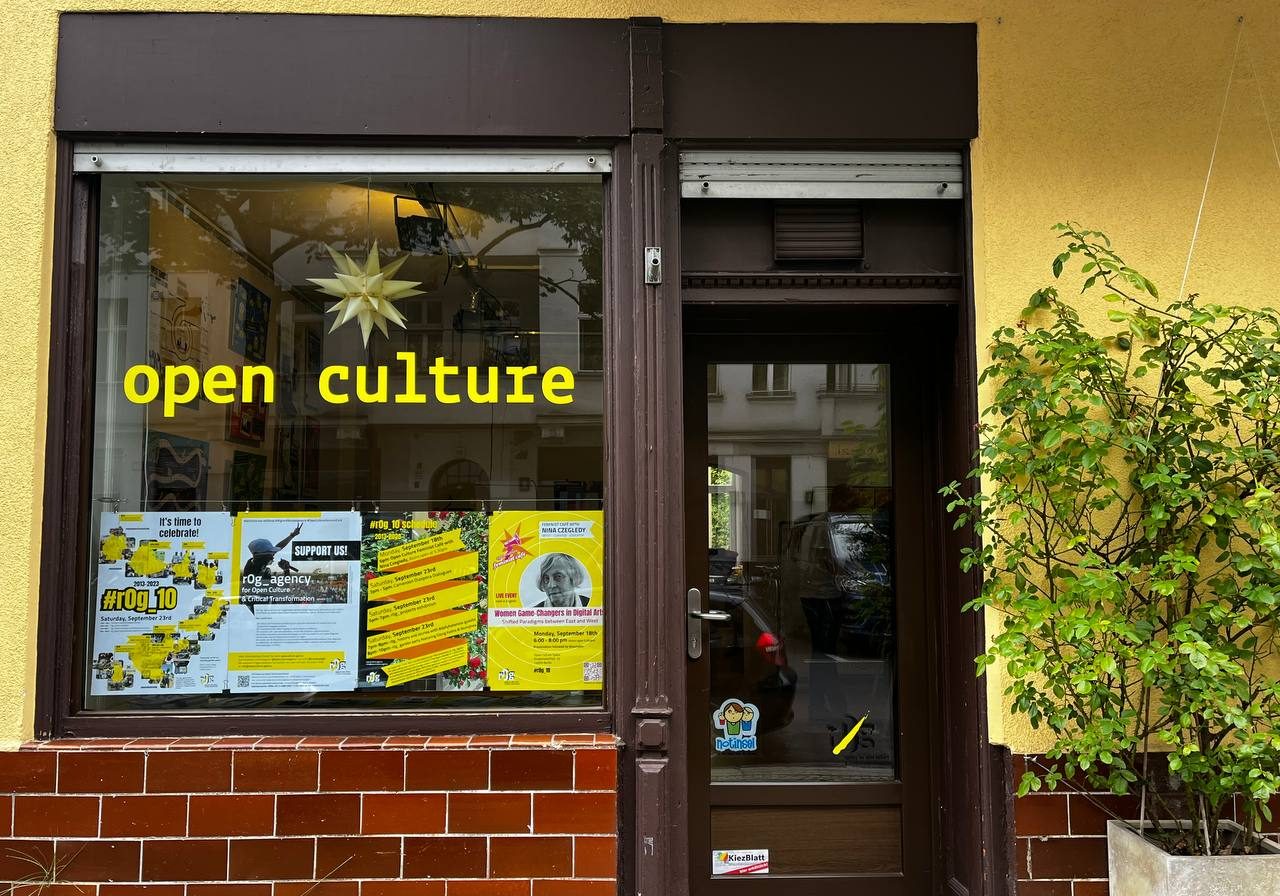 r0g_agency for open culture and critical transformation gGmbH
Knobelsdorffstr. 22
14059 Berlin
Germany
Tel: +49 (0)30 - 55071900 landline