Policy Development and Social Media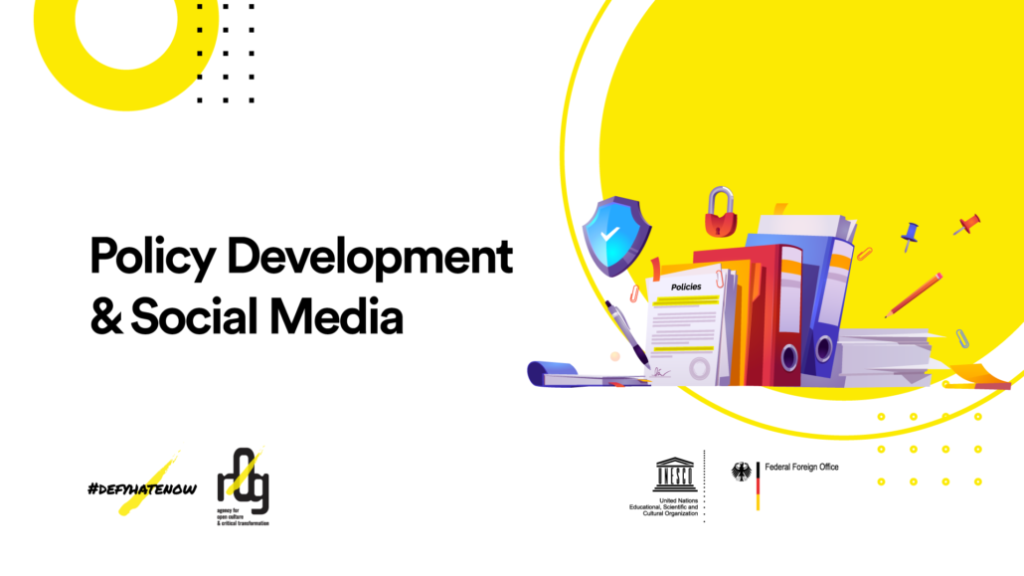 Article by: Kendi Gikunda
Public policy can be defined as any government action to address public issues and is essentially a government decision undertaken to pursue a specific goal or objective which may or may not be enforceable at the central, state or local level of governance. Policy-making thus remains a dynamic process that is changing dramatically with the increased involvement of different stakeholders. Given the multiple voices of different stakeholders at various policy-making levels, civil society must be proactive and create spaces for public policy participation.
One way of ensuring that people's voices are heard and determine policy-making has been through activism and advocacy. Advocacy is described as an act of publicly representing an individual, organisation, or idea and used as an umbrella term for many intervention tools, including active lobbying by letter writing, meeting politicians, running public forums, questions in parliament, and participating in various consultative processes. On the other hand, activism often means taking direct action to achieve a political or social goal. Activism can positively or negatively connotate how activism is perceived and how activists are depicted in the media.
In recent times, one area that has seen a rise in advocacy and activism is digital rights and access to the internet and social media. It has been noted that in the aftermath of the Arab awakening, the internet and social media have become the next frontier for the contestation of political power and democratic expression in African politics. According to Nielsen Online, at least 520 million Africans use the internet, and at least 300 million use various social media platforms, with Facebook, YouTube and Twitter being the most dominant. A 2016 report suggested that political discourse on Twitter is on the rise in Africa, with Africans having a higher rate of political tweets than people in the US and UK.
Aware of the threat that social media poses to their power, repressive regimes in Africa have employed various methods to stifle internet-based mobilisation. These include internet shutdowns, targeted social media applications shutdowns, website takedowns, extensive surveillance of digital communications, online propaganda, and the detention of online critics. Paradigm Initiative's Digital Rights in Africa reports that in 2016, 2017 and 2018, there were at least 25 internet or social media application shutdowns in Africa. In 2018, repressive governments adopted yet another tactic: taxes on social media usage. In countries such as Uganda, Benin, Tanzania and Zambia, there are now laws that impose daily taxes on social media and other over-the-top services.
In Cameroon, several recent online campaigns have harnessed the power of social media, bringing civilians together as one voice and mobilising support from international communities to agitate for change. The various conflicts – between separatists and the government, the Boko Haram threat and post-election tensions – have seen ordinary citizens use social media apps to publish the crises in real-time and sensitise the world happening. It is therefore unsurprising that in 2016 an official statement from the government labelled social media a new form of terrorism, also suggesting that sites like Twitter and Facebook had created a social pandemic, perpetuated by amateurs, whose ranks continue to swell and who do not have a sense of etiquette and decorum. The government went as far as shutting down the internet during the 2018 elections.
In the face of such blatant disregard of freedoms, it is essential that the civil society both take to task and collaborate with the government to ensure policies that govern social media ensure freedom of expression while protecting the citizens. This, as earlier explained, mostly happens through advocacy and activism. Activism can be done by:
Offering critiques – Maintaining a public discourse critical of the government's harmful actions and demanding change
Confronting the proper authorities – Use various means to force the government to engage, for example, strikes, protests, putting up posts on social media, etc.
Organising – Using people power to organise mass-based grassroots movements that pressure the government to change its policies.
Advocacy, on the other hand, would achieve those same objectives by:
Collaborating – They build and maintain relationships with state officials and legislators and use official channels to initiate change, like lobbying the government, legal action…etc.
Facilitating – Advocates facilitate the flow of information between the grassroots and the governing powers. They also act as representatives of a group, present their ideas and complaints to the relevant authorities, and ensure their participation in the policy-making process.
Though these groups may take different approaches to achieve the same goals, they both follow the same tenets of mobilisation at whatever level they are at and initiating reforms.
There have been, and still are, groups, organisations, and individuals dedicated to fighting for digital rights across Africa. However, there is still a dire need for a homegrown strategy to protect and promote online rights and freedoms on the continent. The African Declaration on Internet Rights and Freedoms, a Pan-African initiative to promote human rights standards and principles of openness in internet policy formulation and implementation on the continent, is a huge step in the right direction and brings together many key actors who are in the frontline in the fight for digital rights.
In our efforts to help mitigate conflict and engage communities in peacebuilding, #defyhatenow has invited collaborations with local activists, peace-oriented organisations and the local media to keep the digital rights conversations going. We aim to facilitate local players to develop resources and support their communities in building a peacebuilding framework, bridging gaps of knowledge and awareness of social media mechanisms, helping set up and support networks that they can lean on.