#defyhatenow social media #PeaceJam16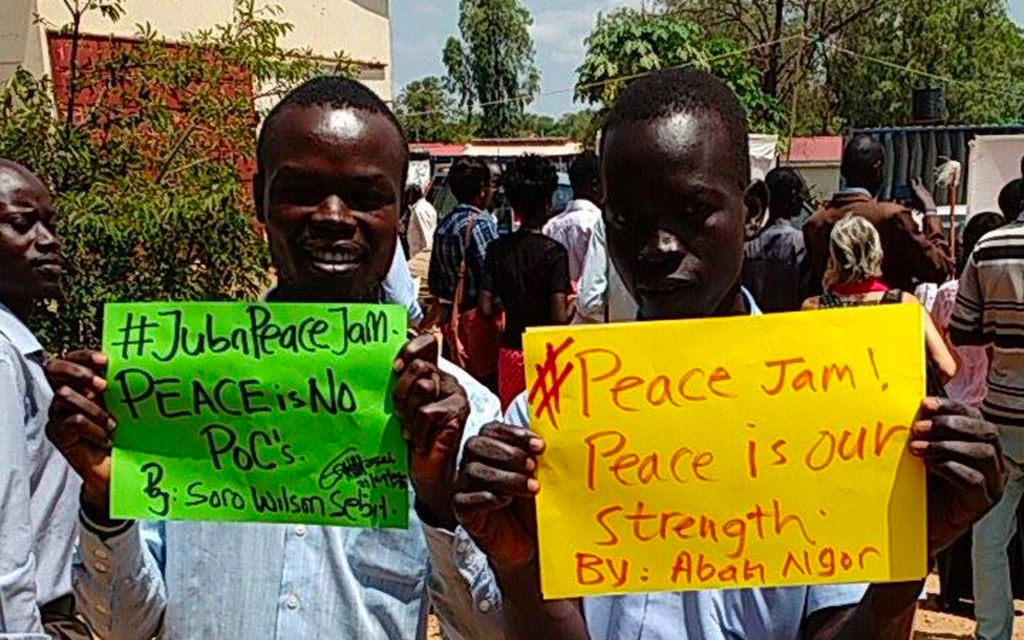 Peace messages from Juba #peacejam "Peace is our strength" by Abar Algor & "PEACE is NO PoCs" by Soro Wilson. Photo: Hakim George
We are very happy to coordinate the international social media #peacejam for UN World #PeaceDay, September 21st 2016
Events taking place with #defyhatenow partners in Juba, Wau & Maban (South Sudan); Nairobi & Kibera (Kenya); Rhino Camp in Uganda, Edmonton Canada; and whever you are online.
Please use hashtags #PeaceJam #DefyHateNow #SouthSudan & #PeaceDay on your social media posts & tweets. Using #peacejam #defyhatenow hashtags will help track the broader  South Sudanese use of online channels for positive cultural change, and gain a better understanding of the social media peace landscape of South Sudan.
Selected events include traditional youth dance, street theatre and workshop in Juba;  The Rhino Camp #PeaceJam(Arua, Northern Region, Uganda) which aims to reconnect south Sudanese Refugees in Uganda through an open interaction and workshop based event. Following the recent escalation of violence in south sudan majoring in towns like Yei, Wau and Yambio of the former western Equatoria state there has been an increasing rate of refugee influx to Uganda, South Sudan's neighboring country; Diaspora meeting to #peacejam in Edmonton, Canada; Social media awareness and peace message workshop at The Hub, East Africa in Nairobi.
#PeaceVillage #PeaceJam, Uganda
The #Defyhatenow initiative brings together South Sudanese youth, elders and women from four refugee cluster settlements of Ariaze A & B, Ariwa, Simbili and Eden of the Rhino Camp to a peace building event. Aimed at networking, reconciliation and connecting South Sudanese socially through open interaction, peace messaging, drama, traditional dances and music. A brief presentation on dangerous speech will raise awareness of online hate rhetoric as one of the key contributing factors to the current South Sudan crisis. The conflict has maintained a steady escalation after July 7th 2016, forcing a large number of South Sudanese to move to Uganda, now the top country hosting asylum seekers from South Sudan.
#SautiKubwa #Peacejam, Kibera Nairobi
Swahili word, translating to "the big voice," organises fun events to bring together different communities living in Kibera slums. Collaborating with brothers and sisters from neighbouring countries to inspire people working together for peace, health & education. #SautiKubwa is a variation on the #peacejam in the form of funny short competitions including, laughing, eating and face-making (gurning). Ending with a hug, and posing for photos with the sign of peace, all are winners, Young footballers – an important part of our community for peacebuilding, will have a juggling competition &  final #peacejam photo message.
Wikipedia Peace Agents #Peacejam
A first step in the wikipedia peace agents, where wikipedia is 'mined' to get an initial overview of information about South Sudan, what languages are being used etc … and for things that are particularly interesting to promote peace, unity and cultural diversity to bring these into the social media sphere, via facebook and twitter. Also contacting wikipedia authors, sources & connectors.
While you are #peacejamming, actively look for; link to; comment on and share / retweet any other South Sudan related  peace, unity, cultural, artistic or positive development stories, organisations (grass roots, local, literacy/education, youth, women's, diaspora groups etc) or online campaigns.
For example, this fantastic work by #AnaTaban initiative & community of artists and activists working for Peace in South Sudan:
#peacejamming now! #southsudan world #peaceday social media #peacejam#defyhatenow Share your peace messages on social media – please use hashtags #PeaceJam #DefyHateNow #SouthSudan in your postings & tweets; repostings & retweets. Participate online by sharing your peace messages on social media (Twitter, Facebook, Instagram, Snapchat etc).