#ASKotec = Access to Skills and Knowledge open tech emergency case
#ASKotec - a case designed to work as a mobile trainer's set to tackle basic field challenges when it comes to Open Tech and Open Source Hardware innovation, education and repairing wherever needed.
Providing  »Access to Skills and Knowledge«  as a multi-functional »Open Tech Emergency Case« gives rural and urban innovators a new point of entrance.
A dust proof case with basic tools and materials to distribute knowledge and product development. As well as up-cycling old material to new #open innovation ...anywhere.
The #ASKotec kit is part of the #ASKnet program and was created through a series of hub development workshops by a community of young innovators intent on bringing skills training and peace-building together in the effort to end the South Sudan conflict. It is a resource kit for community trainers, created for mobile field-use where there is neither easy power nor internet connectivity such as refugee camps, low-infrastructure regions or rural areas.
please visit the #ASKotec website here: https://askotec.openculture.agency/
Tutorials for #OpenTech trainings at wikifab.org/wiki/Group:ASKnet_Open_Tech#Tutoriais
Contact us for the editable OER material or join us at Github/ASKotec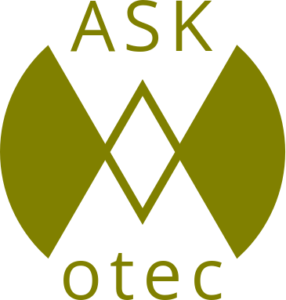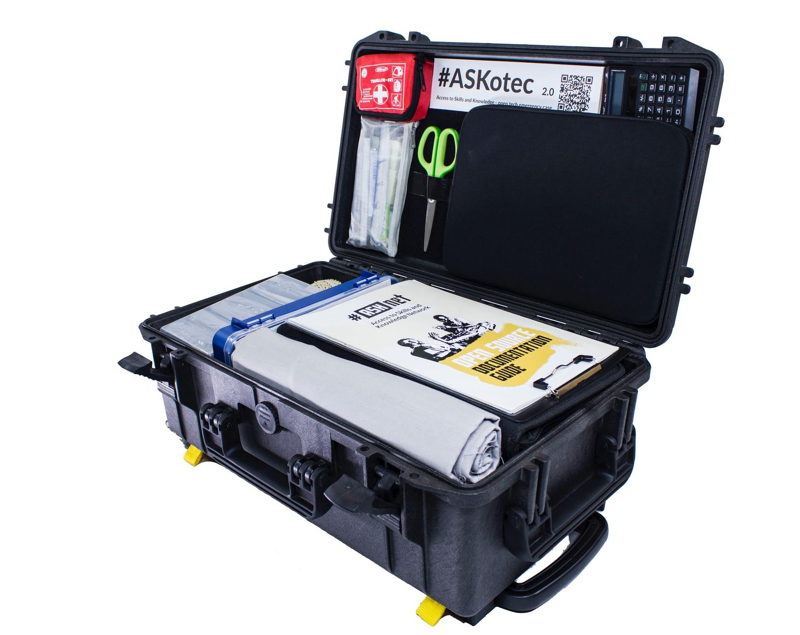 The kit is a rugged, dust-proof case with a range of quality advanced tools, elements and materials for
learning and practicing electronics, especially small-scale solar energy
repairing, disassembling, building mechanical and electronic devices
developing peer-to-peer skills, sharing knowledge to become a community trainer
Each #ASKotec contains over 50 items including
electronics, connection hardware, solar elements
soldering, cutting, measuring and specialised mechanical tools
arduinos, sensors, LEDs, related modules
manuals and user developed 'how-to' guides
compact Linux computer with customized open source software package
complete list at github.com/opencultureagency/ASKotec/
Crowdfunding for access to technology
Join us in collecting the funds to build 5 additional kits and support our trainers by
sharing the campaign on Twitter and Facebook
talking to your friends and family about it
contacting us if you know of companies, individuals and other contacts in your network and neighbourhood who might be interested in partnering with us
Radio interview on Radio Miraya, Juba, South Sudan
Junub Open Space, an open literacy resource and community innovation space, is organizing the first technology and hardware building and innovation workshop in Juba.
Jaiksana A. José and Bior Ajang tell us more about the upcoming workshop.
Milestones 
2019
Feb to Dec - ASKnet project
Use of the ASKotec for the set up of 5 Hubs in South  Sudan, Uganda and Kenya

May 6th - re:publica, Berlin Germany: Workshop on building use of the ASKotec | GIG Makerspace at #rp19, Berlin, Germany
May 6th - re:publica, Berlin Germany: Innovation surviving through Conflict AKSotec for the refugee settlements - presentation by Jaiksana Soro
May 4th to 9th - open:fora *the cultural street meet. a 4 day  capacity building and design workshop

2018
Dec – Exhibit at rp:Accra, Accra, Ghana
Sep - Kathmandu Mini Maker Faire, Nepal (hosted by Communitere Nepal)
July - FabLab Siegen: Workshop on skills development as factor in post-conflict trauma relief (hosted by University of Siegen, Germany)
June -  UNESCO Tech4Dev conference, Lausanne, Switzerland: Panel discussion featuring, hosted by EPFL
May - Open Tech Summit, Berlin, Germany: Workshop on building solar chargers with 12 participants | GIG Makerspace at #rp18, Berlin, Germany
April - AfricaOSH, Kumasi, Ghana: Demo and workshop by Jaiksana, during Africa Open Science and Hardware Summit, hosted by Kumasi Hive, Facebook post with images | International  IoT Day, Rhino Camp refugee settlement, Arua District, Uganda: Demo and workshop, hosted by CTEN
March - Open Tech Juba, South Sudan: Community workshop, Announcement on Radio Miraya (audio)
2017
December - ThingsConNBO, Nairobi, Kenya: Presentation in context of socially responsive IoT and grassroots innovation (hosted by Gearbox)
2016
November - Kiryandongo Refugee Settlement, Bweyale, Uganda: Pilot workshop with trainers, 3 kits and 30 students, hosted by Panyadoli Self-Help Secondary School | Kampala, Uganda: Open Tech TOT workshop produces #ASKotec, 'Let's Go jHub' project (in collaboration with icebauhaus and Hive Colab  / BMZ funded)