Our christmas wishes for #ASKotec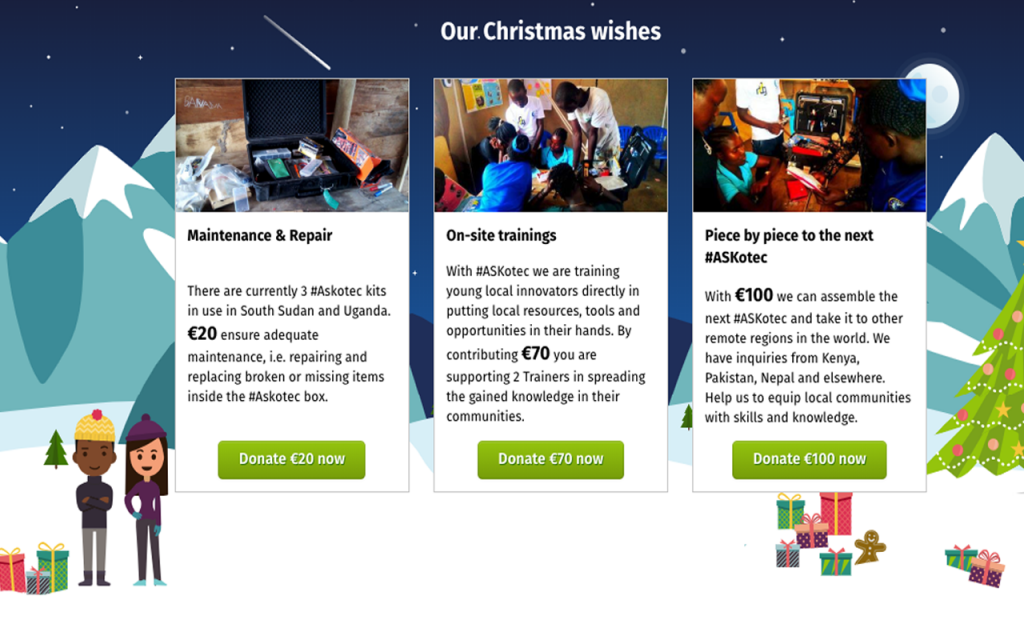 In our end-of-year 2018 sprint throughout December, we present to you 31 items that define #ASKotec.
By donating to our crowdfunding campaign you support us in assembling more #ASKotec kits, develop targeted curricula, and deliver the basics of electronics and IT skills to young, highly motivated people in transition regions.
The christmas packages are packed as follows:
€ 20,- for maintenance and repair of the 3 existing kits already in South Sudan and Uganda
€ 70,- for on-site trainings: we currently have a 2 weeks training ongoing in the refugee settlement Rhino Camp near Arua in Uganda. Your contribution will support two of the trainees in spreading the gained skills and knowledge in their communities.
€ 100,- for a piece by piece assembly of another full and complete #ASKotex kit. The whole kit will all items in it costs around € 800,- (including a laptop with loaded Open Source software and high quality tools and equipment.
To donate to any of these three packages go to betterplace.org/en/projects/63347.
Alternatively you can donate directly to the #ASKotec crowdfunding campaign with any small or big amount by filling out this form: