open:fora showcases how open source can foster peacebuilding and sustainable development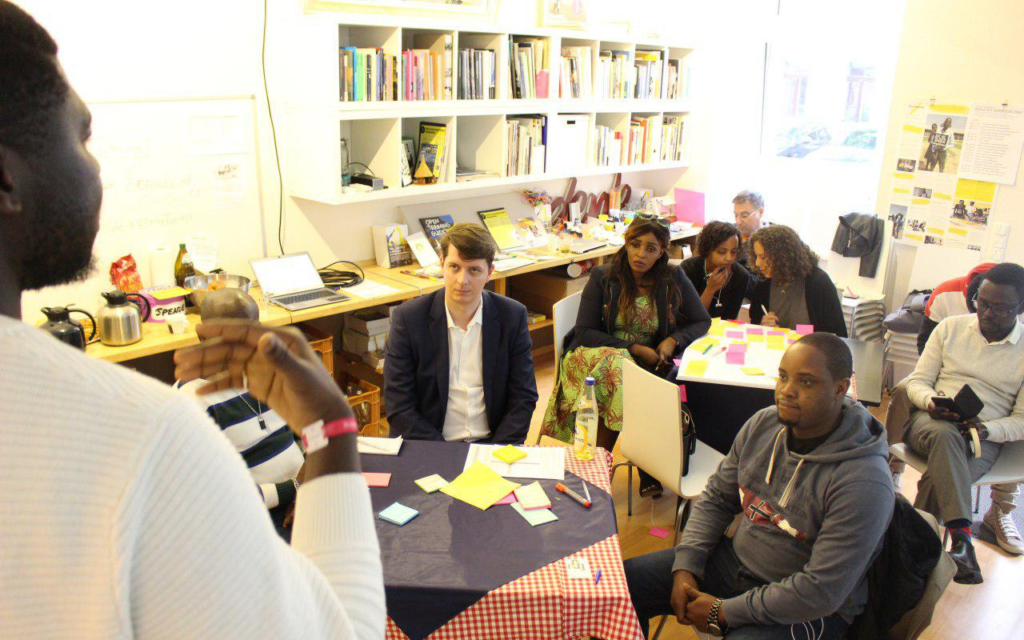 An event report by Sara Shedden.
The first time it happened to her, she stored it as an anecdote. When it happened again, she sensed a pattern. She spoke it out. Returning home from a business trip, Kudzai Mubaiwa stopped by to buy some tomatoes at the market. She transferred the saleswoman the money with her smartphone and looked astonished at the screen. – Are you Michael? The vendor looked at her with shyness in her eyes. – That is my husband, he takes care of the finances. – Do you actually get to use that money?- Kudzai replied. – Well, we settle accounts at the end of the month.
If you were told that there is a place in the world where almost every financial transaction is made digitally and mostly with a smartphone, which country would come first to your mind? Well, this scene happened in Africa. Facing an economic crisis and after going through hyperinflation in 2008, Zimbabwe is today nearly cashless and 96 % of financial transactions are done electronically. Indeed, Africa is the global leader of mobile money. Pioneering the industry is M-Pesa, used by more than half of Kenya's population, which makes about 25 million people. Although the use of electronic payments was the outcome of cash shortages, people have found in technology a way to cope better with the economical turmoil the country is facing and Zimbabwe is in the avant-garde of countries pursuing to build cashless societies.
Kudzai Mubaiwa (investorsaint.co.zw) believes there is no real empowerment without an own economy, which is, the ability to sustain oneself. According to the Food and Agriculture Organization of the United Nations (FAO), Zimbabwe has an agrarian economy in which women comprise 70% of the labor force. However, family systems are mainly patriarchal and women usually play subordinate roles in the communities: they serve and work for their husbands, take care of the household, raise children and rarely manage the finances. So even though in Zimbabwe wealth is mostly created by women, as in many African countries, they are seldom socialized to see themselves as entrepreneurs. Moreover, the general access to technology and knowledge in vulnerable communities and rapidly transforming regions can't be yet taken for granted. However, this link matters.
To show how and why this is so and inspired by the rapidly shrinking sense of an open 'res publica', the imperilment of pluralistic European societies, and the witness of a global wave of right-wing politics that fuels fear, hatred and xenophobic attitudes, the open:fora has been launched this May in Berlin. Taking the form of a week-long series of conferences, workshops and meetings, the event showcased through several projects and personal stories how open source can foster peace building and sustainable development. Further, it was meant to compliment the re:publica, which is held yearly in Berlin and has become all the while one of the biggest and most relevant events worldwide about the digital society. Open:fora came into play in West Berlin, at the office where r0g_agency for open culture & critical transformation and Open Source Ecology Germany (OSEG) sit. The r0g_agency is a non-profit organization that applies open source and empowerment technologies for sustainable development in post-conflict and rapid transformation regions. OSEG is a non-profit organization dedicated to the development and dissemination of open source hardware.
The r0g_agency was founded in 2013, when Stephen Kovats and Susanne Bellinghausen became aware of a salient inconsistency in the field of development aid and thus decided to take action. This flaw has been masterfully illustrated by the multi-award winning documentary Poverty, Inc. in 2014. The film depicts through several real-world case studies how the multibillion dollar poverty industry the West has raised has proven to be ineffective and has created more aid dependency. Moreover, it challenges the paternalistic approach underpinning charity and calls for entrepreneurship and the overcoming of imposed victimhood towards agency in order to alleviate world poverty. This implies that people should be helped when asked for help, and be able to decide what they want and need.
The entrepreneurs acknowledged this reality and further realized there was a lack of use and understanding of open source technologies and public domain information in the international development industry, which could enact real knowledge transfer and self-determination in sustainable development. In this light, they decided to fill the gap with meaningful work in the field. Functioning as an actor in a global network of organizations, r0g collaborates with young generations on the ground in countries like South Sudan, Uganda, Cameroon, Pakistan, Nepal and Indonesia, supporting communities to access information and training in open technologies. They have developed several projects that link peacebuilding with media literacy, social empowerment, education, life skills training and entrepreneurship.
The open:fora was conceived by r0g_agency & OSEG both as an artistic action and as an open street meet welcoming the whole neighborhood. The event was funded by Guerrilla Foundation, a Berlin based organization that supports activists and grassroots movements in Europe. The organizers sought with this event to open the doors to grassroots change actors in Berlin and across all continents. In a multicultural setting, folks from the open tech and open culture communities, critical artists, social activists and people interested in the subject, came together to zoom in on specific projects and stories and later zoom out to link them to more complex societal phenomena. Working towards an alternative narrative about Africa, the event promoted the participation of the attendees (with formats such as the World Café) to foster direct action. The program was divided into different cross-cutting themes: open source knowledge and hardware; open cities; gender equality; migrant peacebuilding; and artistic activism.
Within a Migrant Media Network Café hosted by the r0g diaspora and migration strategist Thomas G. Kalunge, he asked the participants to reflect on and discuss about potentials and risks migrants are posing in their countries of origin, for instance in promoting peace or fueling hatred through social media or on contributing to social and economical development. The attendees had then to seek concrete solutions. Key in the context of peacebuilding in social media was the presentation of the #Defyhatenow project. Hate speech and fake news are well known in the European and US context. In Africa, they are, too, significantly fueling conflict. The broadcasting of hate speech through radio programs has played an important role in Rwanda's genocide in 1994.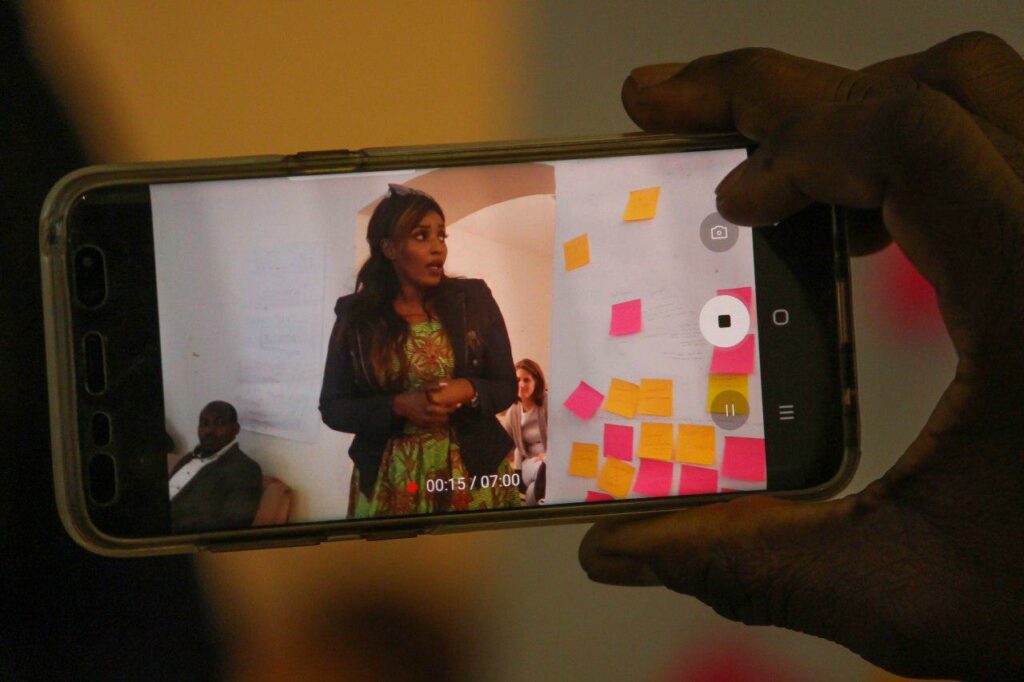 In South Sudan, hate speech through different forms of communication (like private conversations, phone calls, text messages, public speeches or social media platforms), often originated by the diaspora in other countries, has contributed to an outburst of the conflict in 2013. #Defyhatenow was established to enhance peacebuilding by countering the spread of online hatred to mitigate violence in South Sudan. With workshops on the ground, the initiative gives insights on the impact of hate speech on fueling conflict and offers training on the use of social media to promote peace and identify fake news.
The main project within the theme of open source knowledge and hardware was #ASKotec (Access to Skills and Knowledge – Open Tech Emergency Case). The #ASKotec case is a multi-functional toolkit which contains over 40 items, including tools, booklets, basic electronic materials and a simple Linux laptop, created for mobile field-use in rural areas or regions with extremely low infrastructure. It allows people to gain basic skills in repairing, producing electricity or building things. It is is part of the bigger project ASKnet, which shall provide a platform for professional education by exchanging knowledge directly. With the help of Training of Trainers (TOT) workshops, the knowledge gained is being distributed along several communities and contributing to undermine the South Sudan conflict. The project, which is already running in several communities in South Sudan, Kenya and Uganda, was presented under the umbrella of a capacity building/design workshop. The aim was to improve the concept of the case by exchanging insights and applying the feedback received from the participants, among them Field Ready, Engineers without Borders, the Global Innovation Gathering (GIG), Hyrac Tech and Trainers of Trainers working on the field.
Another project related to open knowledge was the Africa Open Science and Hardware Summit (Africa OSH), presented by the trainer and consultant on open science Dr. Johanna Havemann. The summit was designed as a grassroots effort to bring together researchers, entrepreneurs, technologists, educators and government officials around the world. One of the outcomes from the first summit in Kumasi, Ghana last year is the preprint repository AfricArxiv, which is now a fully functional repository for the free and open dissemination of research results from and about Africa. Thereby, it functions as an alternative to the Western-centered production and distribution of scientific knowledge.
In the field of gender, the Feminist Café – the Personal is Political, which will be hereafter held on a monthly basis, enhanced debate about gender equality issues and brought together women entrepreneurs from Ethiopia, Zimbabwe, Kenya, South Sudan, Australia and Germany. The event counted, among others, with the participation of the founder of Mugzies Naturals, Mugethi Gitau, and the gender expert Blen Desta. Mugethi Gitau talked about the politics of black African natural hair that are being carried out in Kenya. "Until now, the standard has been straight hair due to colonialism. Natural hair is still frequently considered unprofessional. When I began wearing natural hair people often asked me if I was an artist or an activist", explained Mugethi. The Kenyan society is slowly defeating the cultural denial of Afro and in some occasions, the banning of natural hair is being lifted, as for instance in some boarding schools young girls are not allowed to wear their hair naturally. This is done by encouraging women to accept and love their natural traits, and by increasing the until now scarce access to information on natural and local products tailored to women with Afro.
Blen Desta introduced the public to African feminism and more specifically, to feminist projects in Ethiopia. She talked about a Transformative Feminist Leadership Toolkit which has been recently launched to enable collective capacities for gender justice in Ethiopia. For Blen, the necessity of the toolkit is clear: even though the creators share a common ground on dismantling patriarchy with a global feminist movement, women in Africa and here specifically in Ethiopia are facing other challenges and thus need a tailored agenda. Examples of it are raising acid attacks against women and a non gender-inclusive rule of law, which doesn't protect women against rape. Violence against women often remains taboo and a strongly embedded patriarchal system regards women as second-class citizens. The initiators state that "the toolkit is designed to give women in a leadership position a practical guide on how to integrate transformative feminist values and principles into their day to day activity."
The consultant, researcher and project manager in the areas of International Relations, cultural diplomacy, culture and sustainable development, Pedro Alfonso, opened the theme of 'open cities'. He invited the participants to reflect and discuss critically both about the benefits and challenges faced by smart cities, and made suggestions on how the citizenship in different socioeconomic settings can contribute to create open cities. Besides, Grit Koalick and Maria Trunk from the Institute for Applied Heterotopia (IFAH), introduced the Quellkollektiv, an association of around 80 creative and cultural professionals from the Nüremberg area. They exist since ten years and have achieved something uncommon for a transformative initiative: they count the support of the local government and are using Germany's second largest building for their projects. They put into practice the Foucaldian concept of heterotopia by creating spaces of resistance, cracks within the system to allow people to network, collaborate in various projects (in the fields of urban development, ecology, art, culture and education), and experiment with other ways of living under non-hegemonic conditions.
In order to link arts and activism, the speaker, activist and r0g partner in South Sudan, Jaiksana Jambu, introduced several music for peace initiatives in his country, such as the #Kifaya (Enough) Project in refugee camps. He also offered background insights about how the youth in this country, which makes 72% of the population, is using different artistic expressions, such as music and poetry, to disseminate peace messages, influence decision-making processes by the government and bring healing and reconciliation to communities. In addition, Ivan March from the Guerrilla Foundation explored how parties and protests can learn from one another. He covered the role different media and cultural products like art, music and literature have played in social movements and protests since the 1960s, and what new forms are emerging today, to debunk the myth that changing the world has to be, necessarily, another form of work.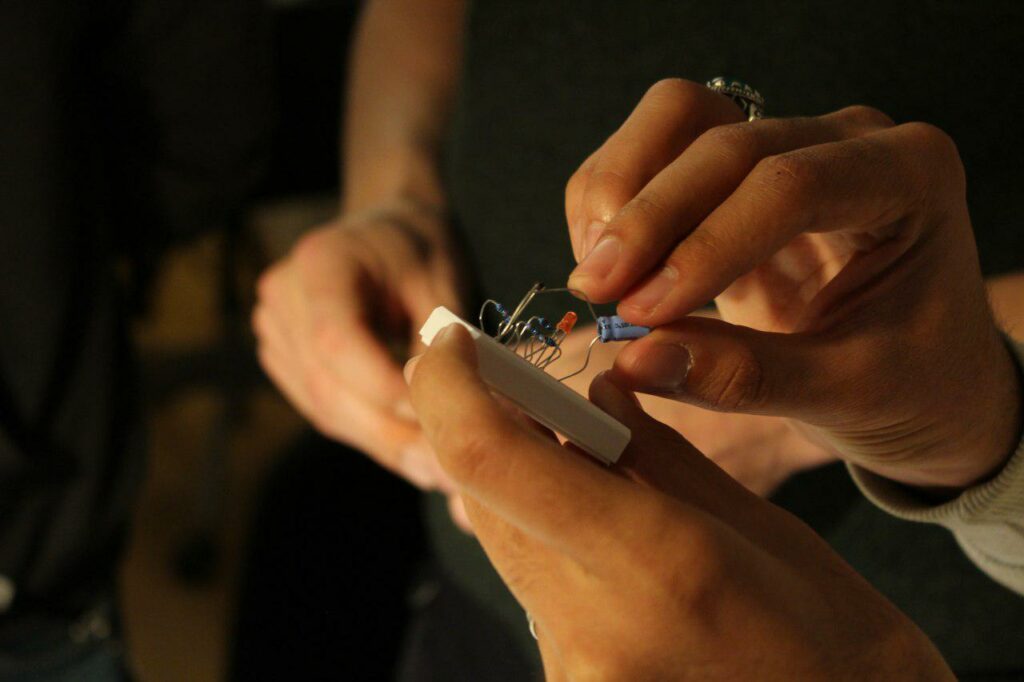 Open source technologies have manifold proven to be effective alternatives to the often failed centralized and closed attempts at nation building and social and urban development, and moreover set the ground for opener societies. These technologies include open citizen participation to urban development and policy-making, transparency models to combat corruption, open learning platforms that complement traditional education, citizen-based journalism and open source hardware. Across Africa (for instance in Malawi, Uganda, Ethiopia and South Africa) a new generation of politicians is emerging and many nations are experiencing rapid socioeconomic transformations. The demography of the continent is young: 41% are aged under 15, 19% between 15 and 24 years old.
If we look at the numbers, from the 68,5 million displaced people worldwide, 40 million are Internally Displaced People (IDP). These are people who have been displaced within their own country. Ongoing conflicts, poverty and climate change are raising the numbers. In this light, applying solutions in the countries of origin becomes urgent and the unhindered access to knowledge and skills, especially in unstable regions with low-infrastructure, can be game changing. For it, development should promote freedom instead of dependency and should look less like a top-down power relation and more like an equal cooperation.