open:fora feminist café – the personal is political !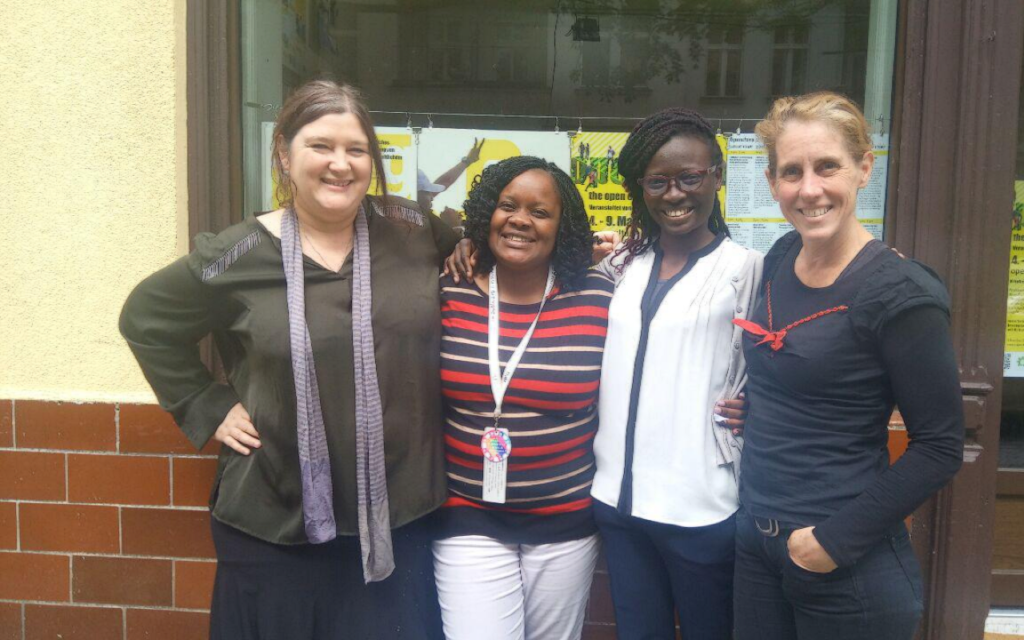 reported by Blen Desta
In May 2019, as part of our week-long "open: fora" event, we began our feminist café journey to exchange ideas and learn from different grassroots projects, causes, and social activism in a small afternoon gathering with friends and colleagues from the open culture community. Themed 'the personal is Political'; the feminist cafe featured a selection of inspiring guest speakers whom we have come to know through our projects and who are making valuable contributions to their societies and communities through their passion, work and leadership.

From the outset, the quality of the conversation, moderated by our very own Susanne Bellinghausen the co-founder of r0g_agency gGmbH, exceeded our expectations; with a number of interesting and informative topics, starting with Kudzai M Mubaiwa, cofounder of 'Invest or saint' in Zimbabwe, who discussed 'Finance, Friends and Freedom'. Kudzai stressed the need for women to have resources for themselves to attain real freedom, with a leaning both towards strong networks they can activate and to tangible forms of wealth. She shared different examples from her work and personal experiences on how economic empowerment brings options.
The conversation followed with Eva Yayi, who is the co-founder of the 'GoGirls ICT' initiative in South Sudan that started back in 2015 during a weekend workshop for girls at the University of Juba. Currently, GoGirls ICT is mentoring school girls and young women on public speaking, basic computer hardware, programming and creative thinking, with a main focus on topics related to STEAM (Science, Technology, Engineering, Art and Mathematics). Eva discussed the challenges and achievements of the everyday mentorship in the numerous projects that the GoGirls ICT team engages in to empower young girls in South Sudan. Eva explained: ''Whether you are educated or not, being a woman in South Sudan is very difficult and it takes a lot of guts to overcome cultural and family expectations, to stand up for yourself and have a voice of your own as a woman.''

We also had the pleasure to hear from Mugethi Gitau, founder of 'Mugzies Naturals' in Kenya; who skyped in from Nairobi. Mugethi began her social business to enable women to proudly wear their own natural hair. Mugethi's passion for black African hair challenges the long-held colonial view that equates African women's kinky and curly hair to a derogatory badge of inferiority. Mugethi shared examples of how the notion of what professionalism should look like and how they should wear their hair in styles that are closely linked to European features are imposed on urban African working women. Schoolgirls have been dismissed from schools because they chose to wear their natural hair that is associated with untidiness. It is a common school requirement in many countries in Africa for school girls to straighten or cornrow their hair flat.

Mugethi claimed that 'black African hair is political' and she is destined to break cultural stereotypes and misconceptions that are tied to colonial perceptions. Hence, Mugethi is navigating the various aspects of the politics of black African hair by filling the market gap that consists in a lack of readily available products that will allow African women to care for their natural hair and decolonize their body. Mugethi's hair politics discussion was the longest as several of the speakers and other audience members were Africans on visit and African diaspora, who also shared their own personal journey of going 'natural hair'.
The discussion was also joined by Jodi Rose who is editor at r0g_agency gGmbH. Jodi discussed the 'global' perspective on sexual harassment and violence with a particular reference to both on the street and domestic along with strategies to combat it. Jodi emphasised the interconnectedness of the feminist movements from USA (Hollaback) to UK (#ASkAngela), Australia (Destroy the Joint – Counting Dead Women), France (legislation to criminalise street harassment) and the international #MeToo and Femen movements.

The conversation then continued with input from Blen Desta , who is the Gender equality advisor at r0g_agency gGmbH (and the authour of this post), highlighting the importance of contextualizing gender equality strategies and analysis to the specific gender equality issues of a particular local/national context, while standing in solidarity with the global feminist movement. Blen further described this point by sharing the 'Transformative Feminist Leadership Project' that she was running together with the Ethiopian Feminist organization 'Earuyan Solutions' that brought together twenty Ethiopian gender equality practitioners and media artists for an interactive workshop in Addis Abeba, September of 2018 that resulted with a co-created a prototype 'Transformative Feminist Leadership Toolkit', contextualized to Ethiopia.
Something that stood out in this feminist café was the self-spoken feminist stories that expanded our consciousness to understand how women's rights movements and feminist leadership are shaping and redefining the narratives in different societies. It was this experience that led us to the decision of organising the feminist cafe as a recurrent format, to hear those stories, to get inspired and to have the courage to tell our own story.
Related Link : A short conversation between Jodi Rose and Kudzai M Mubaiwa about 'Finance, Friends and Freedom'.

https://podcasts.apple.com/au/podcast/kudzai-mubaiwa-talks-women-finance-and-freedom-at-open-fora/id1394226008?i=1000440043622