Within all our projects we apply Open Technology to develop open source software, open standards, and open hardware.
Timm Wille
timm@openculture.agency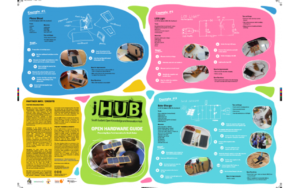 Following up on the 2016 "Let's Go jHUB" programme, the OPEN HARDWARE GUIDE or #OHG is an outcome of the Open Tech and Repair Skills workshop led by Timm Wille and hosted by the Hive Colab innovation hub in Kampala. As a follow-up to the Open Learning Guide (#OLG) the Open Hardware Guide gives examples of hands-on skills possibilities and projects applying open hardware methodologies.…
OPEN TECH events and initiatives
open:fora was conceived by r0g_agency & OSEG both as an artistic action and as an open street meet welcoming the whole neighborhood. The event was funded by Guerrilla Foundation, a Berlin based organization that supports activists and grassroots movements in Europe. The organizers sought with this event to open the doors to grassroots change actors in Berlin and across all continents.
Read More
Let's make technologies accessible