Open Educational Resources
Open knowledge is knowledge that one is free to use, reuse, and redistribute without legal, social or technological restriction. Open knowledge is a set of principles and methodologies related to the production and distribution of how knowledge works in an open manner. Knowledge is interpreted broadly to include data, content and general information.
The concept is related to open source and the Open Knowledge Definition is directly derived from the Open Source Definition. Open knowledge can be seen as being a superset of open data, open content and libre open access with the aim of highlighting the commonalities between these different groups. 
Wikipedia contributors. "Open knowledge." Wikipedia, The Free Encyclopedia, Sep. 2018.
Stephen Kovats
kovats@openculture.agency
OPEN SOURCE DOCUMENTATION GUIDE (#ODG)
As part of the #ASKnet - Access to Skills and Knowledge network intiative in South Sudan, Uganda and Kenya, r0g_agency has released it's latest Open Skills Guide … the Open Source Documentation Guide (#OSD), offering step-by-step instructions on how to document your work for shared and collaborative use. Acting as an introduction to open source methodologies the #OSD provides easy guidance to increase the impact and innovative capacities of collaborative projects. Providing beginners and advanced users with strategies to apply open source principles more effectively the #ODG is an educational resource and a door to new creative opportunities! Designed as a poster, the #OSD follows the Open Learning Guide (#OLG) , the Open Hardware Guide (#OHG) and the Open Training Guide (#OTG).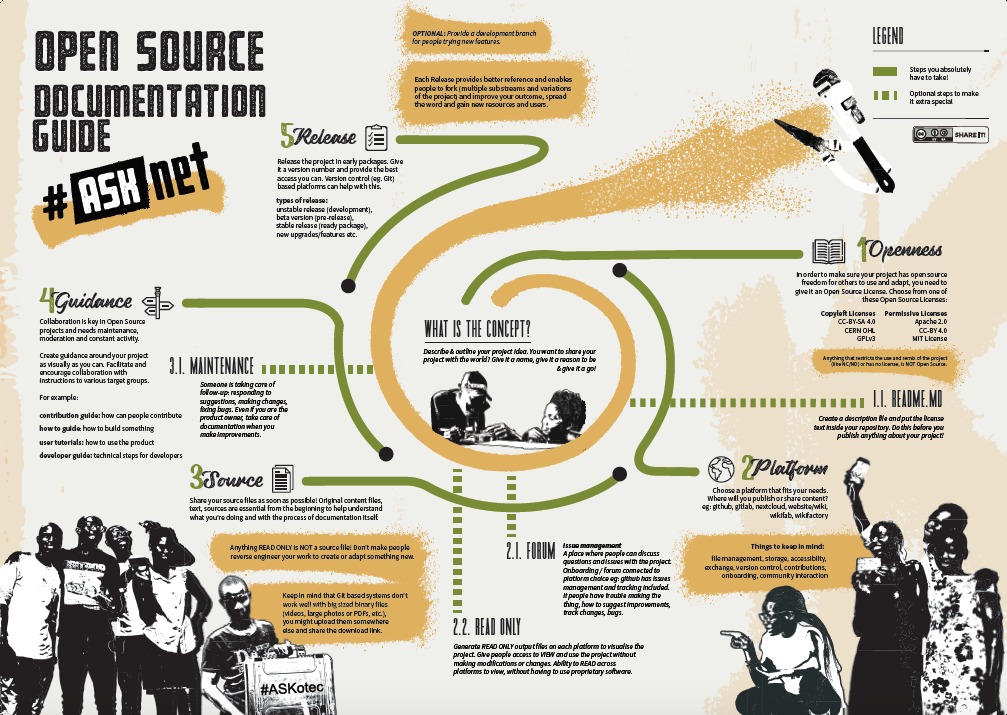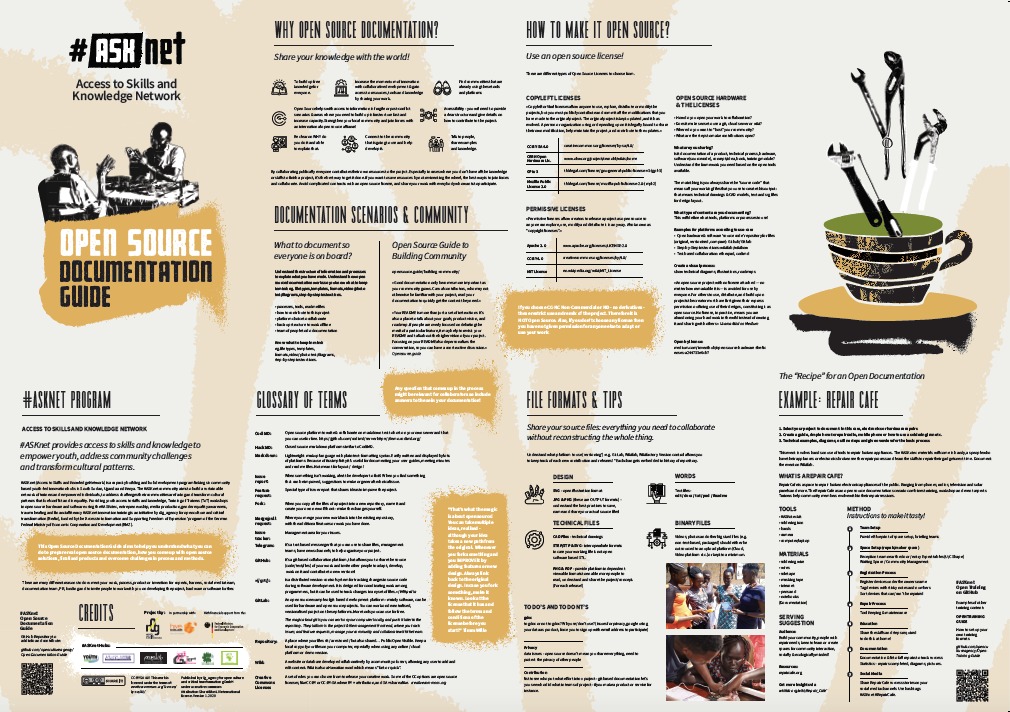 OPEN TRAINING GUIDE (#OTG)
This Open Training Guide (#OTG) is a learning resource that can be used by anyone to facilitate easier Access to Skills and Knowledge. It offers tools and methodologies to help design and run your own training, wherever you may be, with whatever resources you have at hand.
The #OTG was developed in conjunction with the #ASKnet ToT training programme 2018, hosted by CTEN, the Community Technology Empowerment Network, at their Refugee Information Center (RIC) in Rhino Camp refugee settlement (Arua District, Uganda), in collaboration with Hive Colab (Kampala, Uganda) and funded by the 'Access to Information and Supporting Freedom of Expression' programme of the German Federal Ministry of Economic Cooperation and Development (BMZ).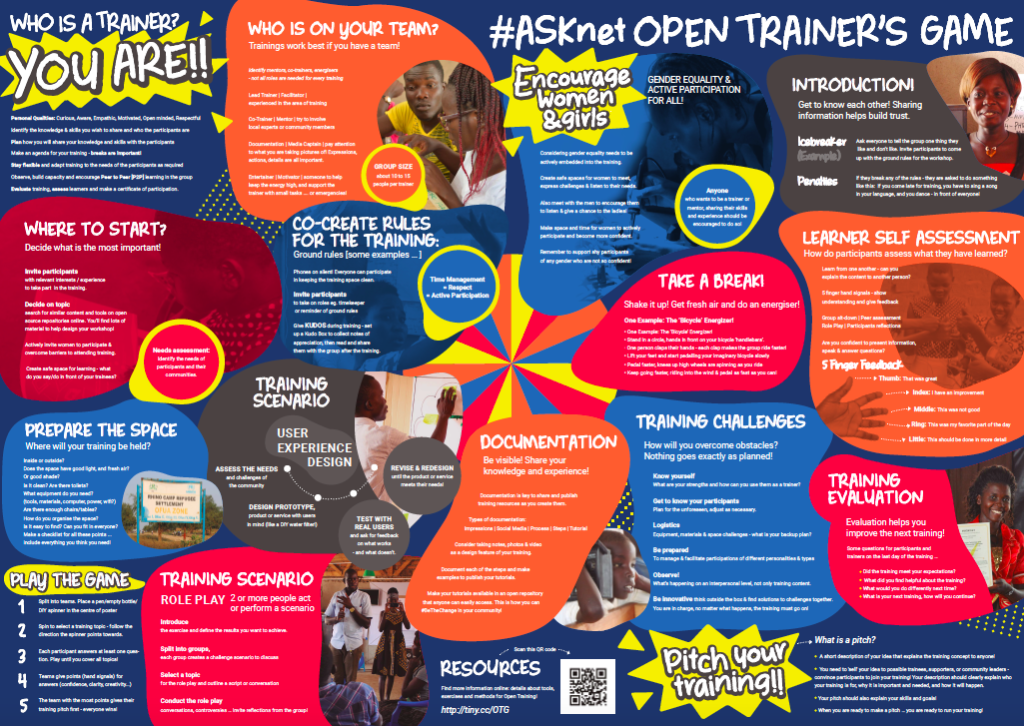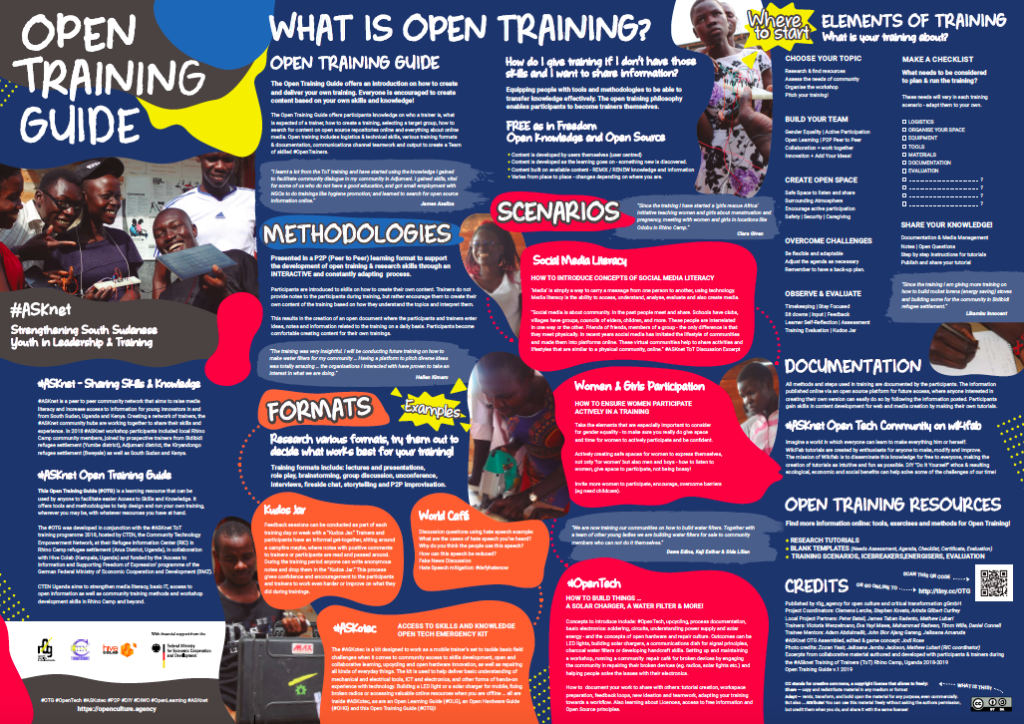 Open Training Guide is free and open for use, modification and sharing by anyone!
CC-BY-SA 4.0 2018
Corrections and suggestions for amendments are also very welcome!
OPEN HARDWARE GUIDE (#OHG)
Following up on the 2016 "Let's Go jHUB" programme, the OPEN HARDWARE GUIDE or #OHG is an outcome of the Open Tech and Repair Skills workshop led by Timm Wille and hosted by the Hive Colab innovation hub in Kampala.
As a follow-up to the Open Learning Guide (#OLG) the Open Hardware Guide gives examples of hands-on skills possibilities and projects applying open hardware methodologies. Acting as an introduction to resources and as a tangible tool in the form of a rugged A1 poster for trainers, tinkerers and facilitators, the #OHG is ready for distribution to anyone interested in exploring open technologies in a very practical way.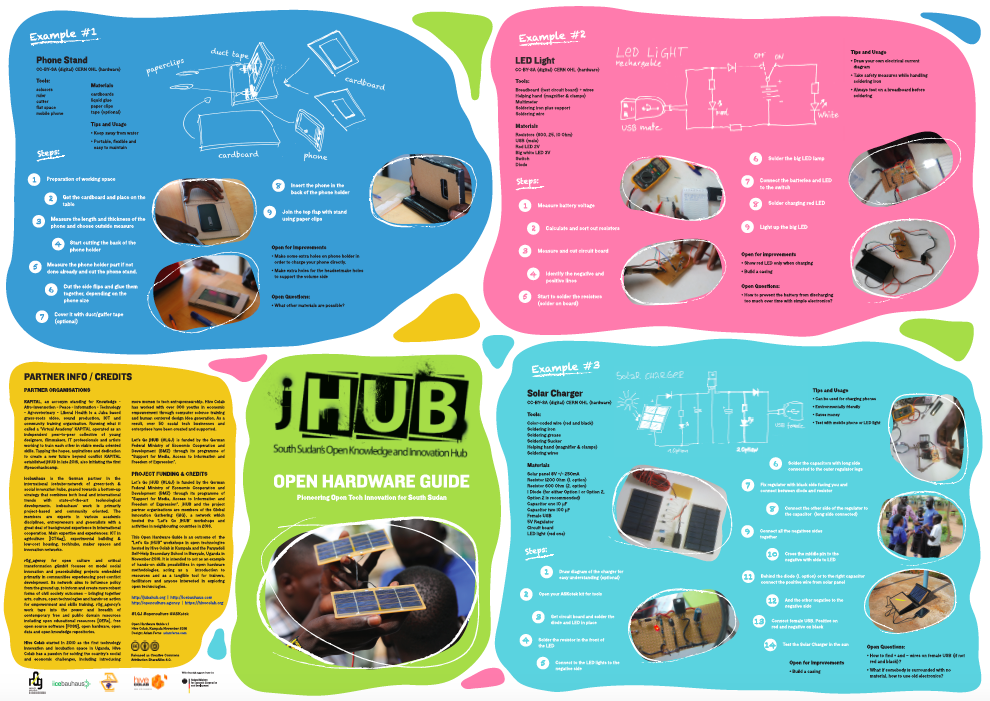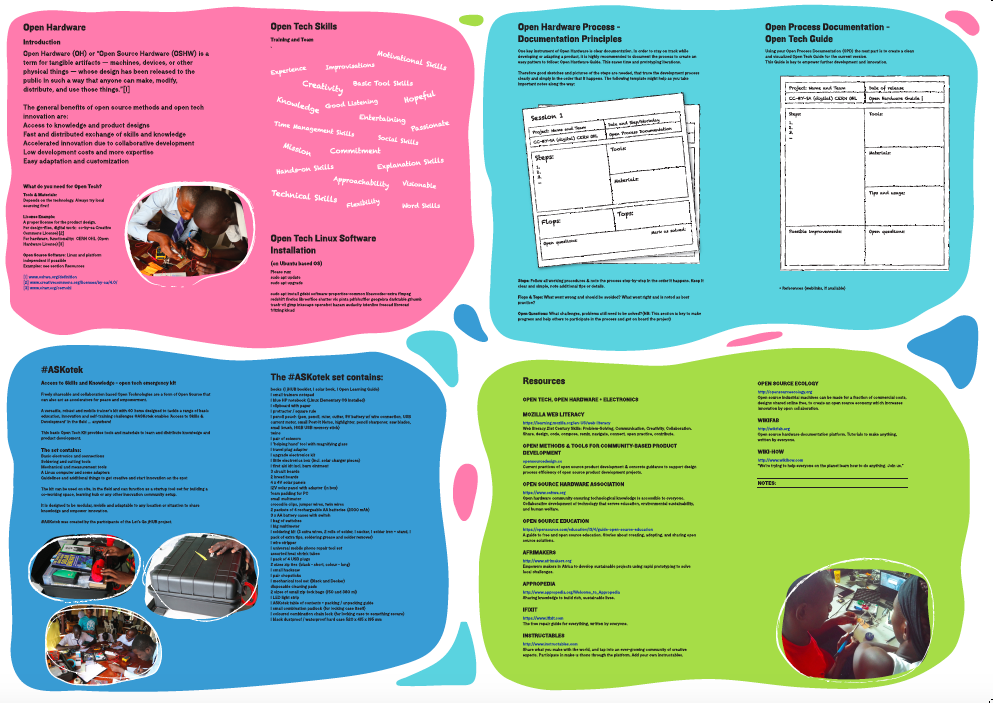 The #OHG content was developed by the workshop participants based on their designs and documented steps in test workshops held with students at the Panyadoli Self-Help Secondary School in Bweyale, Uganda. Alongside the #OHG, the participants helped develop and test #ASKotek, the 'Access to Skills and Knowledge – open tech emergency kit' a field-trainers resource tool-kit for repairing, building and learning about practical electronics including small scale solar power.
OPEN LEARNING GUIDE (#OLG)
The #OpenLearningGuide is a rugged poster with lists of resources to Open Educational Resources (OER) around the topics of online literacy, technology and DIY communities. It is a product of the Step-Up Juba Media Lab – an initiative by icebauhaus and r0g_agency supporting the implementation of a community-based media training centre in Juba, South Sudan. The idea to create a media lab has its roots in the Kapital Movie Industry Corporation (KMIC) collective, an independent group of young designers, film makers, IT professionals and artists who came together to help solve the acute post-independence social, political, educational and environmental challenges which arose through the long-lasting conflicts in South Sudan.
The program was funded by the German Federal Ministry of International Cooperation and Development (BMZ) through its programme of "Support for Media, Access to Information and Freedom of Expression" in 2015.
Build the next version of the Open Learning Guide with at github.com/opencultureagency/Open-Learning-Guide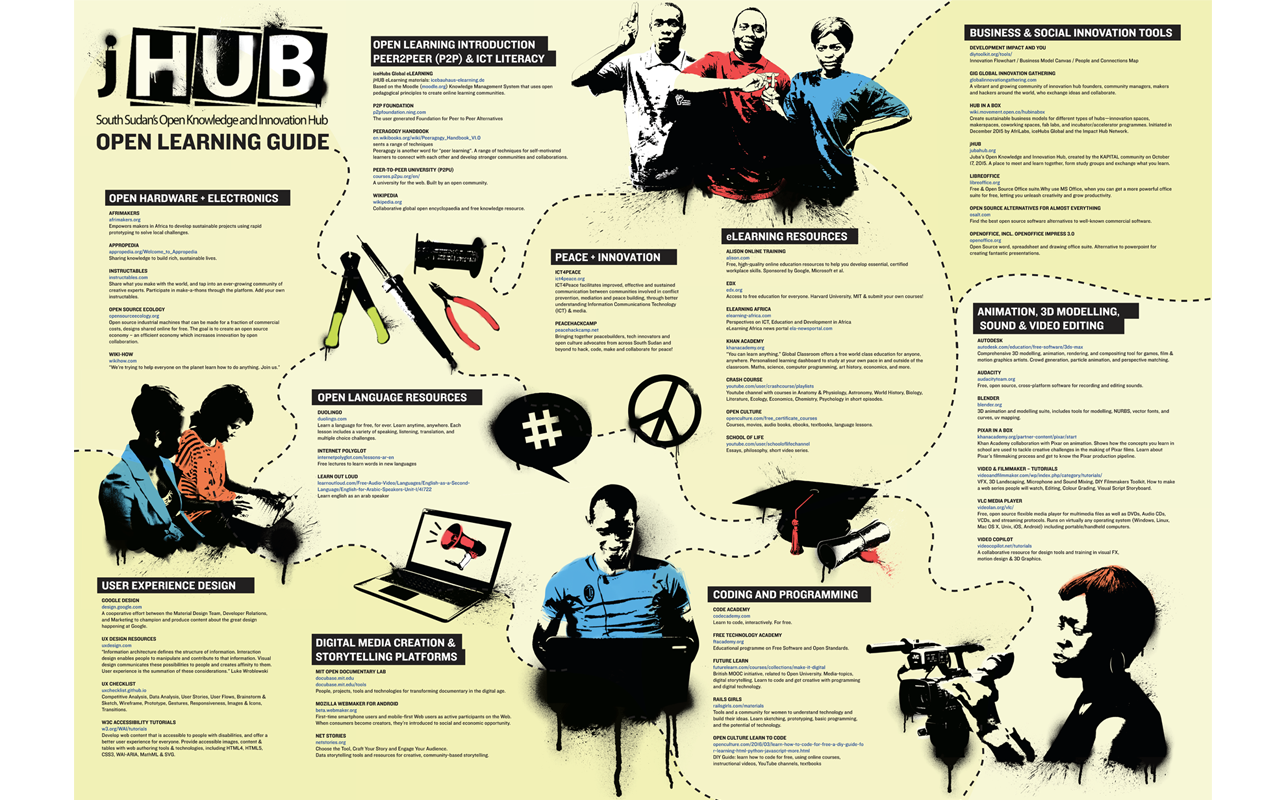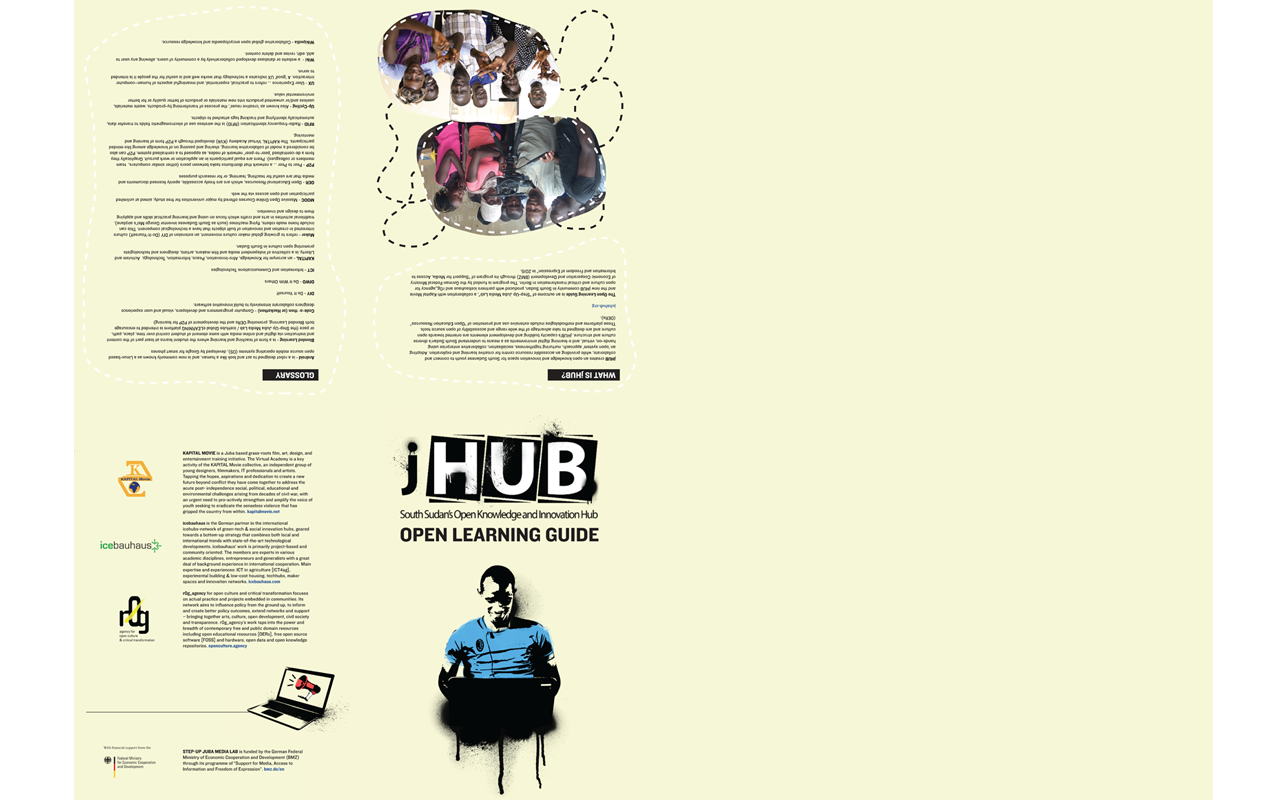 Time: Monday, October 3rd, 2022, 6pm Location: r0g_agency office Knobelsdorffstr. 22 14059 Berlin Community Creativity For Development (CC4D) was founded in August 2019 by a group of three South Sudanese refugees in Northern Uganda. Richard Maliamungu, Edina Dawa and Mathew Lubari – all professionals who recognised the need to enact repair, reuse and maintenance of electronics…
Read More
Let us share our knowledge globally