Launch of the #237footBERLIN Calendar 2023 An initiative of #defyhatenow / Lancement du calendrier #237footBERLIN 2023 Une initiative de #defyhatenow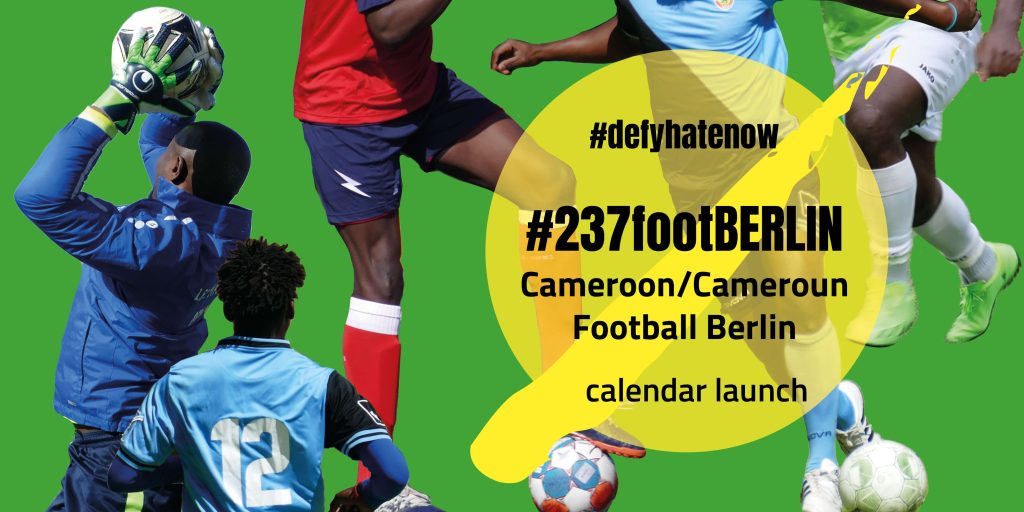 Time: Friday, December 16th, 6pm – 8pm
Location: r0g_agency
OPEN CULTURE SPACE
Knobelsdorffstr. 22
14059 Berlin
Title: Football, Peacebuilding, and Human Rights An evening of discussion and reflection & Launch of the #237footBERLIN Calendar 2023 An initiative of #defyhatenow
The #defyhatenow project seeks to provide community-based and data-driven solutions to the problem of hate speech, disinformation, and misinformation. #defyhatenow Cameroon works towards empowering individuals in all walks of society to help counter hate speech on- and offline.
Considering the influence the diaspora community has over socio-economic progress and the conflict situation in Cameroon, #defyhatenow understands the importance of engaging with the diaspora community. In Berlin, the focus has been on the diaspora football clubs. The aim is to identify and support the voices in these clubs that can help support peacebuilding efforts back home.
You are therefore cordially invited to join us at the r0g_agency space in Berlin Charlottenburg for an evening event. We will present the 2023 calendar, discuss the work we do, and have a discussion about diaspora football and its importance in peacebuilding.

Please confirm if you will be available to join the launch. Link to registration
#defyhatenow Cameroon is a project of the Berlin-based r0g_agency for open culture and critical transformation gGmbH, in collaboration with Civic Watch (Yaoundé). It is funded by the German Federal Foreign Office. https://defyhatenow.org/
Program:
18:00 – Introduction to r0g & #defyhatenow Cameroon by Steve
18:15 – Introduction to the #237footBERLIN #defyhatenow diaspora initiative by Valerie
18:20 – Introduction of the diaspora teams featured in the calendar
18:30 – Video screening
18:40 – Talk on the history of football in Cameroon, peacebuilding, and the role of diaspora by Valerie
18:50 – Time for questions & answers
19:00 – Live music & networking
---
Heure : vendredi, 16 décembre, 18h – 20h
Lieu : r0g_agency
OPEN CULTURE SPACE
Knobelsdorffstr. 22
14059 Berlin
Titre : Le football, la consolidation de la paix et les droits de l'homme Une soirée de discussion et de réflexion & Lancement du calendrier #237footBERLIN 2023 Une initiative de #defyhatenow
Le projet #defyhatenow cherche à fournir des solutions endogènes, fondées sur des données liées au problème des discours de haine, de la désinformation et de la mésinformation. Le projet #defyhatenow Cameroun vise à procurer aux individus de toutes les couches sociales les moyens nécessaire pour contrer les discours de haine en ligne et hors ligne.
Compte tenu de l'influence de la diaspora sur la croissance socio-économique et sur le contexte conflictuelle au Cameroun, #defyhatenow considere important de s'engager également avec la diaspora camerounaise. À Berlin, l'accent a été mis sur les clubs de football de la diaspora. L'objectif est d'identifier et de soutenir ces clubs qui peuvent aider à soutenir les efforts de consolidation de la paix dans leur pays.
Vous êtes donc cordialement invités à nous rejoindre à l'espace r0g_agency à Berlin Charlottenburg pour une soirée d'échanges. Nous présenterons le calendrier 2023, discuterons du travail que nous faisons, et aurons une discussion sur le football de la diaspora et son importance pour la consolidation de la paix.
Bien vouloir confirmer votre présence au lancement. Lien vers l'inscription
#defyhatenow Cameroon est un projet de l'agence berlinoise r0g_agency for open culture and critical transformation gGmbH, en collaboration avec Civic Watch (Yaoundé). Il est financé par le ministère fédéral allemand des Affaires étrangères. https://defyhatenow.org/
Programme:
18:00 – Mots introductifs de r0g & #defyhatenow Cameroun par Steve
18:15 – Mots introductifs de l'initiative de la diaspora #237footBERLIN #defyhatenow par Valérie
18h20 – Présentation des équipes de la diaspora figurant sur le calendrier
18h30 – Projection vidéo
18h40 – Conférence sur l'histoire du football au Cameroun, la consolidation de la paix et le rôle de la diaspora par Valérie
18h50 – Séance de Questions et Réponses
19h00 – Musique live et réseautage