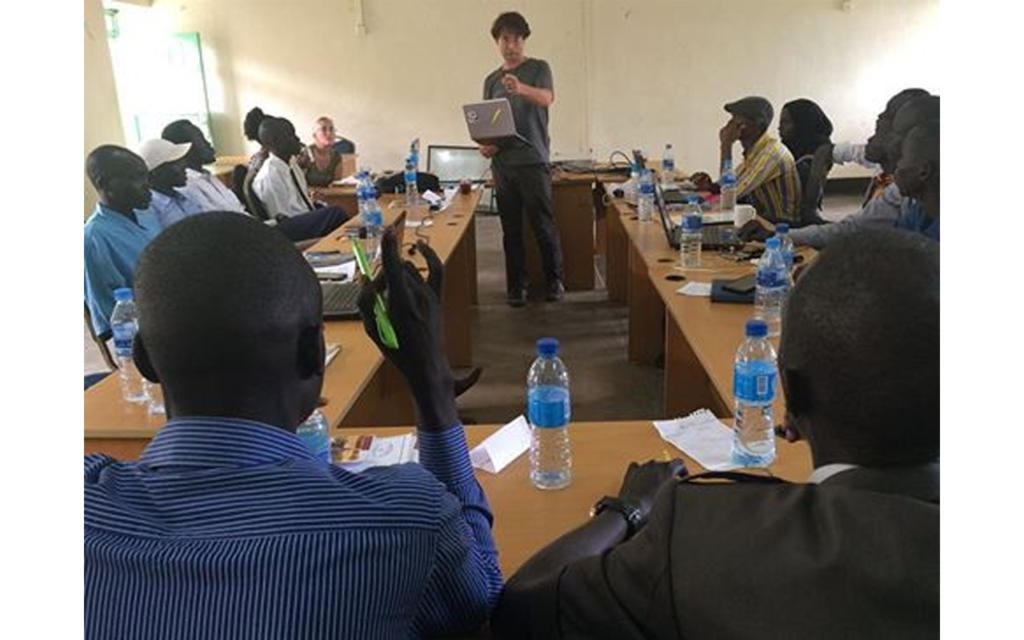 Wikipedia Peace Sprint
Within the #defyhatenow initiative we were training students from the University of Juba on writing and editing information about South Sudan on Wikipedia, the online global encyclopedia from 6-9 November 2017.
Read the #defyhatenow press release (PDF)
Objectives
Empowering South Sudanese to have a global voice in national narratives and knowledge in the quest for lasting peace.
Generating more knowledge about other people-to-people peace-building issues.
Initiate a sustainable movement of South Sudanese Wikipedia writers/editors.
Why Wikipedia?
South Sudan is underrepresented in Wikipedia. There are hardly 1.500 articles about South Sudanese subjects and most of them are just stubs, since even entries about many major towns and states only feature a couple of lines. While Wikipedia is one of the most used and visited websites, next to no content about South Sudan has been generated inside the country itself. Instead, most information about South Sudan has been created by outsiders. With regard to internal peace-making, #defyhatenow was working with the student run #kefkum initiative to collaboratively edit, starting with a critical review of the Wunlit Peace Conference by creating a comprehensive Wikipedia article.
As a pilot example, #defyhatenow has previously edited the Wikipedia article about Deim Zubeir from an one-line stub to a multi-facetted overview. Deim Zubeir has recently been included on South Sudan's first tentative list for UNESCO World Heritage sites.
#KEFKUM learns abt people-to-people #dialogue by researching Wikipedia entry on '99 #Wunlit @defyhatenow #wikisprint for #Peace #SouthSudan pic.twitter.com/jw0otwmBSx

— #kefkum (@Kefkum) October 26, 2017
Lessons from past #KEFKUM writes 1st Wiki on #Wunlit & learns relevance of people-to-people #dialogue #SouthSudan @defyhatenow #wikisprint https://t.co/r614BWgVDZ

— Rebecca Lorins (@drrebeccainjuba) October 26, 2017
I appreciated the role of @Kefkum and @defyhatenow for their concern in building peace initiatives. https://t.co/e9knfRDLAH

— #dengditpanteeng (@dengditpanteen2) November 7, 2017
Feeling very graced in #Juba after our @defyhatenow
"#Wikipedia For #Peace" sprint with @Kefkum @UJubasojc
on the 1999 #Wunlit Conference, most important
people-to-people peace process in #SouthSudan history!https://t.co/TfiB9PRlUx#DefyHateNow #Kefkum #WikiPeace #Wikisprint pic.twitter.com/6PS0QkUpdV

— Roman Deckert (@RomanDeckert) November 11, 2017