JamNOrassismus; A jamming session against Racism!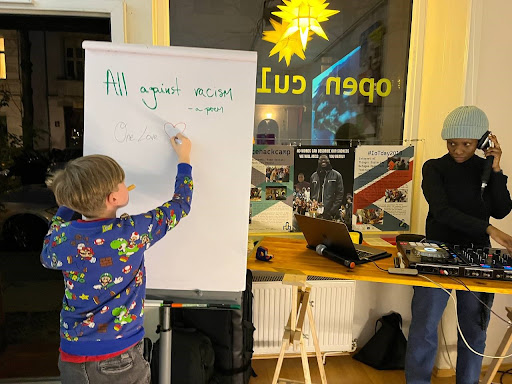 Elias starting off the creative poem writing.
Article by Olumide Olufemi.
The Action weeks against racism "Aktionswochengegenrassismus" in the Charlottenburg- Wilmersdorf district of Berlin kicked off on the 20th of March and ran until the 2nd of April, 2023. Various organizations in the neighbourhood planned a series of programs to start conversations against racism.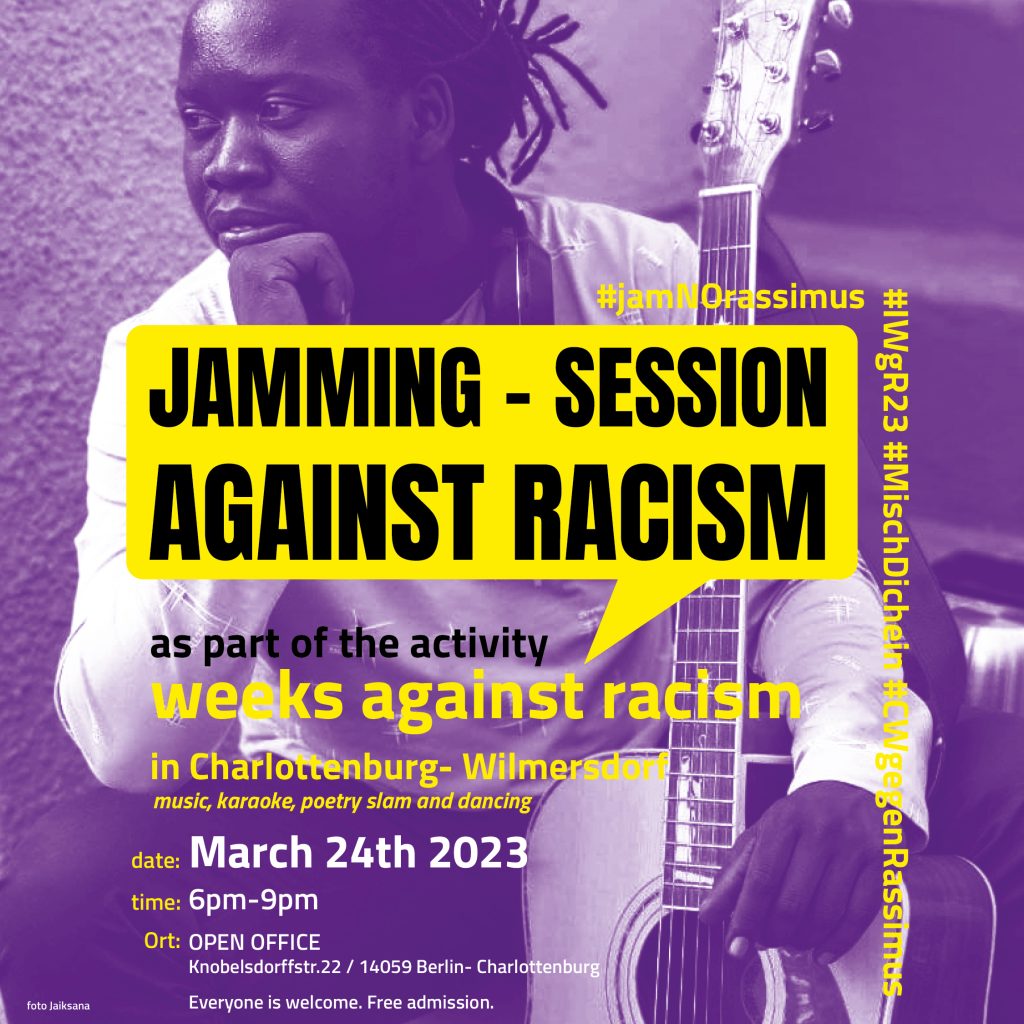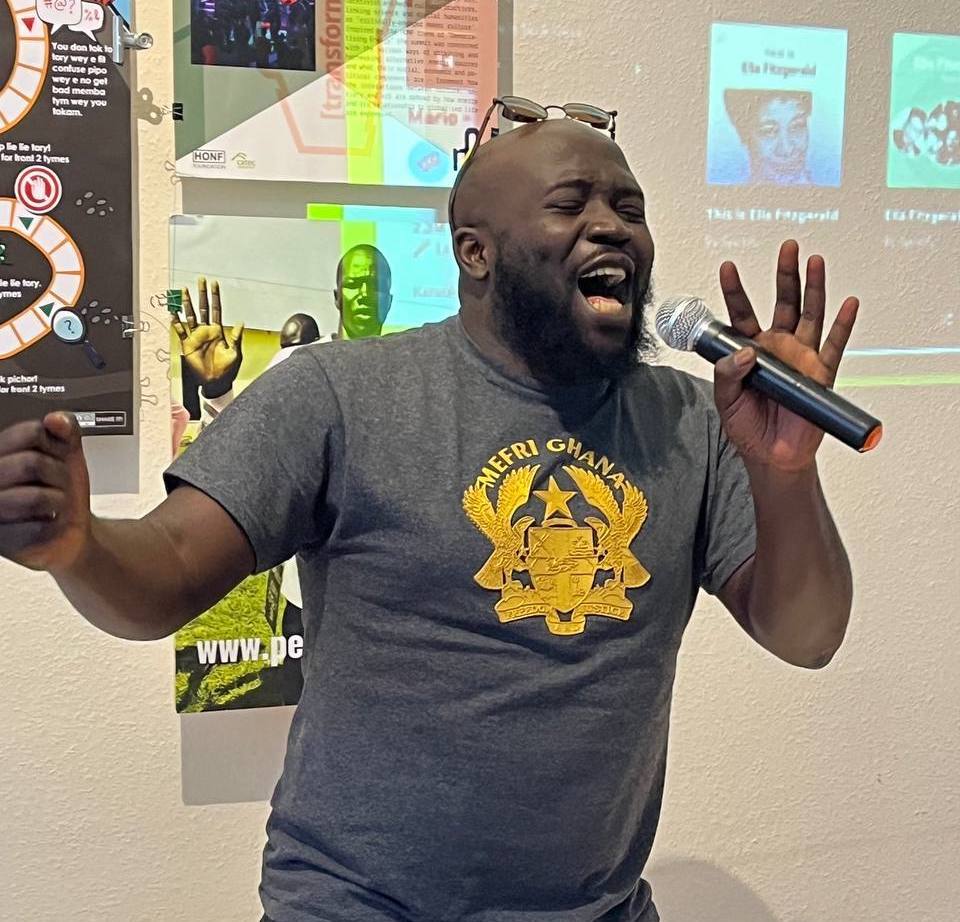 Racism is a sensitive topic that occurs every day in various communities and as such is often not talked about enough. Conversations around racism require learning and unlearning, self-reflection, togetherness and love.
As a way to raise awareness against racism, r0g_agency together with Kiez gegen Rassismus organized a jamming session on the 24th of March titled #jamNOrassismus.
The idea behind #jamNOrassismus is to take action against racism by opening the doors for people to come together and hosting an open-mic session where people can come and create music, perform poetry or spoken words, sing and of course dance!
The event was a fun and successful one with people of different races coming together to jam against racism. One of the highlights of the event was a creative poem and spoken word session where several people shared their thoughts on racism in the most creative and fun way!
The event was also an opportunity to make new friends and network. To top it up, the karaoke session was amazing with varieties of singing skills bringing out some untapped skills!
The event ended with jamming on the dance floor through the night with DJ Leburu playing amazing tracklists!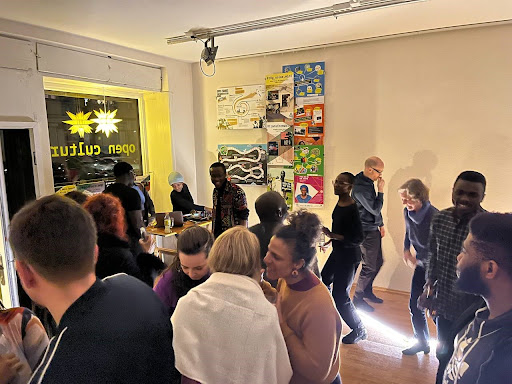 Here are some samples of creative poems written by participants against racism:
YES, IT HAPPENED by Anonymous
I was asked why I looked black
Yes, it happened
I was told my name is not Christian
Yes, it happened
I was told I speak too loudly
Yes, it happened
I was told to go back to my country
Yes, it happened
I was told I am here to take their jobs
Yes, it happened
All these made me a strong Human!!!
CHOOSE DIFFERENTLY by Anonymous
RACISM is a choice, not something inherent
You wake up and choose to be racist
To point out differences
To extend hatred, to empower yourself
You are not better than me
You are human and so am I
Choose differently!
I HOPE THAT DAY IS TODAY! By Anonymous
I long for the day
When my value means more than my skin colour
When I become less of a statistic;
"There was one black girl present"
I long for the day
When my hair is an art and not a call for debate
When more people understand that
We are more alike than we are different
I long for the day
When potential takes priority over appearance,
Above all, I long for the day
When we don't have to stand here to jam against racism
I hope that day is today!
THE DAY I STEPPED MY FEET IN EUROPE By Anonymous
The day I stepped my feet in Europe (The white man's land)
It was like a dream come through
It was a great pleasure experiencing a different culture on another continent
I began to realise that the mindset of people on this continent is different
But knowing where I'm coming from,
We know and understand
How to deal with different human personalities
I felt loved by some people
I felt rejected by some
I felt humiliated by people in school
I felt humiliated by people in my workplace
I felt humiliated on the train and in the street
It is interesting that they don't know
We are one regardless of colour or race