International Women's Day Feminist Café: SHE RHYMES!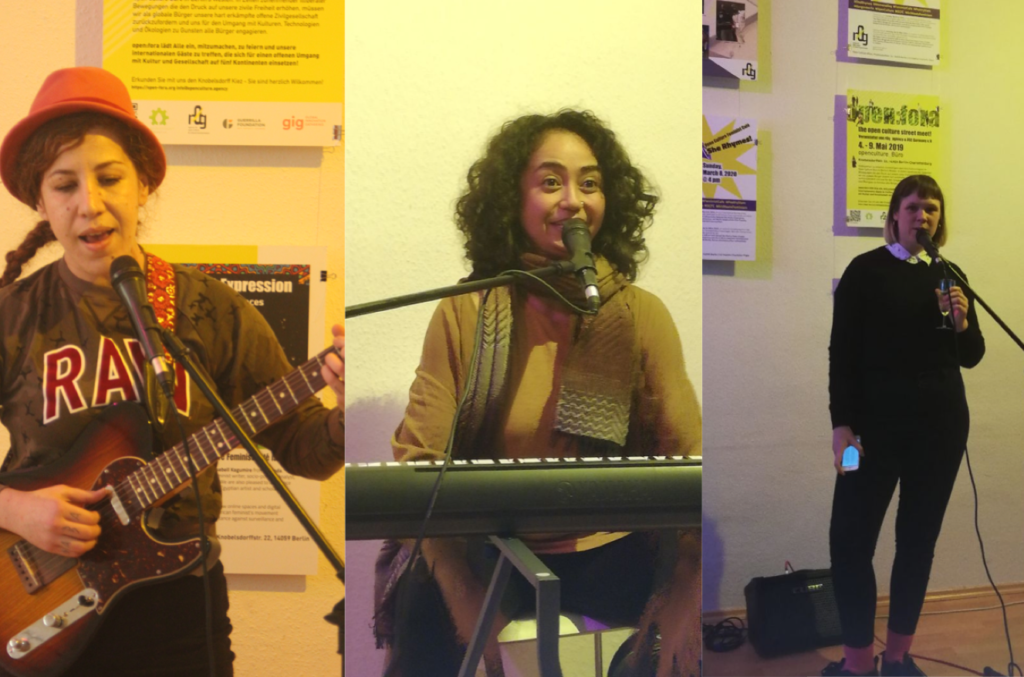 Reported by Susanne Bellinghausen
To everybody who joined us on March 8, at our International Women's Day Open Culture Feminist Café special program, 'SHE RHYMES!', we want to thank you for a wonderful, inspiring and very personal afternoon.
Starting off with the personal and moving spoken words by Eilis Frawley, drummer and founder of the Bang On Festival in Berlin. Followed by a panel discussion with the musicians Eilis Frawley, Allysa Grace Music and D.$ahin on their views as feminist artists towards the music industry, their personal experiences and advice for young female artists who are just starting out.
Next was a wonderful poetry slam session with Lena Kovats from the Heinz-Berggruen-Gymnasium Poetry Slam Group, joined by women from the audience who had wonderful poetry to share. Followed by music performances by artists Eilis Frawley, Allysa Grace, D.$ahin and Sarota & maxmaxflierl.
We want to thank you all for sharing your experiences, concerns and advice with us and hope to see you at our next Open Culture Feminist Café. Meanwhile, please follow us on Facebook and share with us any ideas, suggestions and input you might have to let us improve our work and help us bring to the table the topics that most matter to our community in Berlin.
#SheRhymes #WomensDay #OpenCulture #FeministCafe #PoetrySlam #ArtMeetsFeminism