The South Sudan #PeaceHackCamp is an inter-communal peace-building project aimed at media literacy training and networking with people from all cultural and socio-economic backgrounds, literacy levels, including those with informal education, self-taught skills and people displaced by conflict. Initiated by a group of dedicated South Sudanese students, IT and media professionals, #PeaceHackCamp addressed how to make and share media, not just consume it, while introducing and creating public awareness on the benefits Open ICTs, Innovation and Open Educational Resources (OERs) as vehicles for peacebuilding, development and national reconciliation.
The #PeaceHackCamp and its training workshops in media and ICT activism have been made possible with the generous support of the United States Agency for International Development (USAID) through the Internews South Sudan USAID / iStream small grants programme for South Sudanese media organisations (April 2015 – March 2016)
The #PeaceHackCamp barcamp on 'Innovation Hubs and Youth Empowerment' forms part of the KMIC Step-Up Juba Media Lab project, in collaboration with icebauhaus e.V. (Weimar) and r0g_agency for open culture and critical transformation gGmbH (Berlin), funded by the German Federal Ministry of International Cooperation and Development (BMZ) through it's programme of "Support for Media, Access to Information and Freedom of Expression".
#PeaceHackCamp programmes on mitigating social media hate speech and online incitement to violence form part of the #defyhatenow initiative by the r0g_agency for open culture and critical transformation gGmbH, in collaboration with the Ebony Center for Strategic Studies (ECSS) and the Community Empowerment for Progress Organisation (CEPO).
As a year-long program that included IT and video production training, #PeaceHackCamp concluded with South Sudan's first international yet community developed technology, social activism and peacebuilding event, launching a series of events that have since taken place in Colombia and Egypt.
The first #PeaceHackCamp was held from Nov 30 to Dec 2, 2015 in Juba, South Sudan; Free and open to the public.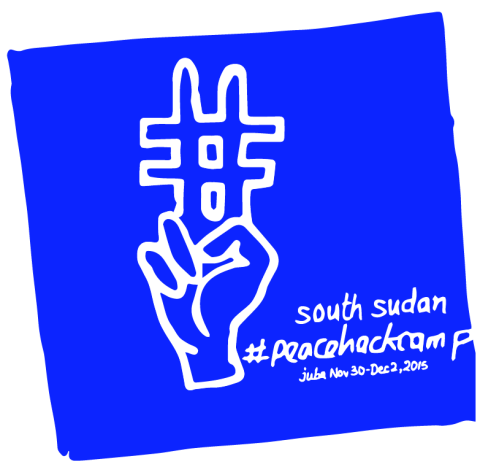 Bringing together peacebuilders, tech innovators and open culture advocates from across South Sudan and beyond to hack, code, make and collaborate for peace! Visitors are invited to participate and collaborate during the event, in workshops taking place in the format of a 'barcamp'.
We invite kids, teachers, trainees, youths of all ages, and all people, with all skill levels from anywhere in South Sudan and beyond to join us for the #PeaceHackCamp,
says director Lagu Stephen.

This is a unique opportunity for people in South Sudan to network with peer innovation communities from other African innovation labs, experience hands-on knowledge sharing and have the chance to exchange good practices from local peacebuilding initiatives.
For the program and to register for workshops go to https://peacehackcamp2015.wordpress.com
Tweet #PeaceHackCamp with your Open Culture, Innovation, Open Knowledge, Media and Peacebuilding ideas 
As hacking means finding new and innovative solutions; in hacking peace, where peace is elusive, we want to help re-open the window of opportunity in the world's newest country for a peaceful, just and prosperous future!