Join the HATE NEWS conference in Berlin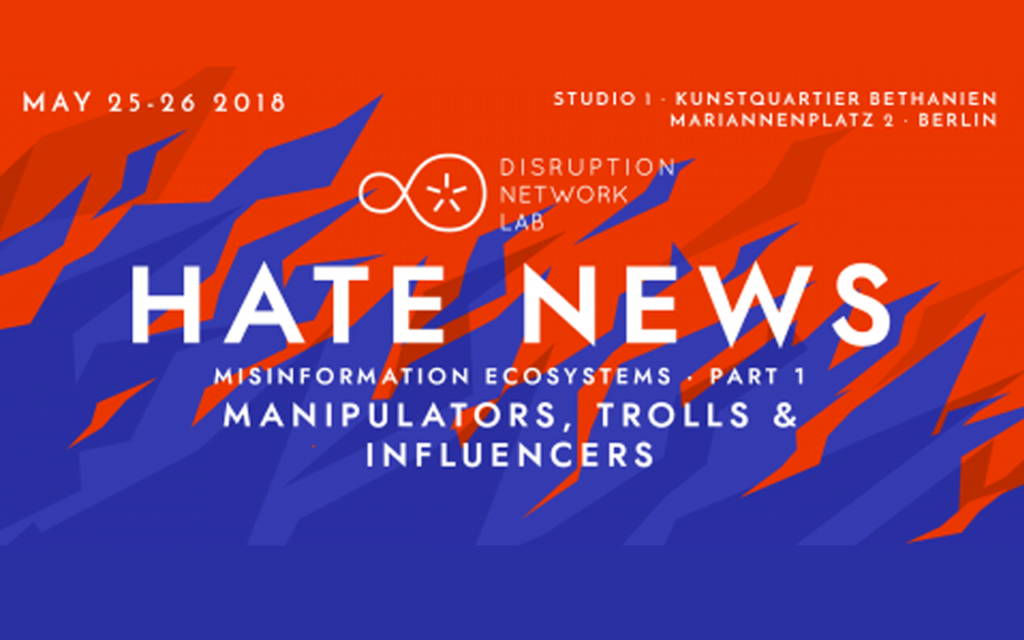 As part of the Misinformation Ecosystems Conference Series 2018 and in partnership with r0g_agency a.o. Disruption Network Lab presents:
HATE NEWS
Manipulators, Trolls and Influencers
Investigating online opinion manipulation, strategic hate speech and misinformation – and their impact on civil rights.
What is the relation between deliberate spread of hate online and political manipulation?
This event looks into the online and offline consequences of spreading hate and false facts in the context of social media and the press, and analyses technological and social responses to these phenomena.
On May 25, conference speakers will reflect on the issue of option manipulation in the political context, from the interconnections of traditional and online media in the misinformation ecosystem in Kenya, to the privacy implications of social media within the Cambridge Analytica debacle.
On May 26, the conference investigates how hate comments and false reports contribute limiting our freedom of speech. Focus will be stories of people that have been trapped in and affected by hate campaigns and sexual assault online and offline: from one side, understanding the general causes that led to the spreading of hate speech as political and social phenomena, and from the other side, addressing people that experienced these phenomena themselves. Finally, speakers will present initiatives generating truth within the fog of "fake news", as well as dealing with legal and social consequences of strategically deleting or influencing posts and comments in social media.
You can access details about the program and the speakers here. Press releases, press images, information about earlier events as well as logos are on our press page. Press images can be used free of charge in connection with editorial coverage of the event; the rights holder must be named in the credits.
Location: Kunstquartier Bethanien, Studio 1, Mariannenplatz 2, 10997 Berlin.
Schedule:
May 25 (17:00-21:00)
May 26 (16:00-21:00), 2018. In English language
May 27: Partner Event at SPEKTRUM, Bürknerstr. 12, 12047, Berlin (20:00 until late)
Admission: 5 Euro / day (Conference); donation (Partner Event)
Contact: Tatiana Bazzichelli (ArtisticDirector), Kim Voss (Production & Communication)
Details: disruptionlab.org/hate-news
facebook.com/disruptionlab – Twitter: @disruptberlin