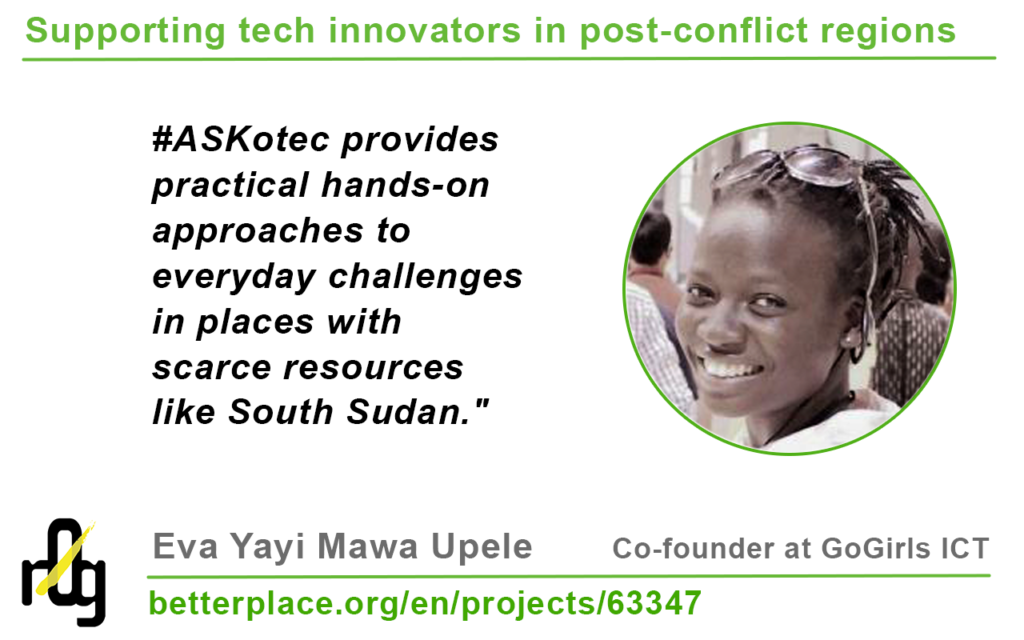 Eva Yayi is is the Co-founder of GoGirls-ICT Initiative, a Technology Organization that mentors women and girls in South Sudan. Currently, Eva is a Masters Candidate at the Kobe Institute of Computing, Japan holding a Bachelor of Science Degree in Computer Science from the Uganda Christian University. She also works as a Teaching Assistant at the College of Computer Science and Information Technology at the University of Juba.
Eva has working experience with numerous international organisations and has spoken at leading African ICT conferences including ICT4Ag in Rwanda and re:publica in Germany. Since graduation she has worked with local NGOs in South Sudan, including CEPO (Community Empowerment for Progress Organization) as a media and IT officer, and Kapital Movie with whom she was a Program Researcher and Director of the #PeaceHackCamp project, 2015.
#ASKotec provides practical hands-on approaches to everyday challenges in places with scarce resources like South Sudan.

Eva Yayi,  Co-Founder of GoGirls ICT (South Sudan)
View and follow our crowdfunding campaign at betterplace.org/en/projects/63347.