DOTS The Impact Summit: Entrepreneurs from all over the world gather in Kenya to co-create open source local solutions to global issues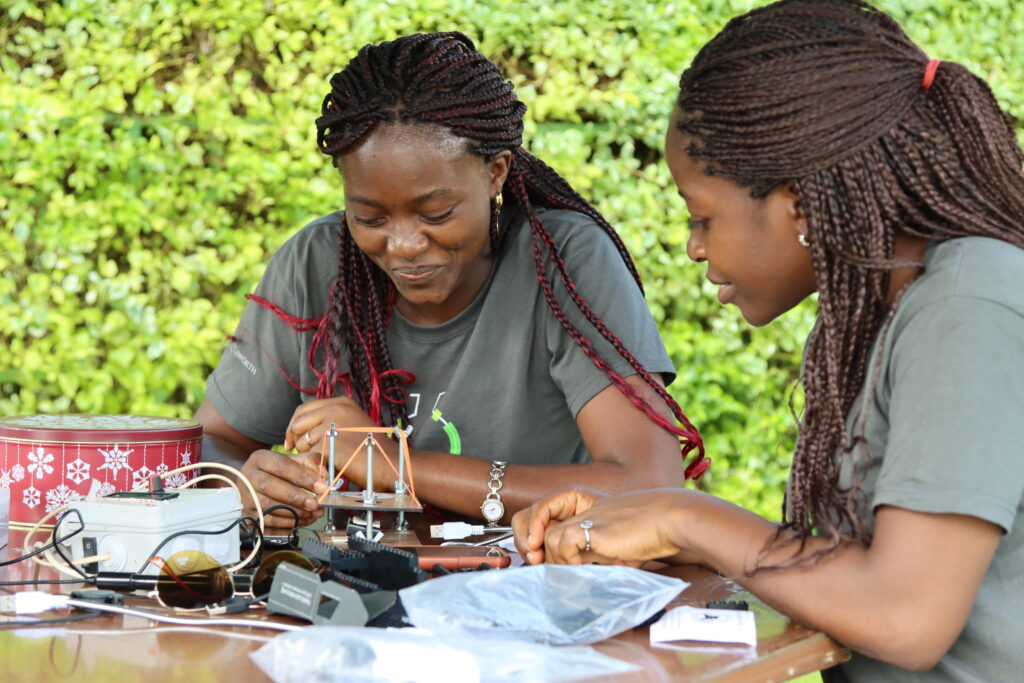 Reported by Sara Shedden Casanovas
There is something Vicy Wenzelman can do with ease: cross-pollination. She is the co-founder of the Global Innovation Gathering (GIG), a global network of 190 social and technological innovators from 42 countries. For Vicy, "people from GIG are passionate, they are all burning for what they do, they are hackers, makers, innovators. GIG is family." Being part of the GIG family shows her every day that she is not alone in believing in the power of collaboration to enable social transformation: "What GIG mostly does is bringing people together who are trying to solve the same systemic global problems in their local realities, from climate change and poverty, to social and political inequalities."
Since its birth in 2013, the global network of innovators has found creative ways to connect people for change. They are particularly proud of #BigBlue, a mobile space for learning, hacking, making, knowledge exchange and community building. Vicy has been behind the wheel of #BigBlue for several months now, connecting communities from South Africa to Tanzania. Her last destination will be the Rhino Camp refugee settlement in northern Uganda.
She will hand the van to Platform Africa, a community based innovation hub founded in 2017 that empowers refugees through media literacy, trauma healing, entrepreneurship and peacebuilding programs. The car will be transformed into a mobile library and learning centre to provide education to children and adults across the settlement, which has 42 villages, covers 225 square kilometres and hosts over 25.000 displaced people.
Using the power of collaboration to enable social transformation was the spirit of DOTS The Impact Summit, which took place in Nakuru, Kenya, between 5–7 December 2019. The GIG community and #ASKnet (Access to Skills and Knowledge Network) used the power of a gathering to bring together entrepreneurs and change-makers from all over the world to co-create and implement long-term projects that offer collaborative solutions to systemic problems in different localities.
The mission of DOTS was to "bring the Global Network with #ASKnet together and create synergies, learn from each other and explore very new and exciting formats and methodologies to do that," explained Vicy. Around 50 participants co-created and improved open source projects in different working sessions: Life Sensor Makeathon; Digital Detox and Data Sensitivity; Open Science for Peacebuilding; Sustainable Making and Open Policy Hackathon.
For Platform Africa's co-founder, Romeo Lomora "being part of DOTS is a dream come true. Having all these different thinkers and innovators coming together give us more than knowledge and advice, but practical guidance on how we can really run our hubs and do great stuff and how we can use the potential we already have. Imagine if I wasn't here. I would be missing all these ideas on how to be sustainable or how we can use our knowledge to become consultants and even earn money. Being part of DOTS has been a great opportunity."
Platform Africa is part of #ASKnet, a program of the r0g_agency for open culture and critical transformation and hive colab linking six community based youth-led innovation hubs in South Sudan, Uganda and Kenya. The #ASKnet program has been running since May 2019. Hub members have been trained in capacity building workshops held in Uganda and South Sudan on themes ranging from media literacy to technological innovation, aiming to support the young organisations becoming sustainable and self-reliant in the long term.
The other hubs within the network are GoGirls ICT, Ataka Hub, JunubOS, Asklab and Youth Empowerment Foundation (YEF). Go Girls ICT is a female-led organization that engages, educates and empowers girls and women in the fields of Science, Technology, Engineering, Art and Mathematics (STEAM). Ataka Hub, JunubOS, ASKlab and YEF address community issues like unemployment, hate speech and gender based violence by training youth in skills like open tech, entrepreneurship, peacebuilding, media production and arts.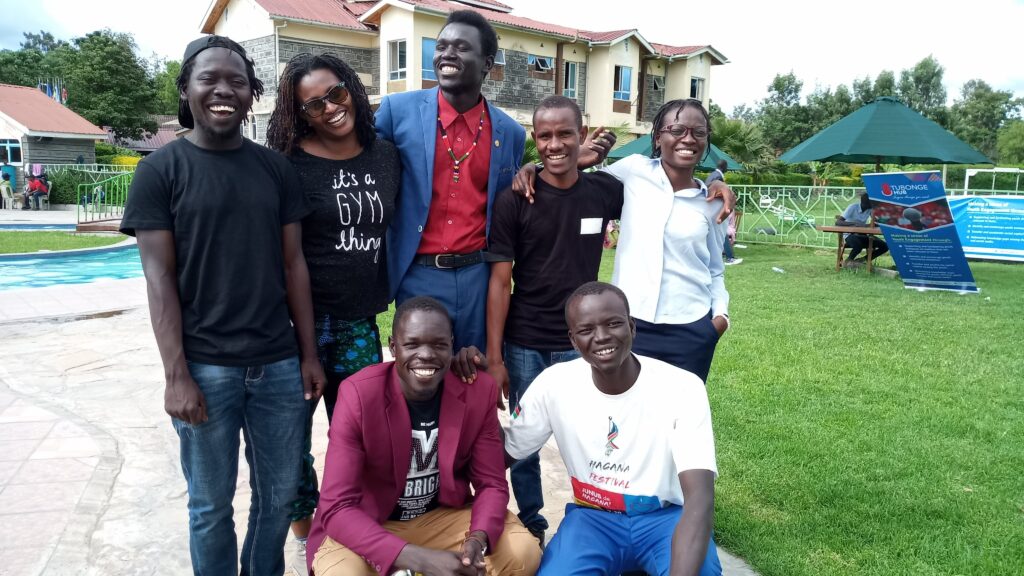 The summit, hosted by ASKlab, offered new perspectives for all: DOTS was the first GIG gathering outside Europe and the first time for the young innovation hubs to co-create a summit and exhibit the work they are doing in their local communities to an international public, during a public expo held after DOTS. The r0g_agency saw this first #ASKnet international public event as a great chance for the young entrepreneurs to receive global exposure, co-create an international summit with experienced innovators and receive specialized mentoring from GIG members in skills such as team building, leadership, networking, and organization branding.
Sandra Mamitzsch from Careables and co-founder of Cadus Corinna Schäfer worked with the young East Africans on improving the prototype of a life sensor and exploring its reproducibility in other local contexts using the format of a Makeathon. The Life Sensor is a repairable open source vital parameter monitor that measures ECG, oxygen saturation, pulse and blood pressure. This low-cost device is made of standard components that can be accessed locally worldwide and can be maintained and repaired easily. It has been designed for remote places and regions affected by conflict and natural disasters.
"It was really important to speak with innovators from South Sudan, Uganda and Kenya in order to get more ideas on how the device could be used locally. I got really, really inspiring input!", explained Corinna. "We also had good ideas about how the life sensor can be used. For example, in very small units for patient transport around here they work with motorcycles. The feedback from the Makeathon was that this would be a great device to equip these mini ambulances with." For Cadus, one of the most rewarding outcomes of the Makeathon was a new partnership with two ASKnet organizations, Platform Africa and Go Girls ICT, to conduct case studies implementing the life sensor in their respective communities, in Juba and Rhino Camp.
On the other side of Matfam Resort, where the summit was hosted, Tactical Tech showcased The Glass Room in a session about data sensitivity to illustrate how the arts can be used to create awareness of data and privacy. They introduced the Data Detox Kit, a toolkit that provides people with open source tools to gain more control over their digital life.
The Glass Room is a pop-up interactive exhibition on data and privacy to raise awareness on how technology and data are impacting our lives. Tactical Tech has developed different editions of the Glass Room to be set up in different formats, from a curated exhibition for large cultural events and festivals to a smaller, portable version for schools, libraries, conferences and metro stations.
During the session at DOTS, the entrepreneurs looked at how innovation hubs around the globe can engage their communities around the topic of data sensibility. The working group developed a strategy for a Global Hub Edition of the Glass Room Experience, which is already being tested on the ground. One of the #ASKnet hubs, Junub Open Space, will be hosting the first Global Hub Edition of the Glass Room in the next months in Juba, South Sudan.
In the Open Science for Peacebuilding session, participants explored how accessible scientific research can contribute to building peace and developed together a peacebuilding framework to deploy hackathons across African communities. "Open science can help you get to the root causes of conflict and has an important educational component." explained facilitator Obasegun Ayodele, founder of Nigerian organization Vilsquare. Participants shared how they are supporting peacebuilding in their communities through open science and open source solutions. Among them, innovation hubs Open Bioeconomy Lab in Cambridge, Kumasi Hive in Ghana and Mboalab in Cameroon are collaborating on using low-cost incubators to locally produce yoghurt.
MboaLab is located in a small village near the capital of Cameroon, Yaoundé, where migrants from other regions have fled as a result of the Anglophone crisis. The lab is providing migrant women with skills on making local yoghurt to support them becoming job-creators instead of job-seekers and help mitigate tensions with the local population. As the documentation of such projects remains open, they can be improved, replicated and used in other localities facing similar problems. During the closing session, the workshop hosted a maker space in which participants could learn how to build different devices, like a DIY microscope and a soil moisture sensor.
The workshop Sustainable Making discussed, designed and answered questions around how to grow maker spaces and support making which promotes both environmental and economic stability for local communities, including the most vulnerable populations. The workshop was conducted by Kumasi Hive, Field Ready and DreamSpace Academy.
"Kumasi Hive is a tech innovation hub in Ghana that supports young entrepreneurs and innovators for them to turn their ideas intro products to grow businesses. One of the greatest challenges we are facing is youth unemployment." explained Kumasi Hive co-founder George Appiah. DreamSpace Academy solves local socio-economic and environmental challenges spreading a 'Maker Culture' in Sri Lanka to overcome decades of dependency on international aid organizations. Field Ready provides humanitarian and reconstruction aid in places like Nepal, Syria and the USA through technology and trains people through capacity building workshops to help people help themselves.
The workshop resulted in a high number of partnerships between the participating organizations, with plans to collaborate from 2020 on sharing resources like technologies, training concepts, networking and new projects. The participants also worked out a list of sustainable making principles. These include openly documenting everything about the making of a project, prototype or concept for others to improve it, replicate it or adapt it to their local context; integrating local knowledge, practices and resources, and designing for the social, economic and ecological present and future.
During the Open Policy Consultation Hackathon, the Innovation for Policy Foundation (i4Policy), Hahu Jobs (https://hahujobs.net/) and Kosmos Kredits worked on developing an autonomous governance system to support the sustainable open source development of iConsult, an open source tool that supports policy consultation and co-creation at scale. The team from i4Policy has supported public policy co-creation in 11 countries, and the iConsult tool has already been deployed by three national Governments with support from the Hahu Jobs team.
iConsult is also currently being deployed to host a participatory public consultation on the Africa Innovation Policy Manifesto (i4policy.org/manifesto), a unifying grassroots vision of innovation policy reform co-authored by innovation community leaders. In May 2018, i4Policy hosted community leaders from across Africa to co-create v1.2 of the Manifesto at the Africa Innovation Hub Convention. Since then, more than 150 innovation hubs convening more than 1 million innovators from 45 countries have co-authored and signed the Manifesto.
The development team will release a new version of the tool on February 4th, based on comments from the GIG community, among others, and i4Policy will keep the consultation live until the end of March 2020, when the next version of the Manifesto will be finalized and announced at the Transform Africa Summit in Guinea. "We create a safe space for African communities to co-create policy reform, but also a safe space for governments to achieve common goals with the communities they are serving for more effective and impactful public policy." explained i4Policy founder, Jon Stever.
DOTS concluded with a public expo, in which GIG, #ASKnet and community organizations from Nakuru shared how they are creating impact in different places in the world. The innovation hubs showcased the products they are developing, like soaps produced by women in refugee settlements or vases made of waste materials to tackle climate change. The general mood of the participants was of excitement and gratitude for having taken part in DOTS and sharing inspiring experiences and ideas and creating synergies and future projects.