#DoDevDif – Doing Development Differently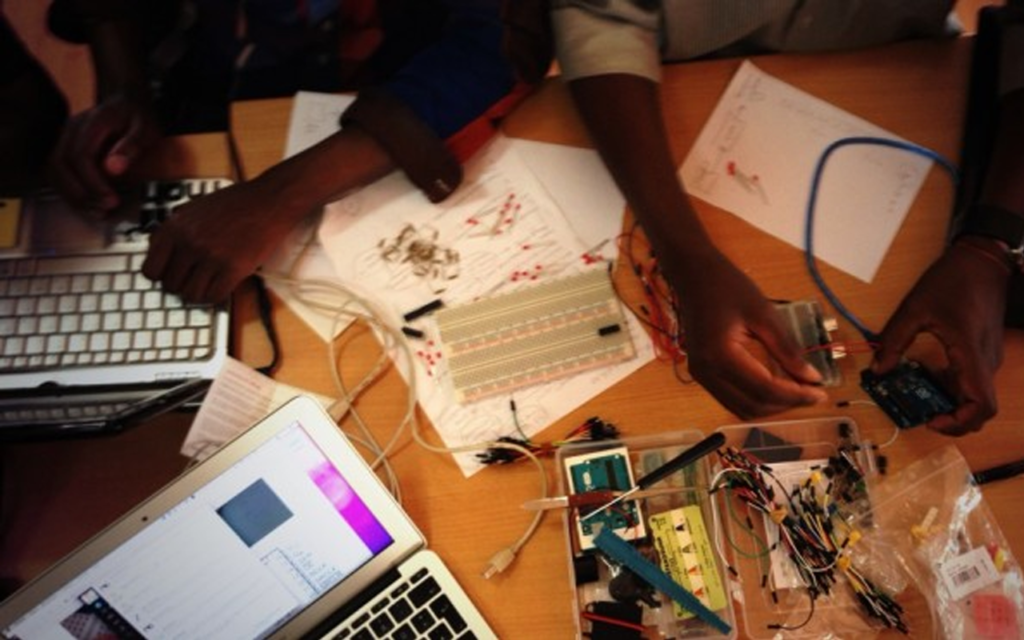 How could development be done differently to increase opportunities for open innovation and knowledge sharing and strategies to best utilize available tools?
On 22 January 2015 r0g_agency for open culture gGmbH, Digital Unite e.V. and the Centre for Internet & Human Rights at the European University Viadrina (CIHR) hosted by the Embassy of Canada to Germany supported by GIZ collaborated to hold #DoDevDif.
is aimed at strengthening and better defining the notion of 'Open Development'. Part of the CIHR's wider workshop series on Digital Alternatives and Social Innovation, #DoDevDif brings together innovative development practitioners including open culture and ICT4D advocates, researchers, policymakers and social activists. Discussing the opportunities open data, ICTs and collaborative citizen-based methodologies pose for a new form of international development practice, #DoDevDif welcomed practitioners interested in Doing Development Differently to an open exchange at the Embassy of Canada in Berlin. The event included an open bar camp format, a focussed debate and a special screening of the documentary film 'Made in Africa' by Geraldine de Bastion and René von der Waar.
Join the #DoDevDif Facebook discussion on Open Development!
Key Questions
How can we make the development practice we are engaged in more useful, open and transparent?
How the development industry can act more effectively, and what 'open' in development context means?
Could #DoDevDif ever work in the existing work stream of development agencies?
Sometimes donor structures and policies do not really serve the ecosystems on the ground.
Can't just come as a donor and say this is what we would like if it doesn't fit the local culture and ecosystem.
How to foster the right environments?
Sharing knowledge, skills
Funding, university, industry, community.
More about our discussions
Doing Development Differently – OPENing up Cooperation
Digital Alternatives and Social Innovation series
Thursday, January 22, 2015 (13.00 – 21.00)
Embassy of Canada
Leipziger Platz 17
10117 Berlin

From the circumpolar high arctic to the African savannah digital technologies and networks affect all areas of human interaction. They are not just physical or economic drivers but change social interaction and basic societal structures. Key components of this changing (global) society are increasing opportunities for open innovation and knowledge-sharing. In the Workshop Series "Digital Alternatives and Social Innovations" open culture advocates, researchers and social activists discuss the opportunities these shifting paradigms present.
Doing Development Differently – OPENing up Cooperation looks at the need to re-think international development taking into account these rapidly evolving scenarios. The continually expanding tool-kit of open resources for development actions employing ICT4D (Information and Communications Technologies for Development), open data and collaborative citizen driven initiatives are moving faster than the policies to implement them.
The notion of Doing Development Differently aims, by applying and linking the use of open data and open technologies, to promote transparency, empower citizens, fight corruption, harnessing these new technologies to strengthen governance. Such 'open development strategies' base themselves on the key elements of collaborative enterprise and technological possibilities inherent to the open source movement. They range from open source software (FOSS) to up-cycling and DIY practices, from open educational resources (OER) to comprehensive open data repositories, from crisis mapping, witnessing and citizen journalism to the creation of globally interactive open knowledge and resource commons. The work of Canadian and German organisations and grantees in these area such as the IDRC-funded SIRCA program, the Humanitarian Open Street Maps Team (HOT), or the Open Institute's open governance initiatives illustrates both the potentials and urgencies of taking a decidedly open approach.
Doing Development Differently is an event by r0g_agency for open culture and critical transformation gGmbH, Digital Unite e.V., and the Centre for Internet & Human Rights at European University Viadrina (CIHR) as part of a wider Workshop Series on Digital Alternatives and Social Innovation. For this Workshop we will be hosted by and collaborating with the Embassy of Canada to Germany in Berlin and supported by Deutsche Gesellschaft für Internationale Zusammenarbeit (GIZ) GmbH.
Programme
The afternoon will feature thematic discussion and working groups on strengthening Open Development research and Open ICT4D practice in areas such as FOSS and Open Technologies in Post-Conflict Transformation, Open Data vs. Privacy and Security, Open Data for Human Rights, Open Agriculture and Open Educational Resources (OER), Open Data and Governance, or Disruptive Technologies and Empowerment. Through a Bar-Camp and World-Café format we invite all participants to bring their themes to the table in an open, interactive exchange.
13.15      Arrival / Meet & Greet
13.30     Introductory Welcome – Counsellor David Ehinger
13.45     BarCamp Session I / 3 Thematic Groups
14.30     Break
14.45     BarCamp Session II / 3 Thematic Groups
15.30     Break
15.45     World-Café (3x20min + 3x5min breaks)
17.00     Summary
Unfamiliar with the Barcamp format? Here's a short intro!
// Session II 18.30 – 21.00
The evening session features a discussion with international guests including Arul Chib (Singapore Internet Research Center), Alejandra Perez Nunez (FOSS artist / advocate, Chile), Heloise Emdon (Carleton University, Ottawa) and Al Kags (Open Institute, Kenya/Canada). #DoDevDif will wrap up with a special preview screening of excerpts from Made in Africa by Geraldine de Bastion and René von der Waar. The film is a documentary about innovation and technological revolution, breaking clichés and telling a new story of African success and independence.
18.00       Arrival / Meet & Greet
18.30       Ambassador's Welcome: Marie Gervais-Vidricaire
18.40 Guest Address: Günter Nooke
– German Chancellor's Personal Representative for Africa
– BMZ Commissioner for Africa
18.45       Discussion featuring Arul Chib (Internet Research Center, Singapore), Alejandra Perez Nunez (FOSS artist and advocate, Chile), Heloise Emdon (Carleton University, Ottawa) and Al Kags (Open Institute, Nairobi)
Moderation: Ben Wagner (CIHR)
20.00  Excerpt screening of Made in Africa by Geraldine de Bastion
Watch the Trailer!
Participants
Dr. Arul Chib (Internet Research Center, Singapore)
Dr. Arul Chib is an Associate Professor at Nanyang Technological University, and Director of the Singapore internet Research Center(SiRC). Dr. Chib pursues action-oriented research related to development issues with marginalized communities in varied cross-cultural and socio-economic contexts. Specifically, he studies mobile phones in the domains of healthcare (mHealth), and in transnational migration.
Heloise Emdon (Carleton University Research Office, Ottawa)
International Projects Manager at the Carleton University Research Office in Ottawa, Canada. Previously she was programme leader of the Acacia – ICTs for Development (Africa) and Innovation for Inclusive Development (global) programmes. Her focus on ICTs and communications for social and economic development began with her work in cooperative scientific programmes at CSIR in South Africa, at the Development Bank of South Africa and later at the IDRC. She contributed to Long-Term Solutions for a Short -Term World: Canada and Research Development (Harper/Muirhead, 2011), Open Development: A New Theory for ICT4D (2011), and Connecting ICTs to Development: The IDRC Experience (2013).
Al Kags (Open Institute, Nairobi)
Al Kags is the founder of the Open Institute, an organisation based in Nairobi, Kenya that works with governments and civil society organisations to promote Open Government and Citizen Participation. Primarily, Al works across sub-saharan Africa but contributes to global open government movements. He is currently also a member of the Global Open Data Working Group and the Global Open Data Initiative. He is a co-chair of the Kenya OGP Working Group and was the chair of the Kenya Open Data Taskforce and the Kenya Open Government Initiative. Al is a Mandela Washington Fellow (2014) and was recognised as a New Generation African Leader (2013). in Kenya, Al has worked with the government to develop and implement ICT Policy for the country and has worked with the government at the Kenya ICT Board. During this time he was responsible for the Kenya Content development strategy (Tandaa) and the citizen access programmes. Al is a consummate serial entrepreneur having started and grown several businesses including MClabs and The Goode Group. He is a writer, having published a book called Living Memories.   
Alejandra Perez Nunez (Westminster University, London)
elpueblodechina is a noise artist and media designer, currently Mphil Phd candidate at University of Westminster in London, UK where her research is focused on the detection of imperceptible influences in space using FOSS tools for artistic and cultural creation. She has designed and led numerous DIY DIWO workshops on micro radio, electronics and audio with FOSS tools and collaborative technologies in the Chilean regions of Punta Arenas, Santiago and Valparaiso. Much of her work focuses on community empowerment themes through the means of artistic research, writing, noise performance, education, interface design, and development of instruments for frequency detection and sound art using FOSS tools such as Pure Data, Raspberry Pi, Arduino, DIY-DIWO electronics and Gnu Linux.
Yohanna Loucheur (DFATD, Canada)                                                                              
Team Leader, Development Policy Planning of the Strategic Policy and Performance Branch of the Canadian Department of Foreign Affairs, Trade and Development (DFATD). Joining the Canadian federal government in 1997, she has worked on the knowledge-based economy and society, innovative financing for development, aid effectiveness policies, fiduciary risk management and public financial management. She has been coordinating DFATD's activities related to aid transparency, including IATI, since 2008.
Yohanna Loucheur holds a BA and MA in Political Science (international relations) from the Université du Québec in Montreal, as well as an MSc in Social Research Methods from the London School of Economics and Political Science. She has also worked in Guinea and France.
Geraldine de Bastion (Konnektiv, Berlin)                                                                 
Geraldine de Bastion works in the field of information and communication technologies in development cooperation, with a focus on open source technology in Africa and digital political communication. Geraldine has worked for the open source agency new thinking communications and is a member of FOSSFA the pan African Association for Open Source Software. Today Geraldine works with different technology organisations, bloggers and Internet communities across Africa, helps to organise the Global innovation Gathering (GIG) at re:public, one of Europe's leading events on Internet and Society. She is a co-founder of the Konnektiv agency for education and development, and Berlin's Digital Unite association.
Ela Kagel (Supermarkt, Berlin)                                                                                          
Ela Kagel is an independent cultural producer and curator working in the art and technology scene in Berlin. She's the director of SUPERMARKT Berlin, an open cultures coworking space & conference center, and has worked with organisations such as Upgrade! Berlin, Public Art Lab and transmediale, where as guest curator she developed the Free Culture Incubator. In 2012 she participated in the 'MEDIA & MAKERS JUBA Open Knowledge and Sustainable Media Forum' in Juba, South Sudan.
Abiol Lual Deng (Sanda Consulting, Berlin)                                                                                                                       
Abiol Lual Deng is a South-Sudanese American international relations professional with over eight years experience in humanitarian assistance, international relations and NGOs on three continents, including work throughout conflict and post-conflict zones in sub-Saharan Africa.     
Pernille Bærendtsen (Independent Journalist, Copenhagen)
Journalist, Trainer, Photographer and Consultant. She has 10 years of experience from developing, post-conflict and fragile countries, particularly with capacity building, civil society, culture and media in East Africa
In 2000, she established the Next Stop Serbia peace activism campaign in Serbia aiming at breaking down stereotypes by making people collaborate on joint projects. In northern Uganda, she worked with civic education of South Sudanese refugees (2005-07); with information and development in Tanzania (2007-10); and since 2011 with several short-term consultancies in Kenya, Tanzania and South Sudan.
In between, she has worked with Danish civil society in development, with advice, training and grant selection for development communication, and has practice with training, facilitation and presentation. Moreover, she writes about trends in East Africa concerning politics, development, civil society, media and culture. Since 2010, she has written for the Danish Foreign Ministry's magazine 'Udvikling' as freelancer.
Read '5 Questions with blogger and photographer Pernille Bærendtsen', interview for Vijana FM about activism and creativity (2011).
Ysanne Choksey (Allversity, Berlin)                                                                            
Ysanne Choksey threw herself into international development in the form of Sustainable Agriculture promotion in Uttarakhand, India straight after graduating from her Masters in International Development at Cambridge. Here she headed a research project to understand the connection between good resource management of land and social equality between men and women. Following this, in January 2013, Ysanne became Implementation Director at Allversity, an online education platform that teaches young people about Human Rights, Sustainable Agriculture, Health and Entrepreneurship. The organisation is currently expanding into concrete implementation in the form of a new IT Centre being built in Uganda.
Jörn Schultz (icebauhaus)                                                                                                   
Jörn Schultz is a usability specialist and consultant on learning & collaboration technologies. He was part of founding the international icehubs innovation network and co-manages icebauhaus in Germany, an NGO focussed on community-oriented and bottom-up processes in international cooperation and development. One of the projects Jörn is involved in is called "Concept-Test-Realisation", aimed at collaboratively prototyping lowcost housing solutions for African cities, including the recently open source published SICU.
René von der Waar (@udiovisual taskforce, Berlin)
Facilitators
Stephen Kovats (r0g_agency)
Canadian cultural and media researcher with a background in architecture and urbanism, founding director in 2013 of the 'r0g_agency for open culture and critical transformation', a transnational non-profit organisation that helps create open systems solutions for sustainable, innovative and hybrid forms of development in post-conflict and rapid transformation regions.
Victoria Wenzelmann (Digital Unite)
Organisational Designer and a board member of Digital Unite. She organises AfricaHackTrip and EuroHackTrip to foster exchange between and build a truly global community of programmers.
Ben Wagner (CIHR)
Ben Wagner is Director of the Centre for Internet & Human Rights at European University Viadrina. His research focuses on freedom of expression, surveillance technology, Internet Governance and Internet foreign policy.
Matthias Froehlich-Rehfeld (GIZ, Berlin)
Lea Gimpel (GIZ, Berlin)
Zara Rahman (CIHR)
Jodi Rose (r0g_)
We also acknowledge a similar, yet not directly related event and platform being set up by our friends at the ODI and the Harvard Kennedy School