The #defyhatenow Field Guide Cameroon comes in English and French. For more details please see below.

Le #defyhatenow Guide Pratique Cameroun est disponible en anglais et en français. Pour plus de détails, veuillez voir ci-dessous.
#defyhatenow Field Guide Cameroon
Social Media Hate Speech Mitigation Field Guide [Pilot Edition 2019-2020]
The #defyhatenow Field Guide Cameroon offers tools and strategies to be used by community-based organisations & online campaigns for peacebuilding in Cameroon.
#defyhatenow aims to raise awareness of and develop means for countering social media based hate speech, conflict rhetoric and directed online incitement to violence and to amplify 'positive influencers' occupying Cameroon's social media landscape with voices of peacebuilding and counter-messaging rather than leaving that space open to agents of conflict.
This Field Guide is their tool kit to do so.
Developed and compiled by the #defyhatenow initiative with selected excerpts from materials published by collaborative partner organisations & networks, 2019 - 2020.
THE FIELD GUIDE CONTAINS:
A1 Poster & Game: 'Quick reference' tips and tools for responsible social media use
A4 Guidebook: Detailed information for workshop facilitators & further training resources
A4 Handouts: Selection of handouts and exercises to photocopy and use in the training
A5 Cards: 10 Concept Cards to facilitate group discussion in workshops
A2 Posters (Series of 5): Concept illustrations to use as visual discussion guides & prompts
It is possible to download the Field Guide, Facilitator Notes, A5 Discussion Cards and Posters below.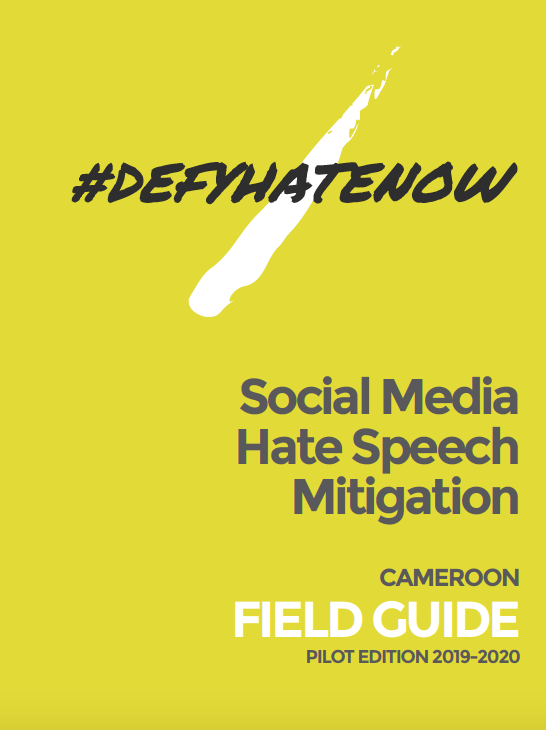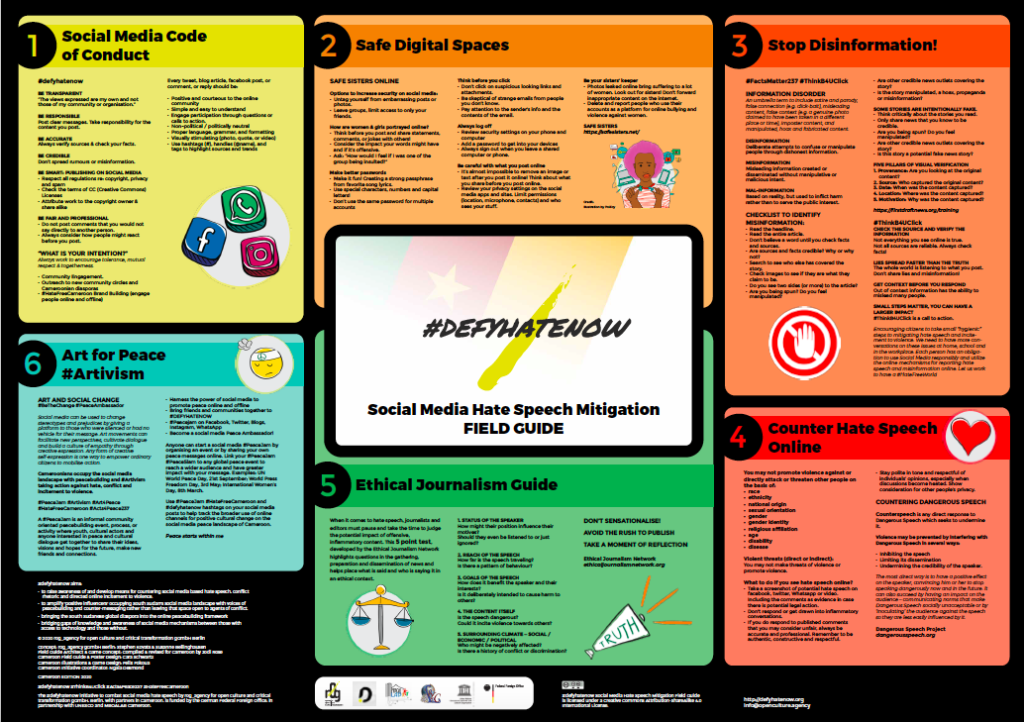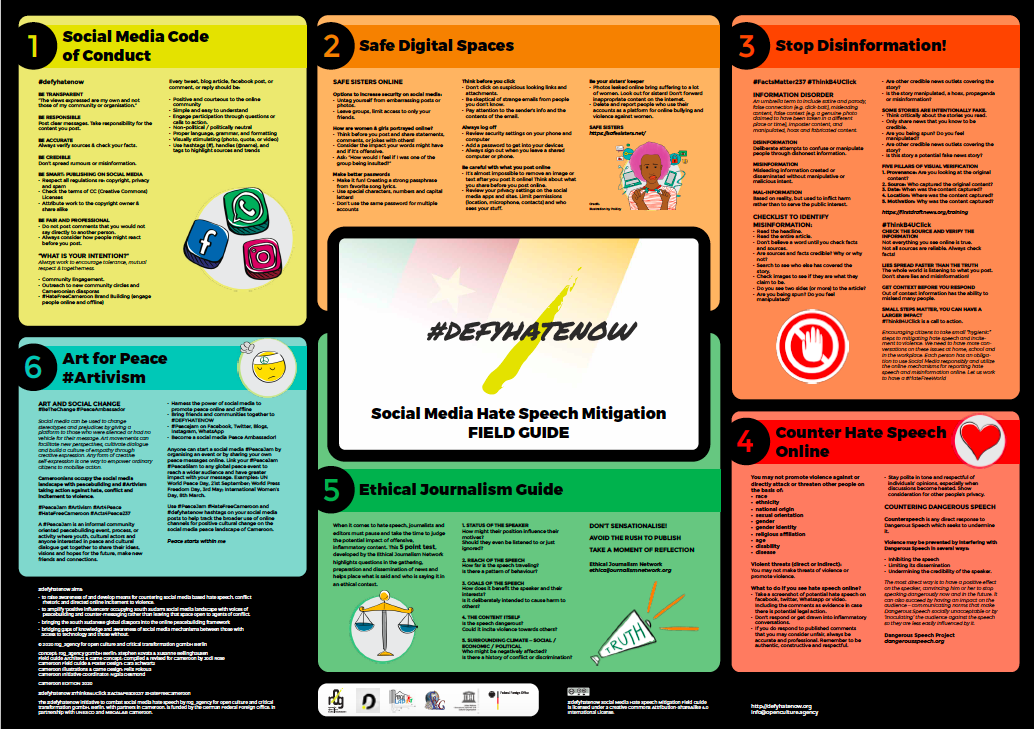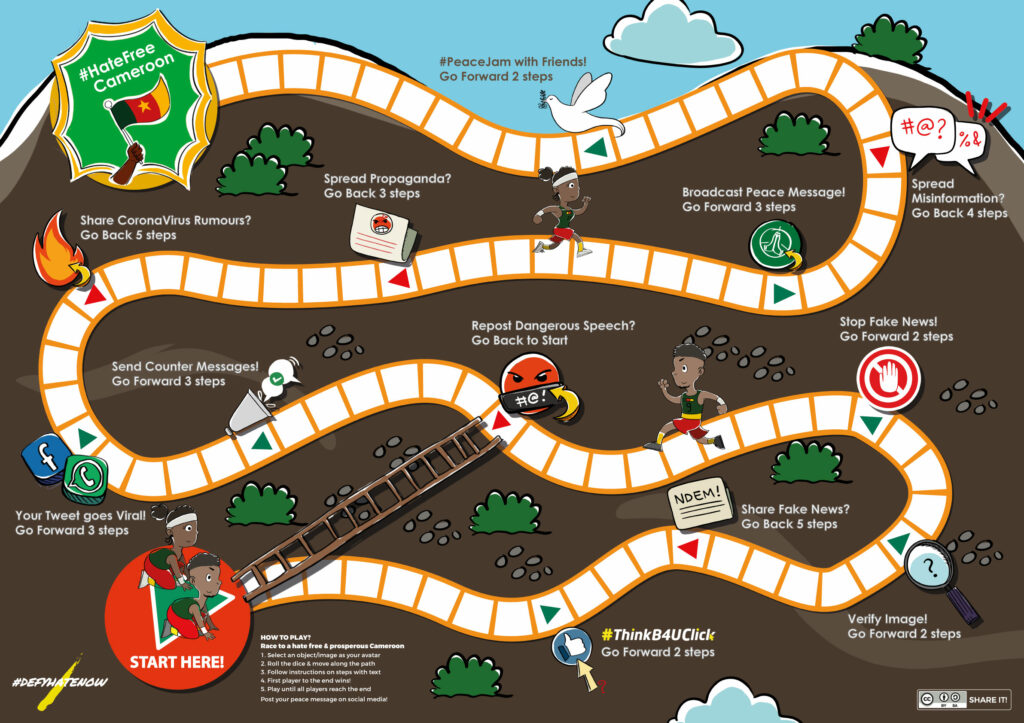 FACILITATION POSTERS
Quick Reference & Field Guide Game POSTERS
#defyhatenow Guide Pratique Cameroun
Guide de terrain sur l'atténuation des discours de haine sur les réseaux sociaux  [Édition 2020 ]
Le  #defyhatenow Guide Pratique Cameroun propose des outils et des stratégies à utiliser par les organisations communautaires et les campagnes en ligne pour la consolidation de la paix au Cameroun.
#defyhatenow vise à sensibiliser et à développer des moyens pour contrer les discours de haine, la rhétorique des conflits et l'incitation dirigée en ligne à la violence et à amplifier les " influenceurs positifs " occupant le paysage des médias sociaux camerounais avec des voix de consolidation de la paix et de contre-message plutôt que de laisser cela espace ouvert aux agents de conflit.
Ce guide de terrain est leur trousse d'outils pour ce faire.
Développé et compilé par l'initiative #defyhatenow avec des extraits sélectionnés de documents publiés par des organisations et réseaux partenaires collaboratifs, 2020.
LE GUIDE DE TERRAIN CONTIENT:
Affiche et jeu A1: conseils et outils de " référence rapide " pour une utilisation responsable des médias sociaux
Guide A4: informations détaillées pour les animateurs d'ateliers et ressources de formation complémentaires
Documents A4: sélection de documents et d'exercices à photocopier et à utiliser dans la formation
Cartes A5: 10 cartes conceptuelles pour faciliter la discussion de groupe dans les ateliers

Affiches A2 (série de 5): illustrations conceptuelles à utiliser comme guides de discussion visuels et invites
Téléchargez le guide de terrain, les notes de l'animateur, les cartes de discussion A5 et les affiches.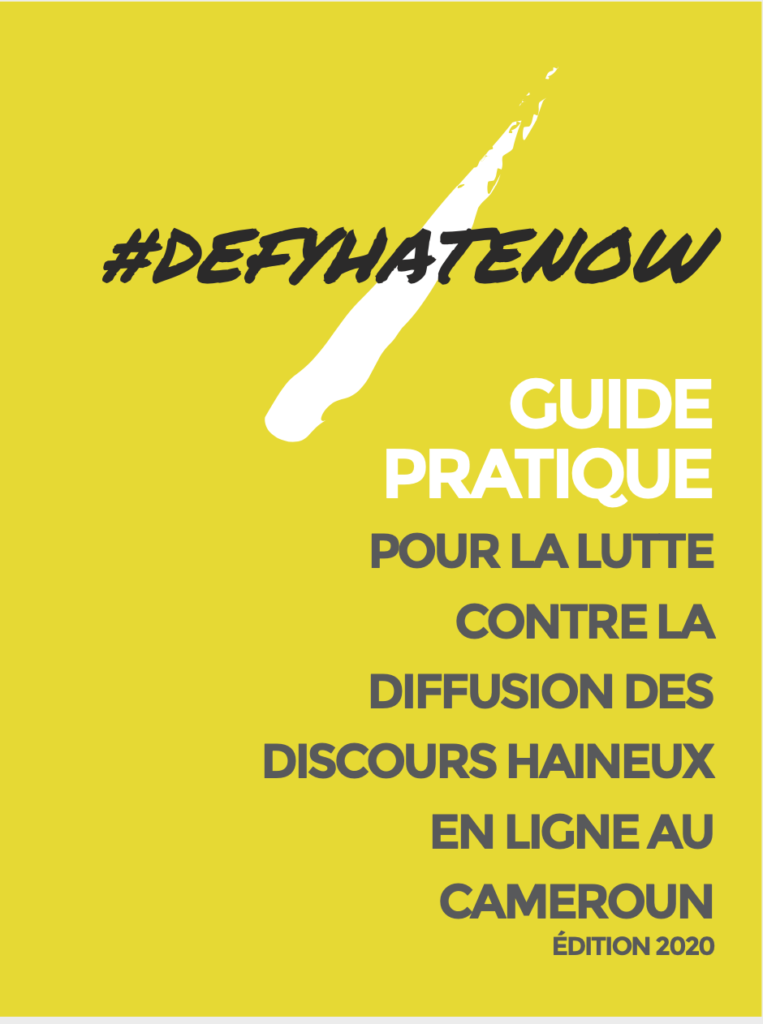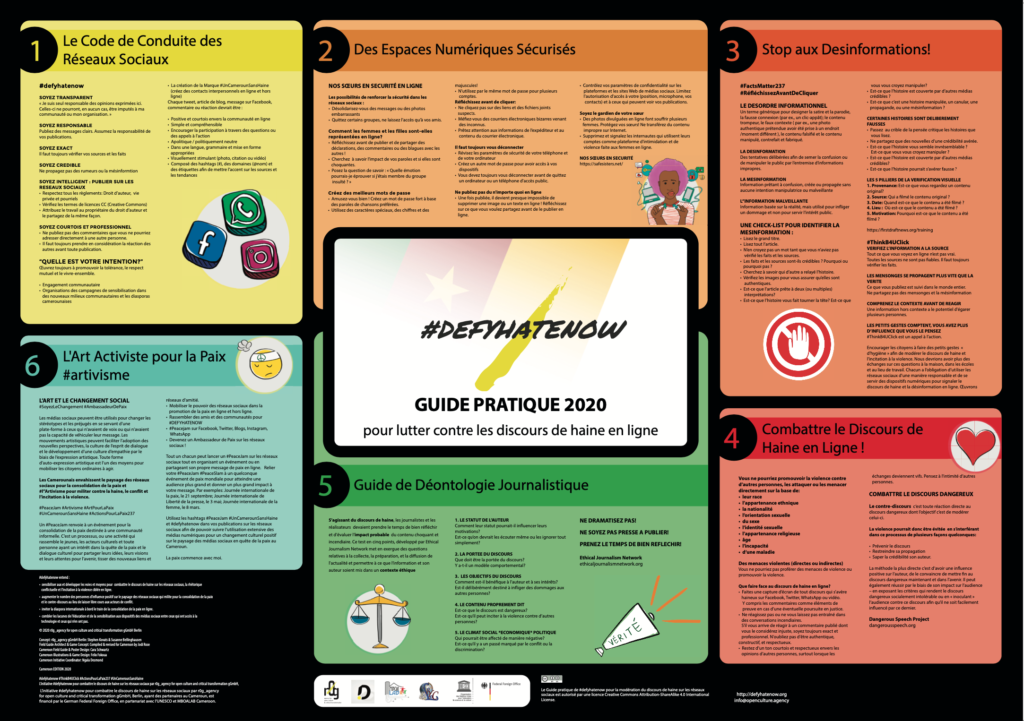 AFFICHES DE FACILITATION
Affiches de jeu de référence rapide et guide de terrain