Crushing the Hate Curve – How peace technologies counter violent extremism online.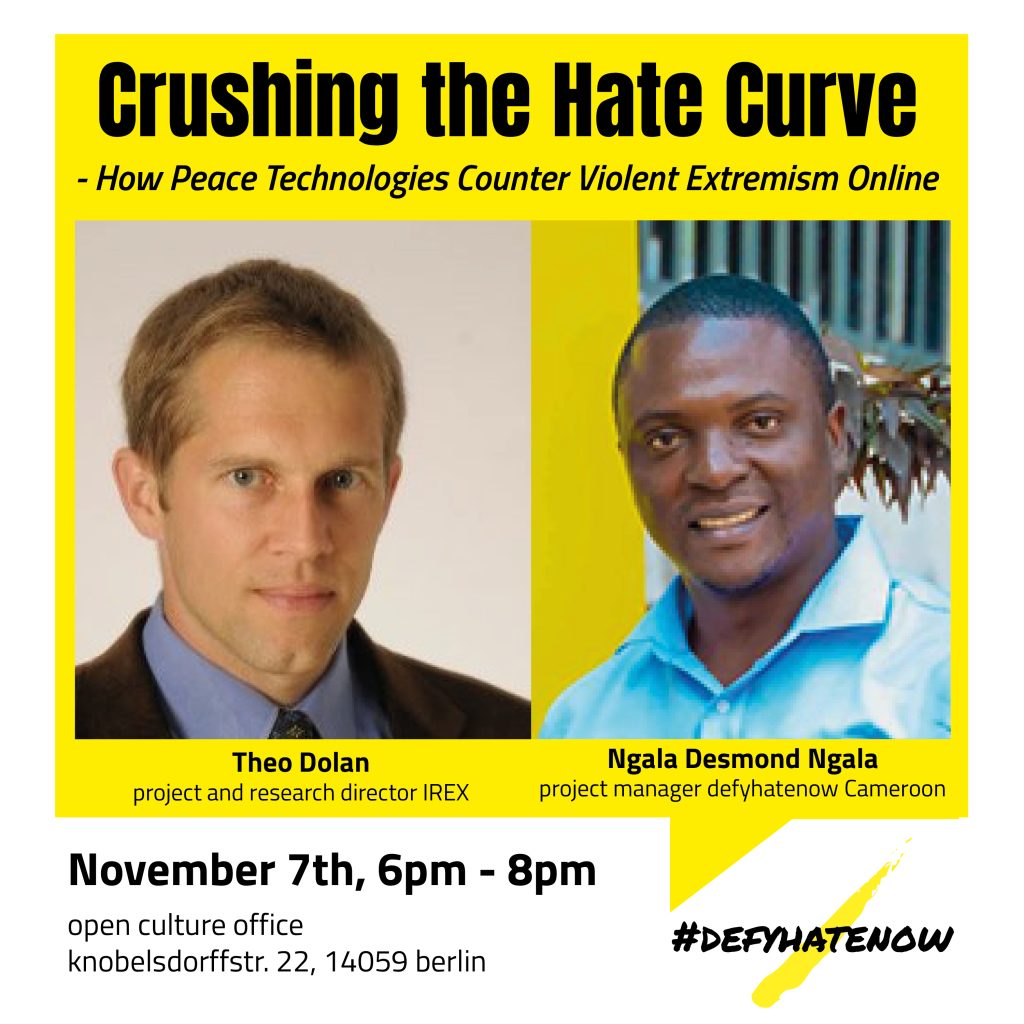 Time: Monday, November 7th, 6pm – 8pm
Location: r0g_agency 
OPEN CULTURE office
Knobelsdorffstr. 22
14059 Berlin
r0g_agency's #defyhatenow initiative to counter social media hate speech and online incitement to violence was born in reaction to the sudden explosion of violent conflict in South Sudan at the end of 2013. When the relationship between social media and incitement to violence were virtually unknown factors in civil conflict, peace tech activists such as Theo Dolan were compiling lexica of hate speech terms to avert potentially genocidal events in emergent conflicts. This evening discussion brings him together with Ngala Desmond Ngala from Cameroon, two leaders in the field of open tech innovation and contemporary conflict mitigation to discuss the challenges and methodologies in trying to get one step ahead of the most virulent online conflict influencers.
Ngala Desmond Ngala
President, Association Civic Watch (Yaoundé) and #defyhatenow Cameroon Project Manager
Ngala Desmond Ngala is a data analyst, conflict mitigation specialist and media development project manager. With previous experience both in the field as well as with the UN and other international organisations, CSOs and CBOs working in conflict prone areas, Ngala spearheads the #defyhatenow initiative in Cameroon to help mitigate the country's conflict raging in its Anglophone regions. With an ability to motivate peace weavers to counter social ills and challenge destructive online narratives, Ngala and his team follow a strong community based bottom to top approach.

https://civicwatch.cm/
https://defyhatenow.org/
Theo Dolan
Global Lead for Innovation in Countering Disinformation, IREX (Washington)
Theo Dolan is a project and research director who designs and manages complex peacebuilding projects and analytical studies in conflict-affected countries. He is currently the Global Lead for Innovation in Countering Disinformation at IREX where he leads the strategic growth of IREX's Learn to Discern digital resilience approaches. Previously, at FHI 360, he provided technical leadership on programs and activities aimed at preventing violent conflict, preventing and/or countering violent extremism, combating digital threats like hate speech and disinformation, and engaging and empowering vulnerable youth. From 2015-2018, Theo directed the PeaceTech Lab in Nairobi, Kenya, where he collaborated with the first #defyhatenow initiative in South Sudan leading research and grant-making initiatives to counter hate speech, with further initiatives also in Nigeria and Myanmar.
https://www.peacetechlab.org/hate-speech
https://www.irex.org/