Andrew Quitmeyer on #ASKotec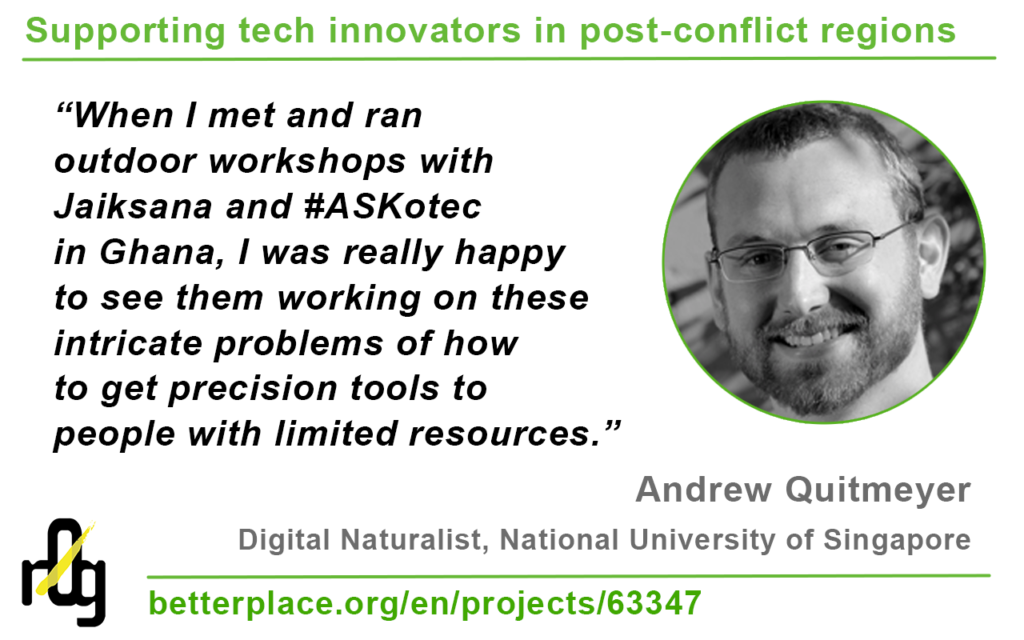 Meet one of #ASKotec's supporters, Andrew Quitmeyer. Andrew studies the intersections between wild animals and computational devices. He's a professor at the National University of Singapore researching how to blend biological fieldwork and DIY digital crafting. Andrew also leads "Hiking Hacks" around the world where participants build technology entirely in the wild for interacting with nature and hosted show on Discovery Network called "Hacking the Wild". Read what he has to say about #ASKotec:
"My work involves setting up Fablabs with field biologists in remote regions. When I met and ran outdoor workshops with Jaiksana and #ASKotec in Ghana, I was really happy to see them working on these intricate problems of how to get precision tools to people with limited resources. I also couldn't be happier to see its development pushed forth by Jaiksana who is a driven, courageous and brilliant young man!"
Dr. Andrew Quitmeyer, Digital Naturalist, National University of Singapore
Learn more about Andrew Quitmeyer and his work at andy.dorkfort.com/andy/digitalnatural/, Facebook: Digital Naturalism
View and follow our crowdfunding campaign at betterplace.org/en/projects/63347.