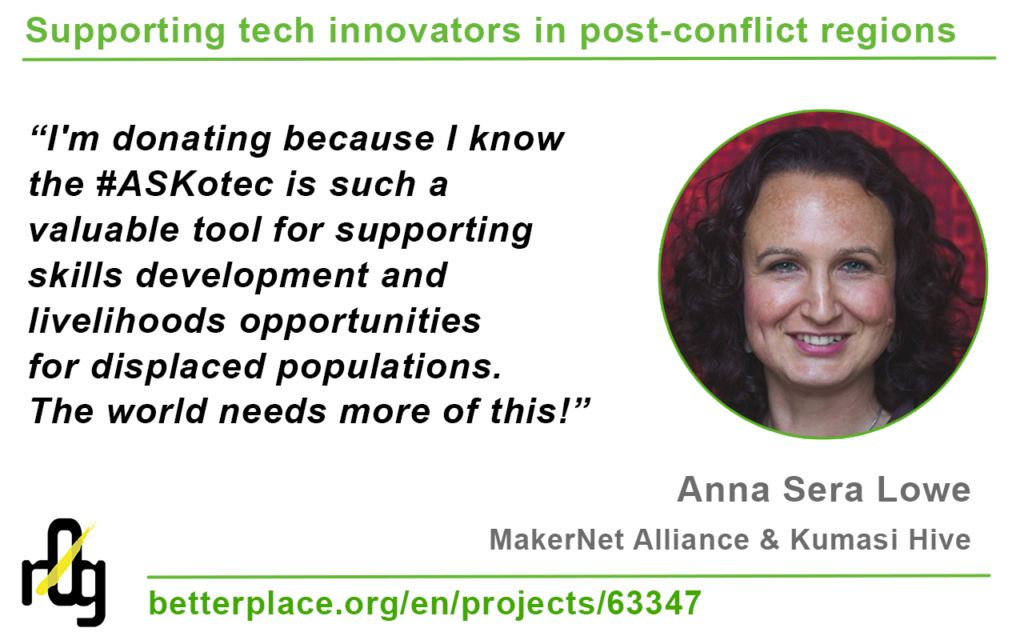 Anna Sera Lowe is a co-founder of Kumasi Hive, the makerspace in Ghana that supports innovators to build businesses out of their ideas; and the MakerNet Alliance of individuals and organisations working on different aspects of local manufacturing around the world. Her background includes running a factory, a stint as managing director of a tech start-up, and nearly a decade of supply chain consulting for multinational pharmaceutical companies and later the Global Fund to fight AIDS, Tuberculosis, and Malaria. She became convinced that digital fabrication and miniaturisation of manufacturing technologies offer the possibility for less developed economies to leapfrog to a new supply chain model – of networked local production. Since 2015 she has dedicated herself to exploring this possibility.
I'm donating because I know the #ASKotec is such a valuable tool for supporting skills development and livelihoods opportunities for displaced populations. The world needs more of this!
Anna Sera Lowe, MakerNet Alliance & Kumasi Hive
View and follow our crowdfunding campaign at betterplace.org/en/projects/63347.